There's been a whole lot of Texas going on over the past month, and I'm happy to report that we finally found the magical warmth that we've been seeking in the south. Sorry to rub it in, Midwesterners who recently survived the polar vortex 😉
Month #31 on the road began with our second full week in Marfa, Texas, followed by a couple weeks further south and east in Del Rio near the Mexican border. Now we've plopped down in San Antonio for a month as our home base for non-RV travels to Japan and Las Vegas. While Month #30 encompassed the Christmas trip back east with lots of driving and rushing around, the pace of camper life slowed down in Month #31, which was exactly what I needed.
Here's a quick recap of this past month's batch of homes on the road.
Marfa, Texas: Home on the Road #104 (continued)
Since the government was still shut down during our time around Big Bend National Park, we opted to visit Big Bend State Ranch Park instead, which was an awesome decision. This is a remote and rugged park with disbursed camping, some interesting hiking trails, and plenty of solitude. We left the RV behind to tent-camp here and then rounded things out with stops in the small random towns of Lajitas, Terlingua, and Alpine. There was also a nice desert botanical garden we checked out (I do love my cacti) outside the little town of Fort Davis.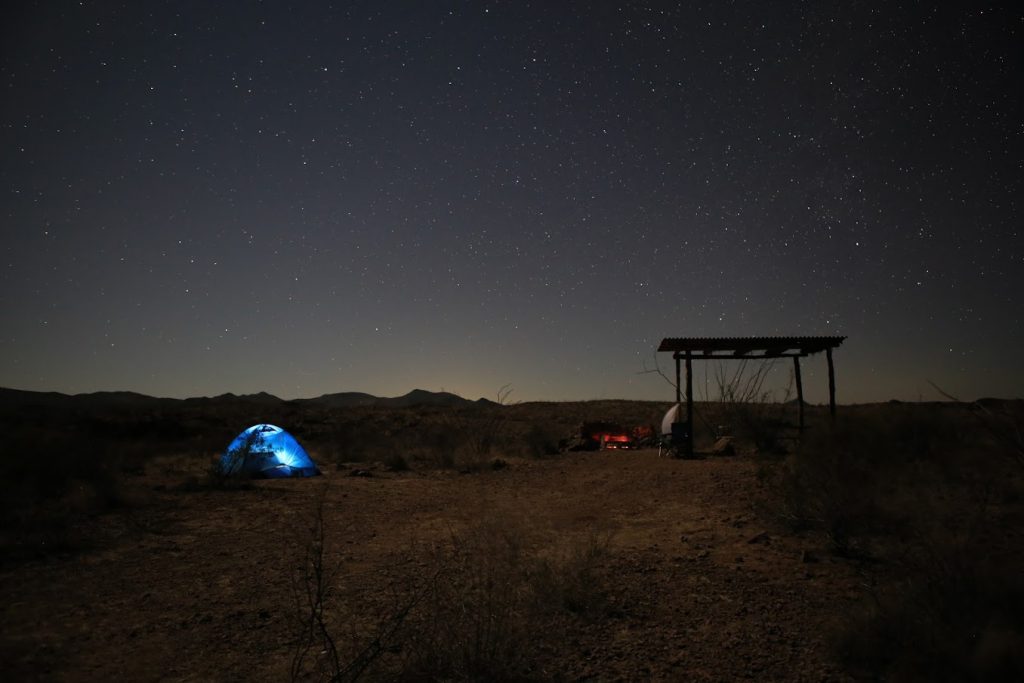 Highlights: 

Camping out in a tent with a beautiful sunset and no one around, seeing a javelina up-close for the first time (surprisingly cute!), scenery at Big Bend Ranch State Park, sipping post-hike margaritas in the random resort town of Lajitas, driving through the bizarre encampments and pseudo-roads of Terlingua, super chill driving range to hit a few golf balls in Marfa, hiking around Chihuahuan Desert Nature Center & Botanical Garden

Lowlights: 

The relentless winds of West Texas, getting sick after the tent-camping adventure and being out-of-commission for a few days (is my body getting too old to tent camp?!), still not getting to visit Big Bend National Park, yet another campground that can't figure out how to enforce dog leash rules, drinking tequila for the first time in ages and remembering why I don't drink tequila anymore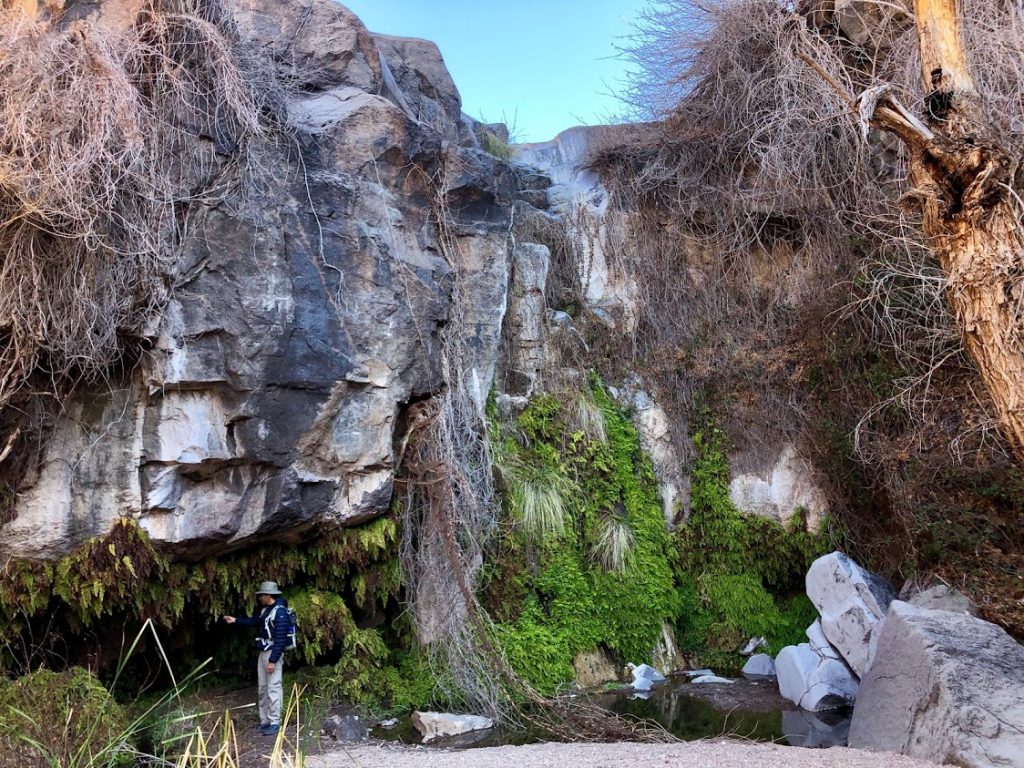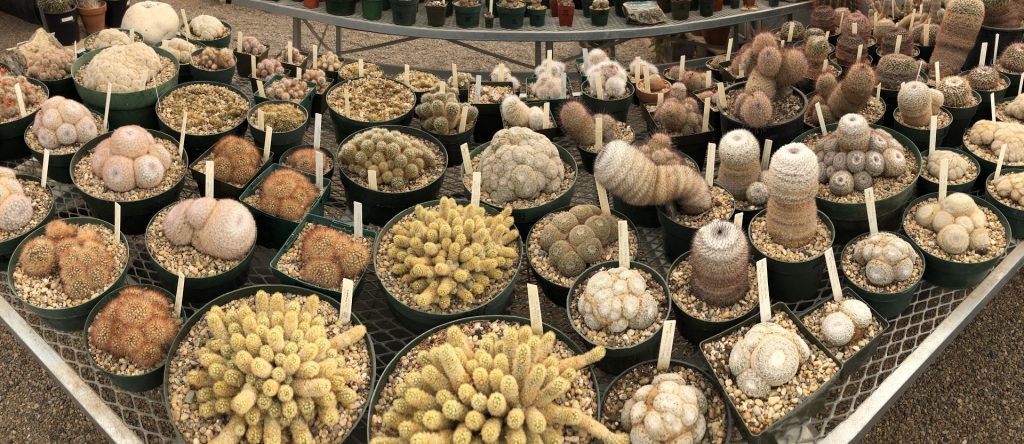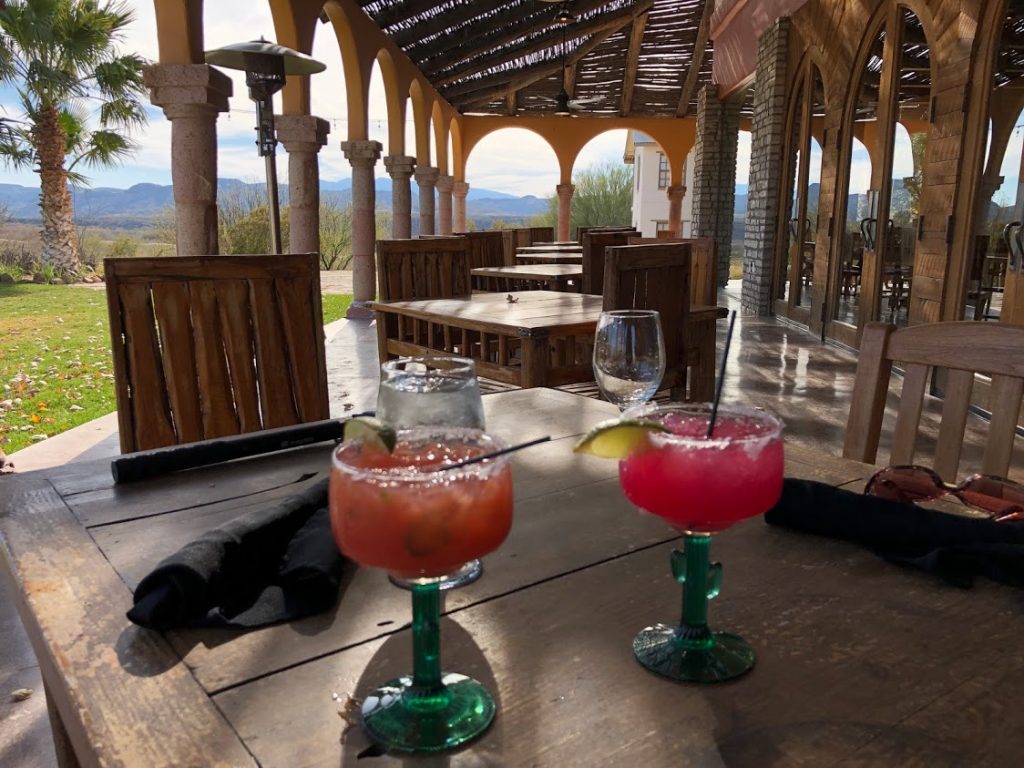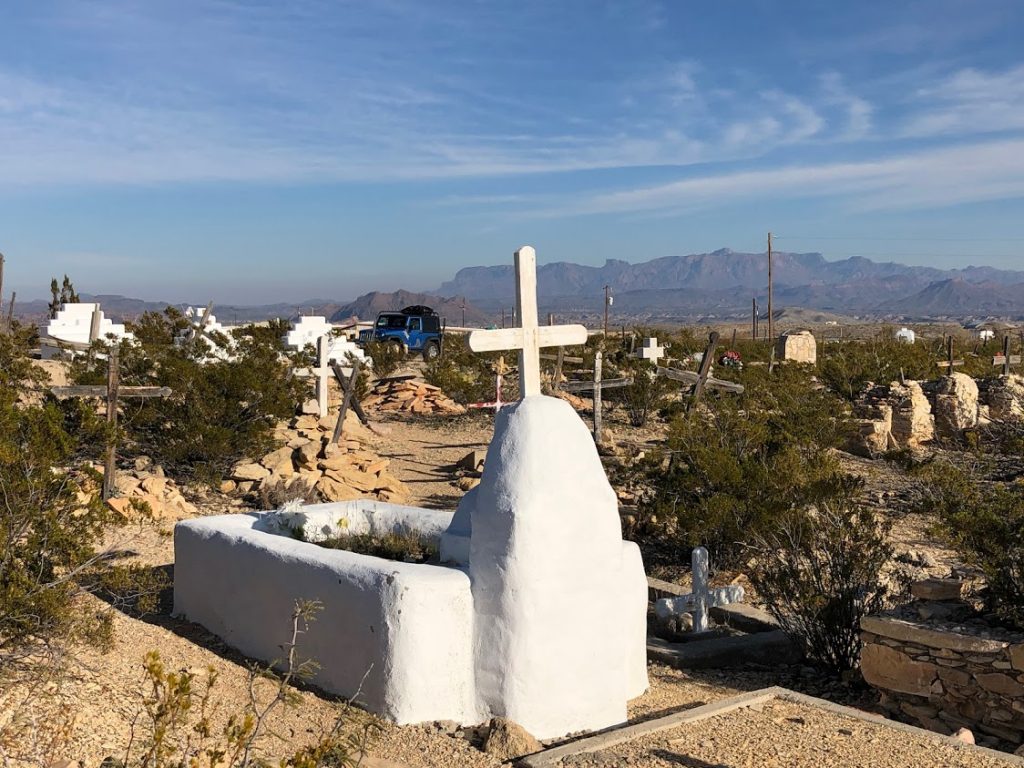 Del Rio, Texas: Home on the Road #105
Like Marfa, Del Rio was a place I'd never been before in Texas. Although there wasn't a ton to do here, that was actually a really good thing because it helped me minimize distractions and get a ton of work done in advance of our upcoming trip to Japan. Also, the weather here was pretty perfect and got up to 70 degrees on several days. This was such a relief after having our RV pipes continually freeze and struggle through other winter-RV-related drama over the past couple months.
Highlights: 

Perfect boating conditions to take out the kayak and SUP at Amistad National Recreation Area, having access to a campground gym that actually didn't suck and toning up some muscles by lifting weights, the surprisingly impressive frontier village of the Whitehead Memorial Museum, online ordering and campground delivery success so I don't have to buy new clothes/shoes in an actual store, being super active with trail running and lifting to the point of actually seeing results, impressive campground Wi-Fi, another round of tent camping and a 15+ mile hike at Devil's River State Natural Area

Lowlights: Taco trucks with no meat-free options, getting sick yet again and having to go to a shady urgent care clinic, popping a tire while mountain biking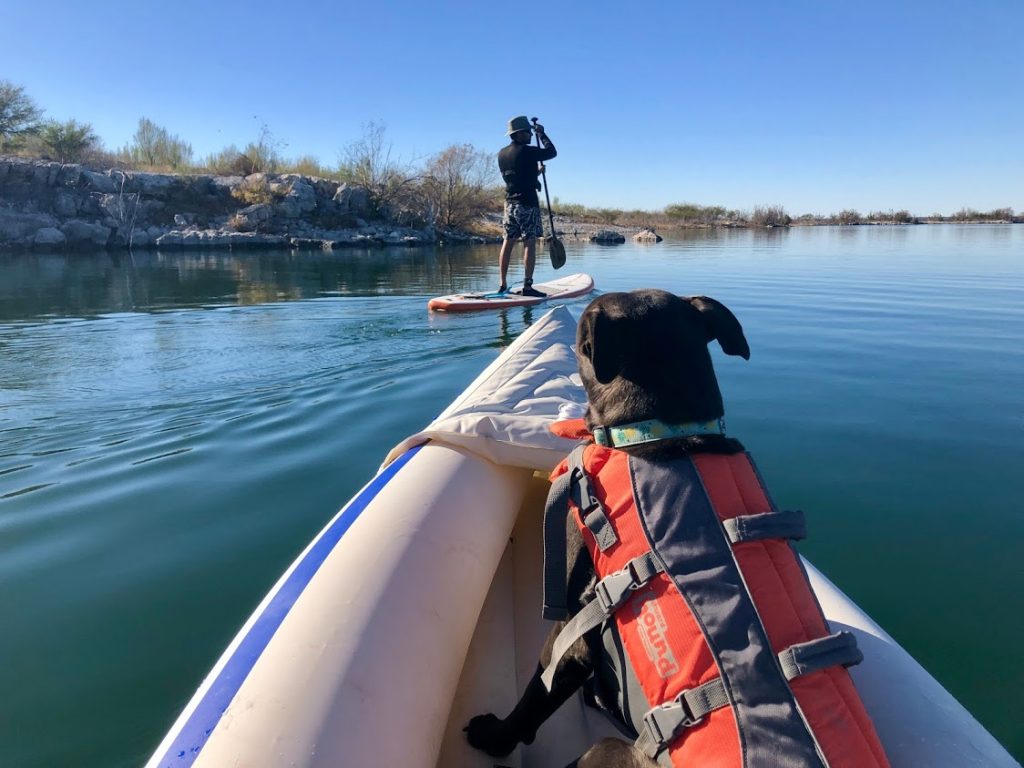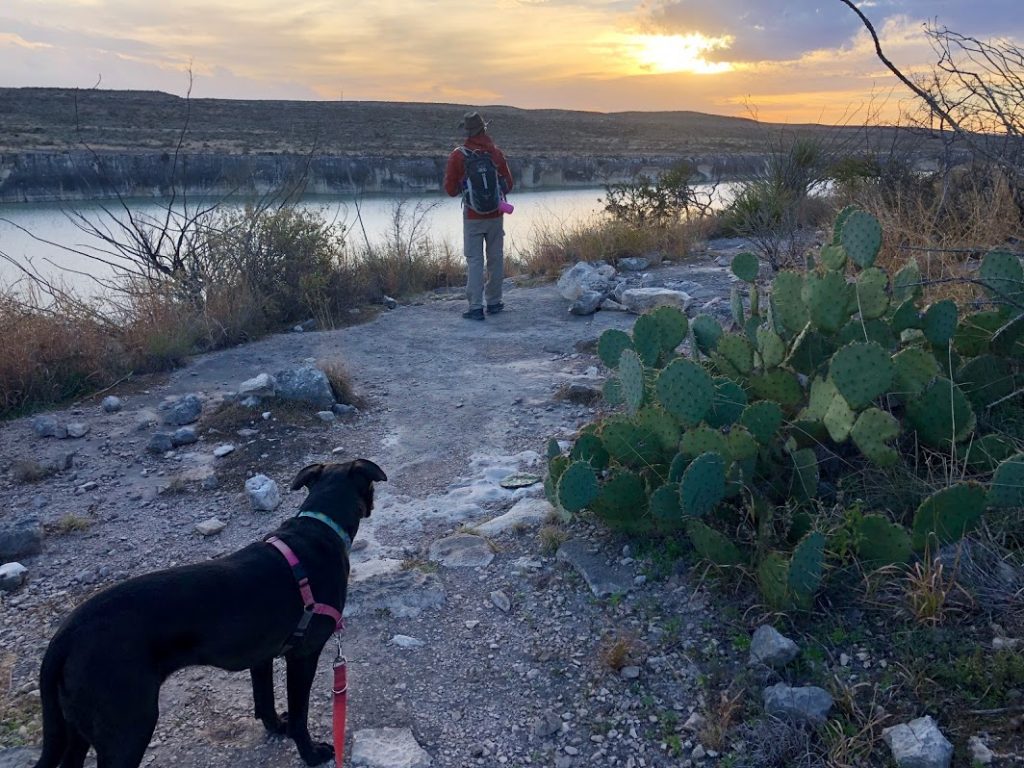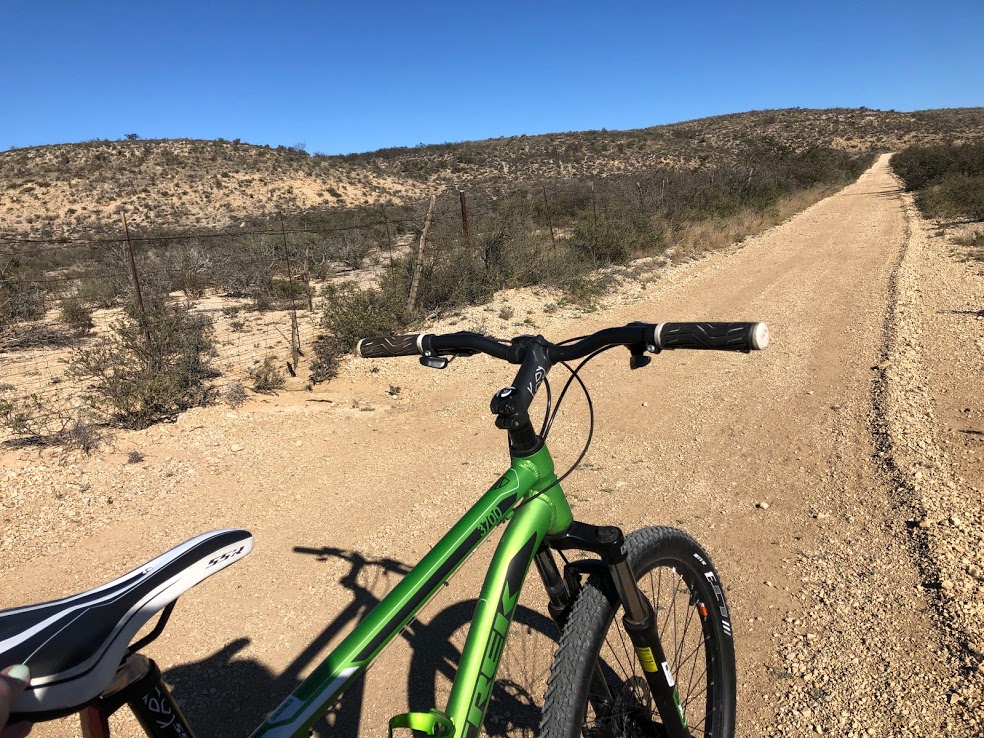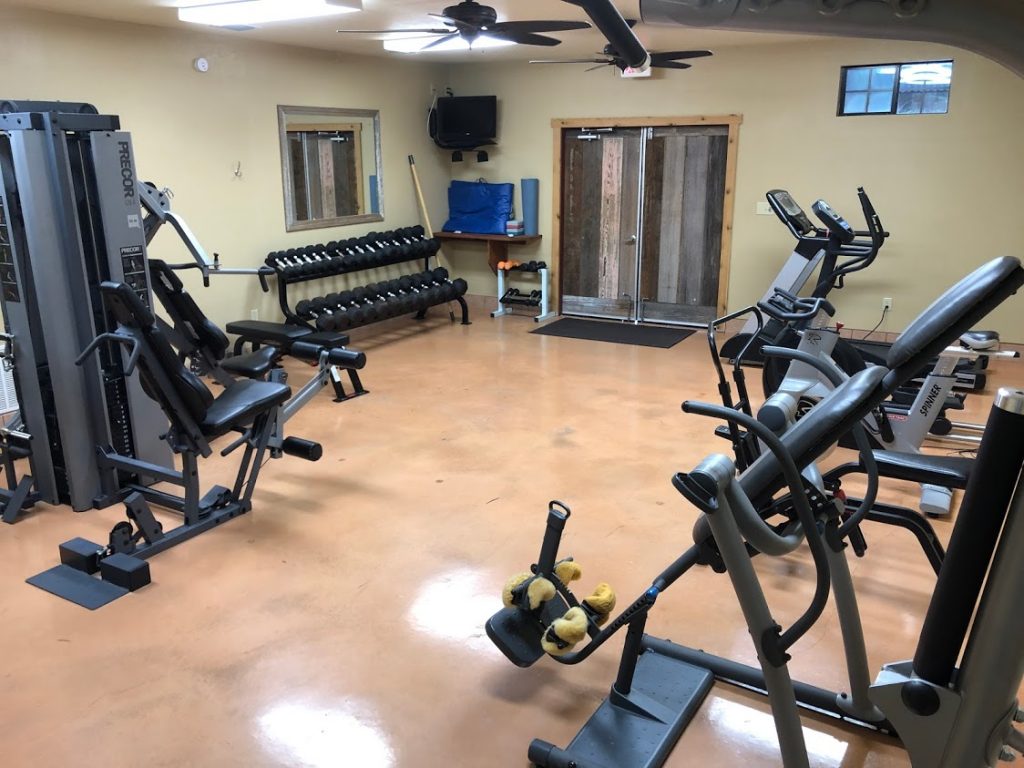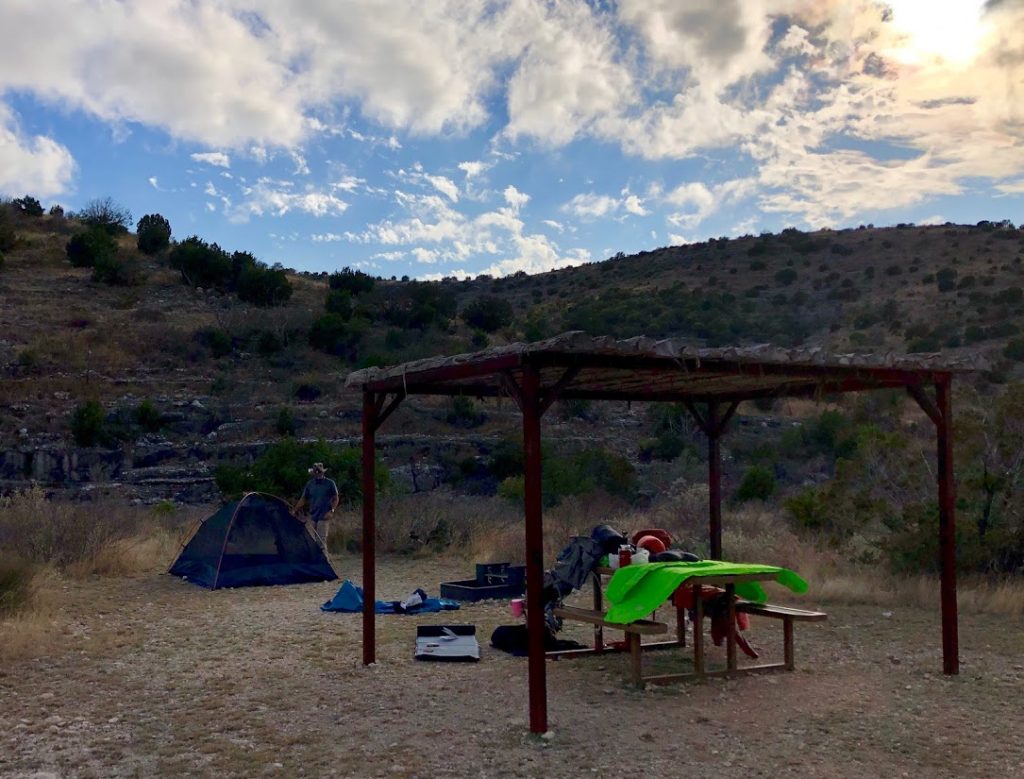 San Antonio, Texas: Home on the Road #106
I booked us a campground for an entire month here in San Antonio so we have a stable place for home base during the upcoming non-RV travels. Unlike Marfa and Del Rio, I've been to San Antonio a couple times before but have always enjoyed the place. So, far, we haven't really been able to do anything very fun or touristy here though, due to constant rain, working ahead, and being pretty far away from downtown.
Highlights: 

Warmish weather with no freezing nights, few distractions = more time to work ahead before our Japan trip, finding a local, cage-free home stay for Monkey during our vacation, finally breaking out the sewing machine again, boba tea and fro-yo

Lowlights: 

Crowded campground with lots of barking dogs tied outside, no fitness center or other campground amenities, crappy Wi-Fi, rainy and dreary weather, mud everywhere, surrounded by suburban sprawl, being 30+ minutes from all things to do in the city and from hiking too, a second trip to an urgent care clinic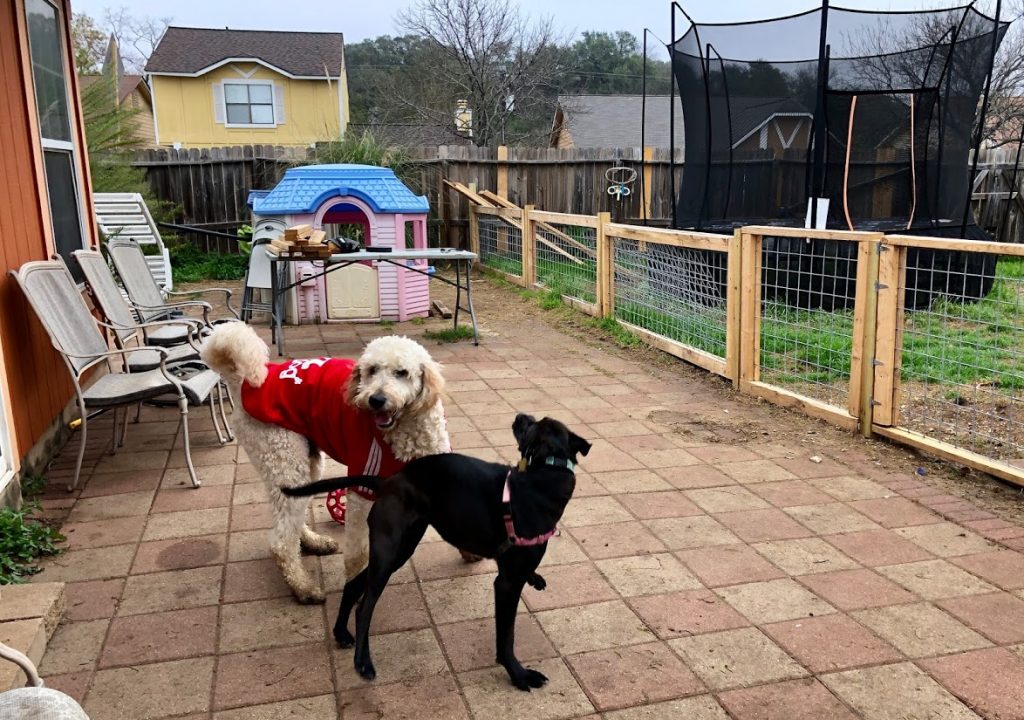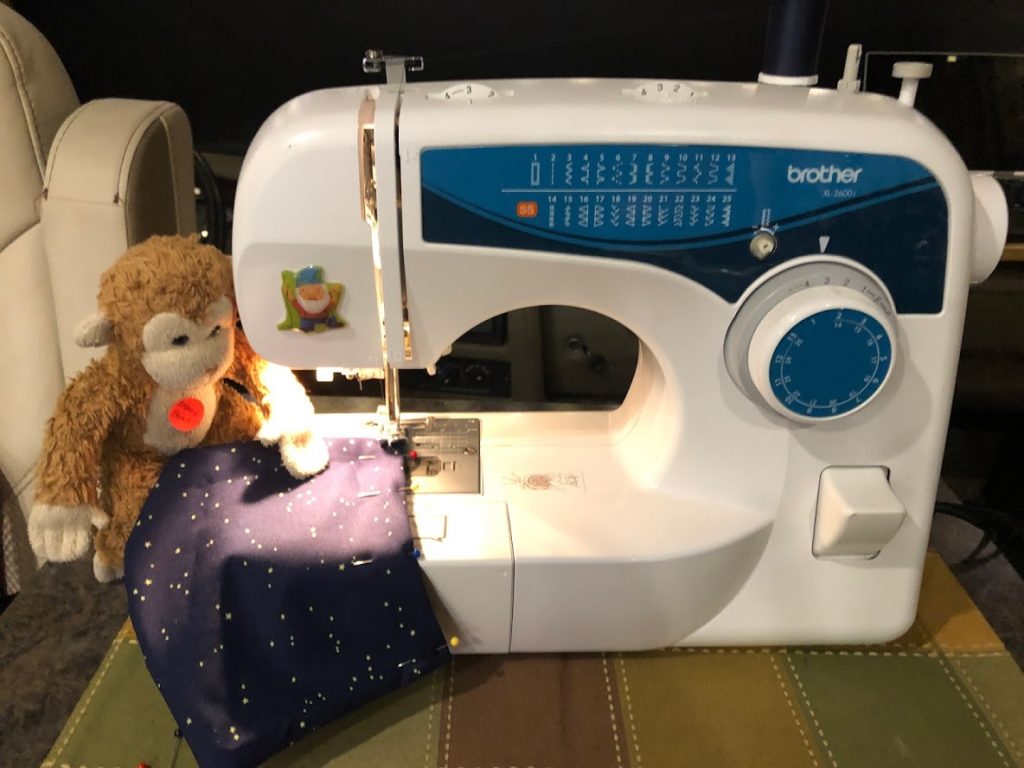 ---
---
This Month's Ramblings from the Road
I saw my first javelina at Big Bend Ranch State Park! They're kind of cute and dopey, but apparently people try to hunt them for some reason.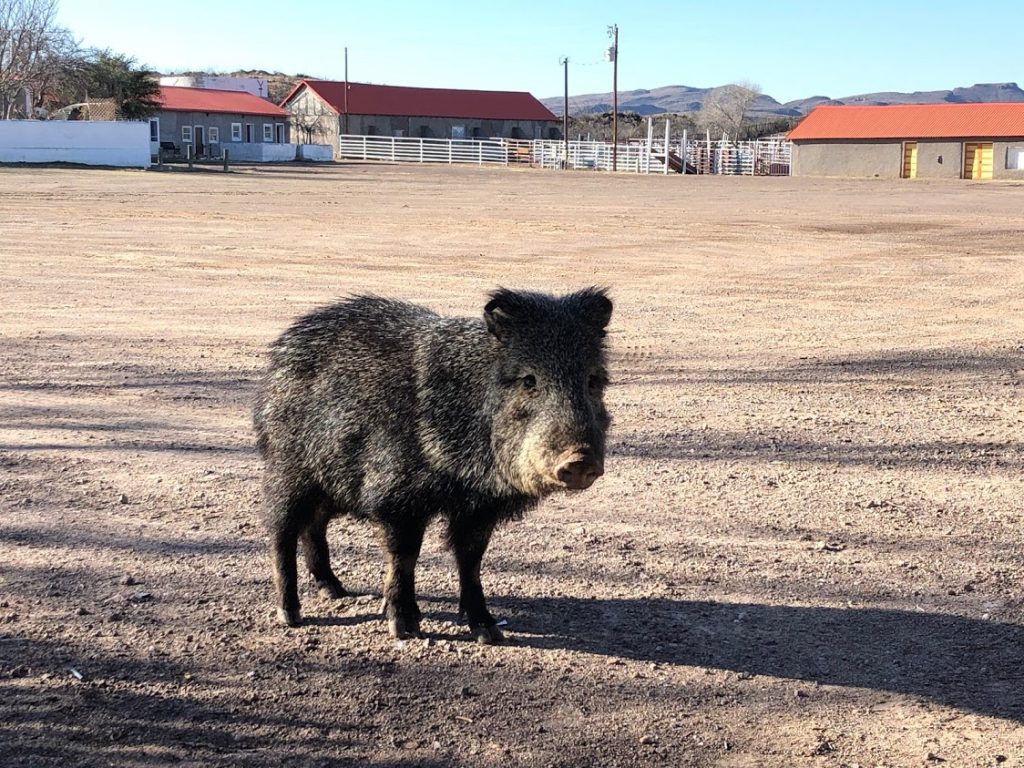 We always try to find self-serve dog washes to give Monkey a bath every month or so, but in some places, that's easier said than done. This little lady hadn't had a bath since before Christmas and was starting to stink, well, like a dog. This campground actually had a dog washing sink and enclosed area, but the water was ice cold with no adjustment options. So, this happened: a bucket bath in the middle of a dead grass/gravel pit!
We recently celebrated Monkey's 5th birthday here in San Antonio! We adopted her three years ago and threw a little camper party and wen on a rainy hike to celebrate.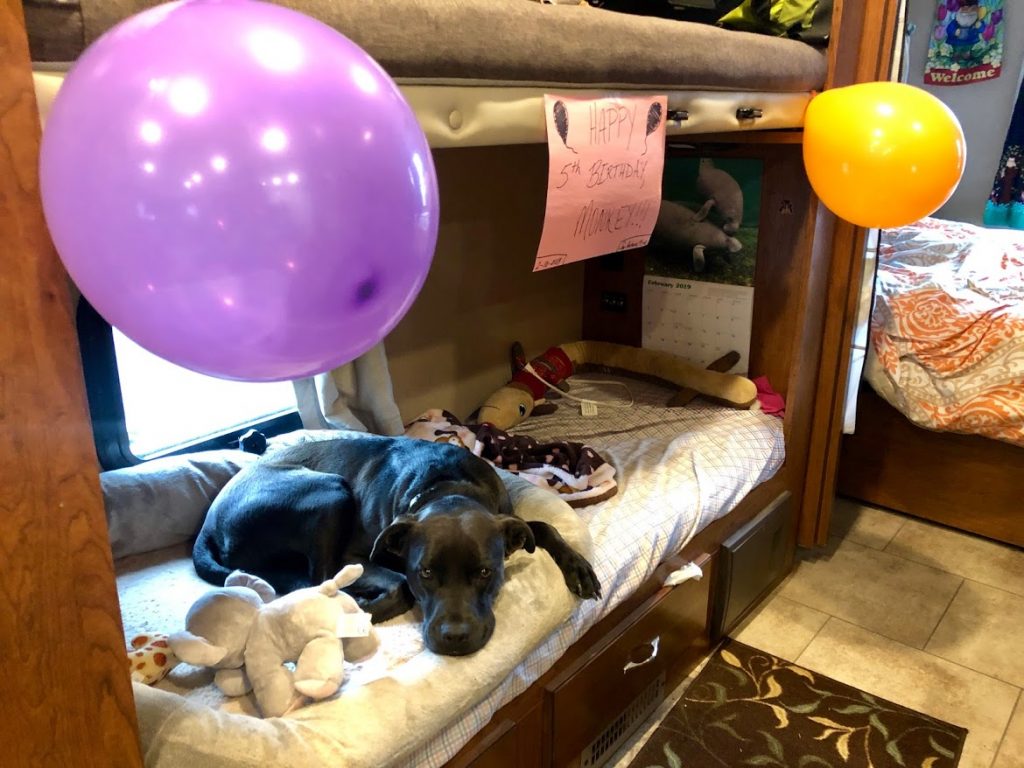 In an effort to be a little healthier, I'm doing my best to drink more tea instead of booze. To make tea more of a "thing," I've been experimenting with loose leaf tea and a tea infuser. I'm pretty into it, but it's still a challenge.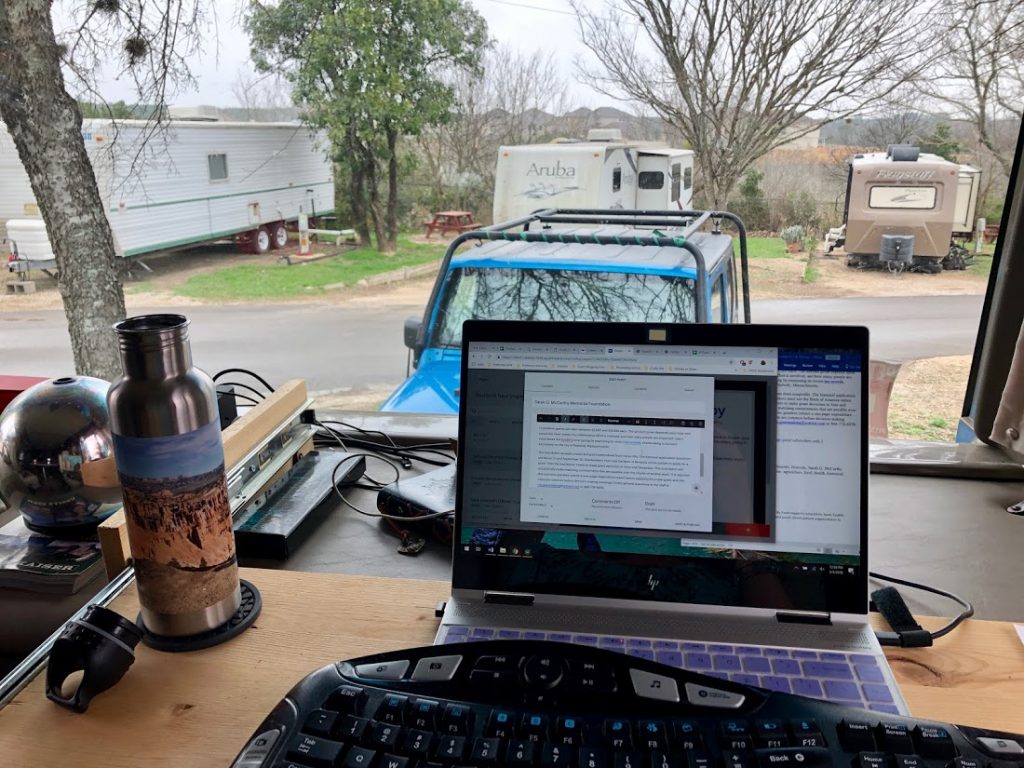 Today is my 6-year freelanceaversary! I'm been full-time freelance writing for 6 years now as of today, which is kind of crazy. To kick off year #7, I'm in talks with a publisher about writing a book about gnomes. In other gnome-related news, I've also recently taken over the leadership position of the International Gnome Club.
---
Looking Ahead to Next Month
Month #32 is set up to be one of the most exciting months EVER! Literally tomorrow, we jet off to Japan for a week of Asian adventures. It'll be my first trip to Asia, and I'm pretty much all packed and ready to hit the mean streets of Tokyo, Nagano, Yamanouchi, Kyoto, Nara, Osaka, and wherever else we happen to land instead because of mishaps in complex train navigation. Sadly, my flashcard and Duolingo app efforts to learn basic Japanese have been in vain, and I'm exhausted with constant travel planning. We've figured out a few things, but have left quite a bit unplanned in an attempt at spontaneity.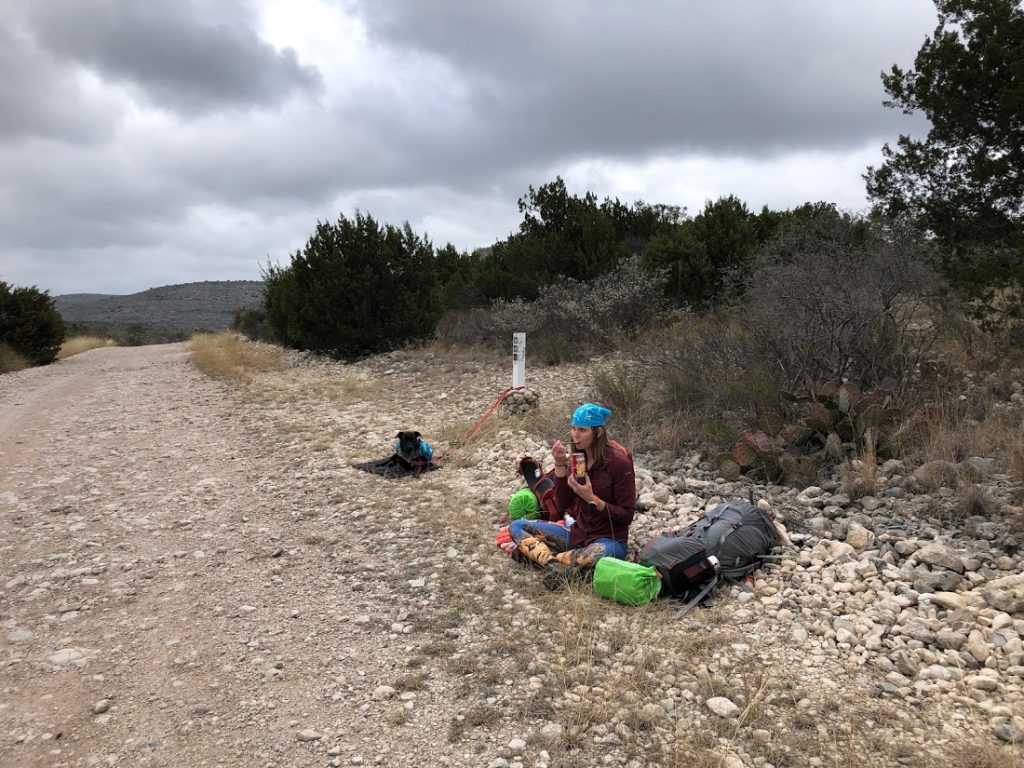 Within a few days of getting back, I'm back on a plane again but this time to Las Vegas for a girls' weekend. And in between all of this madness, I'm hoping to see bits and pieces of San Antonio too.
Until next time…sayōnara!
---
Catch up with the journey: