It's holiday season, which means chaos and cold, even for your favorite nomad out on the road. Since traveling full-time, the Southwest has carved out a soft spot in my heart. But over the past month, we've been moving through it at record speed.
We've been in search of warmth and off-the-beaten-path places that we might not make it back to anytime soon. We've also been in search of change and something to drive us towards decisiveness to start a post-camper-life phase of life next year. On top of all that, this time of year is always insanely stressful for me with work thanks to everybody and his brother having last-minute projects and year-end deadlines.
But first, it's a race towards Christmas, which will once again take us "a long way away from home" to Georgia, Illinois, and everywhere in between. I'm exhausted and burnt out at the moment, so hopefully the change of scenery and schedule will help rather than hurt.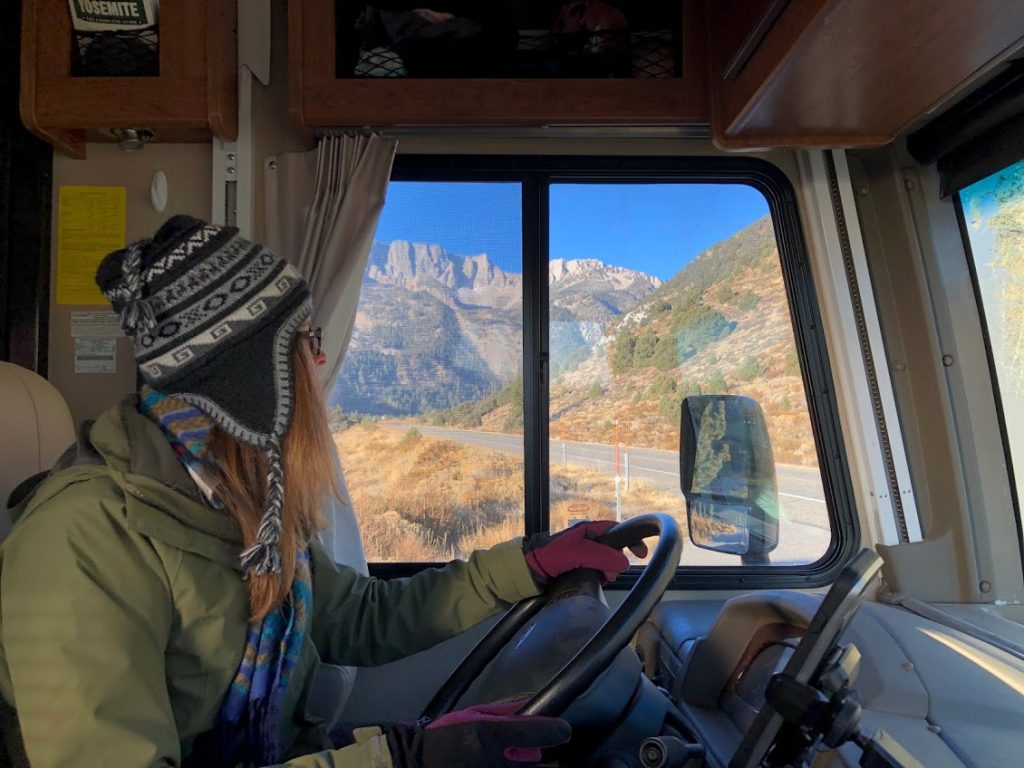 Here's a quick recap of this past month's batch of homes on the road. Oh yeah, the husband recently pointed out that apparently, I don't know how to count. So, I've adjusted the "home on the road" numbers and just reached the big #100 in Gallup!
Lee Vining, California: Home on the Road #95
When I think back upon our extended weekend in Lee Vining, one word comes to mind: freezing. We'd driven through this tiny town of approximately 222 people once before while spending three weeks in nearby June Lake. However, this time, we dry-camped in a forest service campground with no hookups to revisit the area while passing through.
This part of the Eastern Sierras is a favorite place of the husband, who's a big fan of snow-capped mountains, green forests, and skiing nearby. There's no denying it's stunning, but we'll get to my all-time favorite landscape a little further down.
Highlights:

Making it through Tioga Pass before it closed for the winter, the most peaceful campground nestled among the trees, walking again among the tufas of Mono Lake, revisiting our favorite June Lake Brewing and its Hawaiian food truck

Lowlights: 

Further realizing how miserable I am when I don't have a warm place to escape to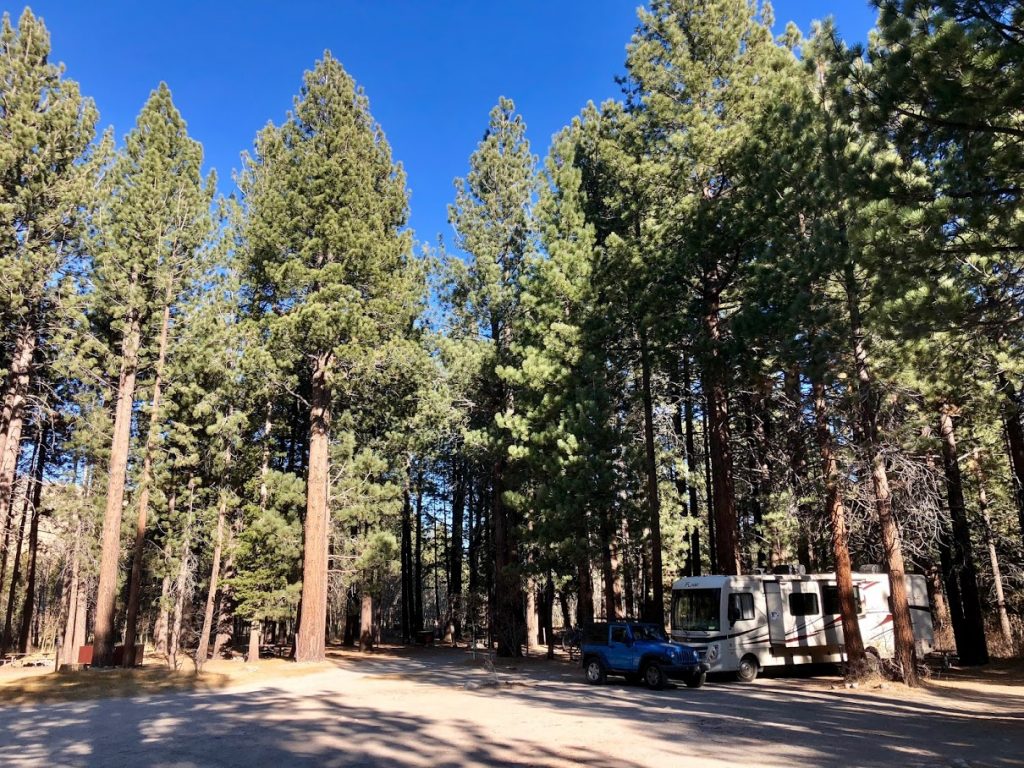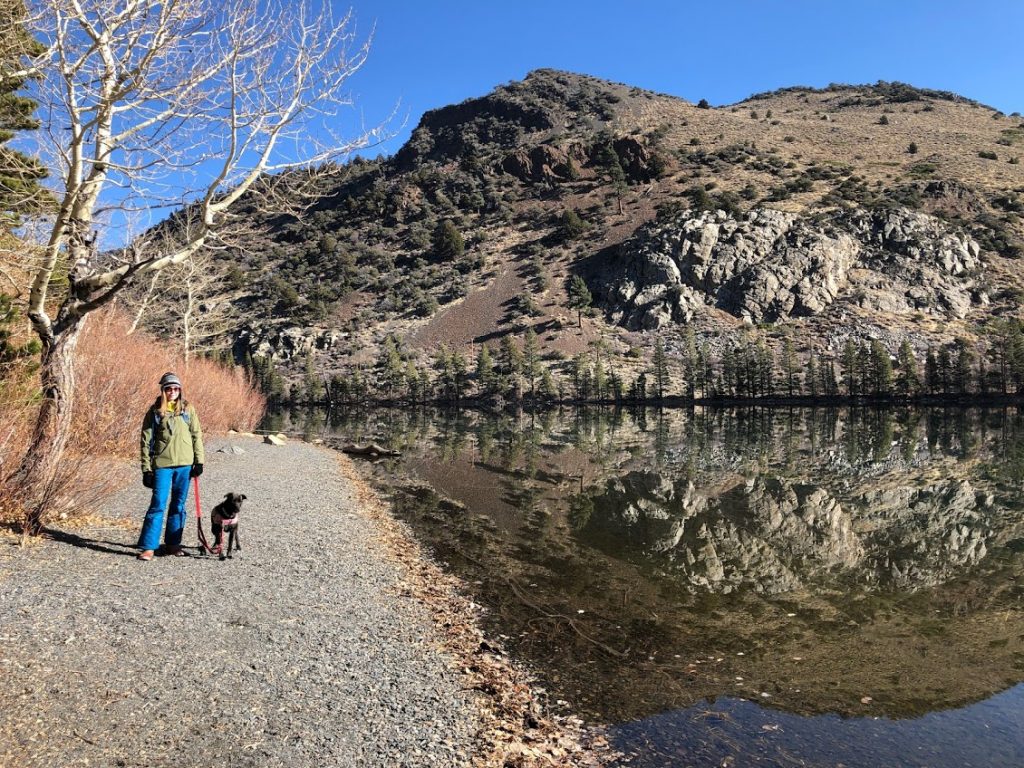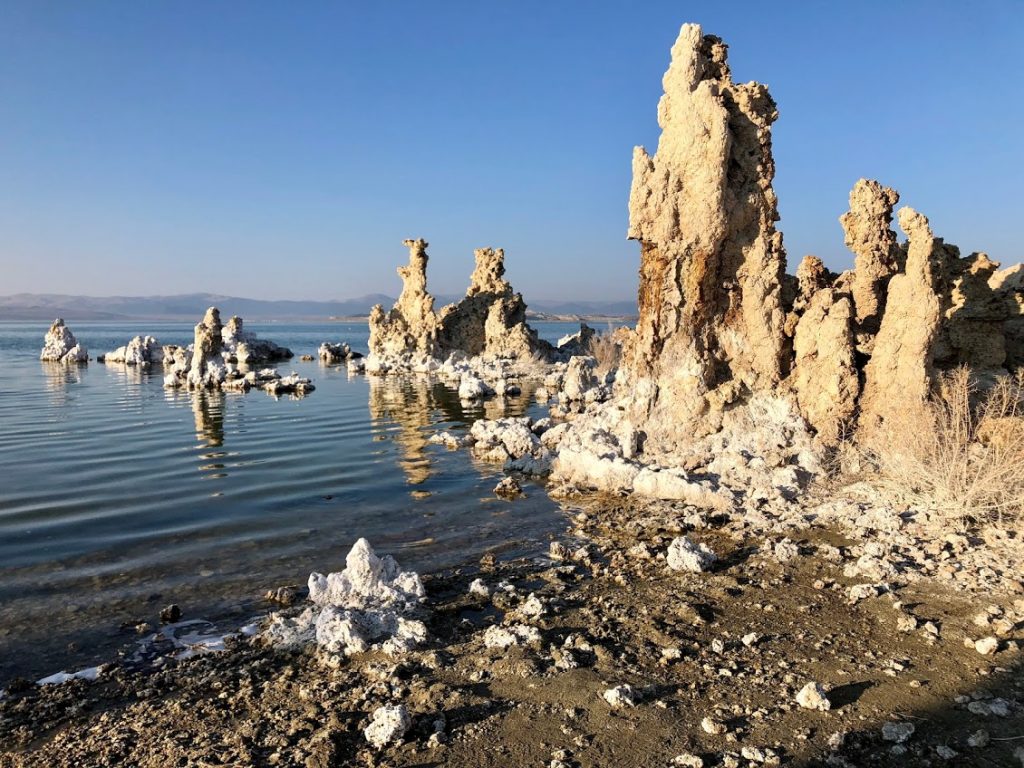 Tonopah, Nevada: Home on the Road #96
For Thanksgiving, many people have traditions of traveling to see family, going shopping, and eating turkey. Our Thanksgiving tradition involves none of those things. Instead, we aim to find remote destinations that no one goes to in order to escape crowds, traffic, and consumerism. This year's Thanksgiving destination was Tonopah, Nevada, a place where we hoped to learn a bit more about this mysterious state outside of the usual trappings of Vegas and Reno.
The town itself is a bit run-down and dusty, but it has a quirky charm to it that really can't be beat. I mean, seriously, where else can you find a creepy Clown Motel, haunted cemetery, and spray-painted cars upturned in the dirt all within a few miles of each other?
Highlights: 

Exploring mining history areas that were dog-friendly, discovering that casino campgrounds really can be alright, getting spooked by haunted attractions in town, walking through a car graveyard not unlike Amarillo's famous Cadillac Ranch, delicious pesto tortellini for Thanksgiving dinner and craft time with clay and construction paper in the RV

Lowlights: 

More freezing cold days (a big theme of this month), the only brewery in town had not-so-great service and no vegetarian options (but the beer was pretty good)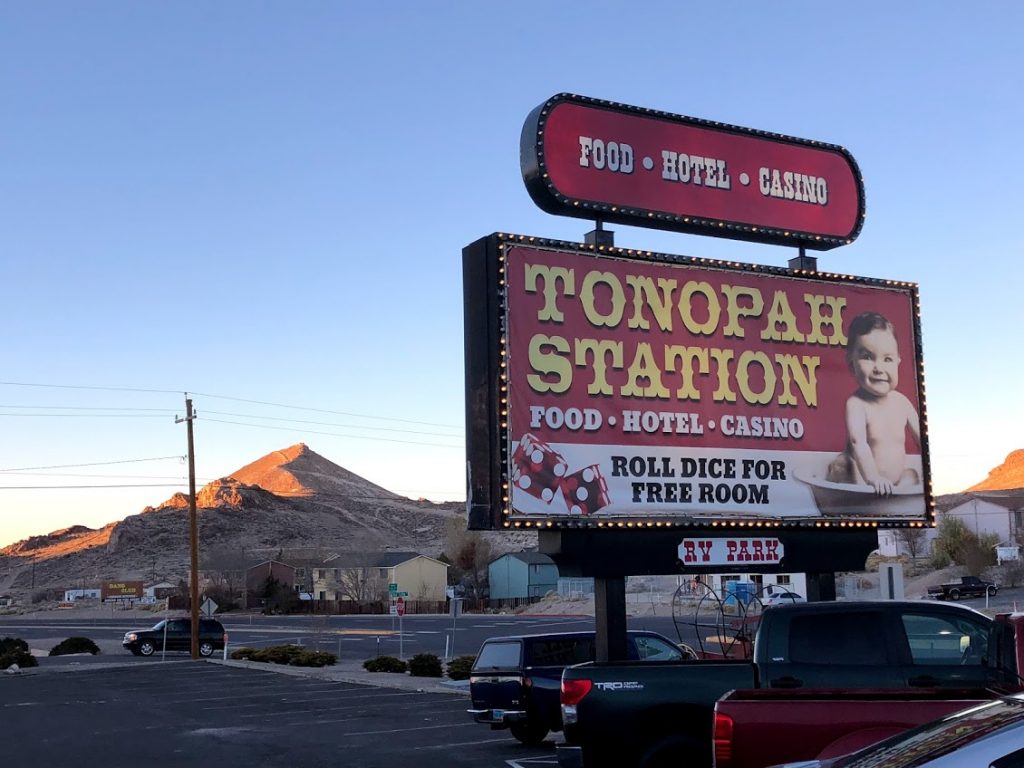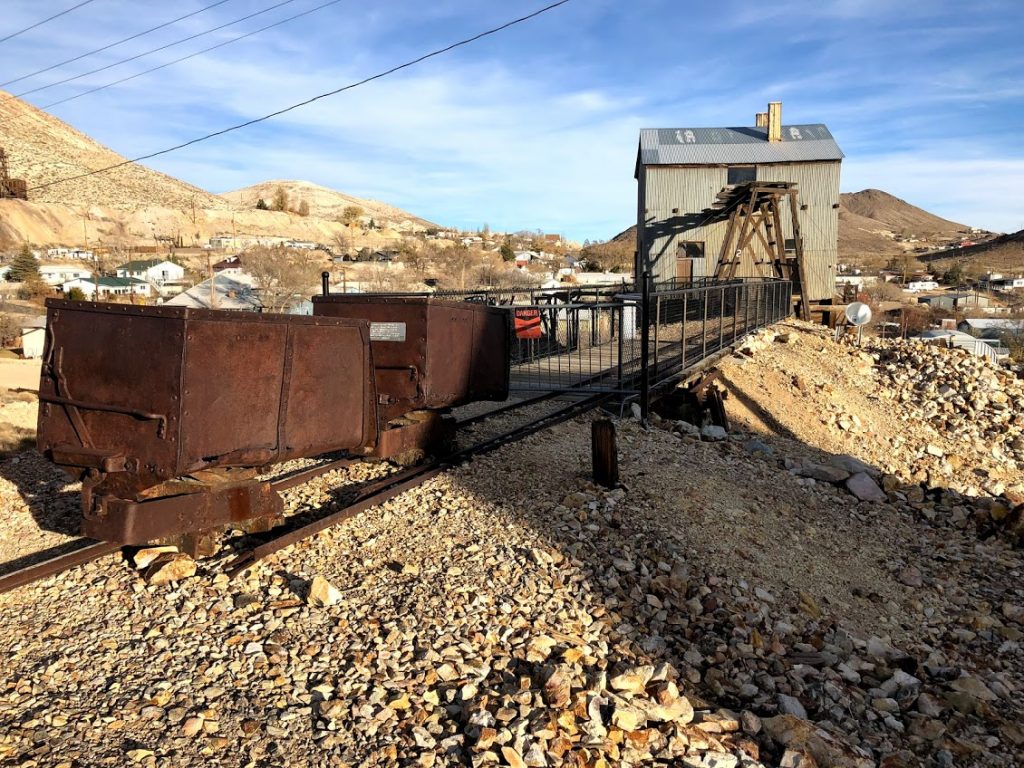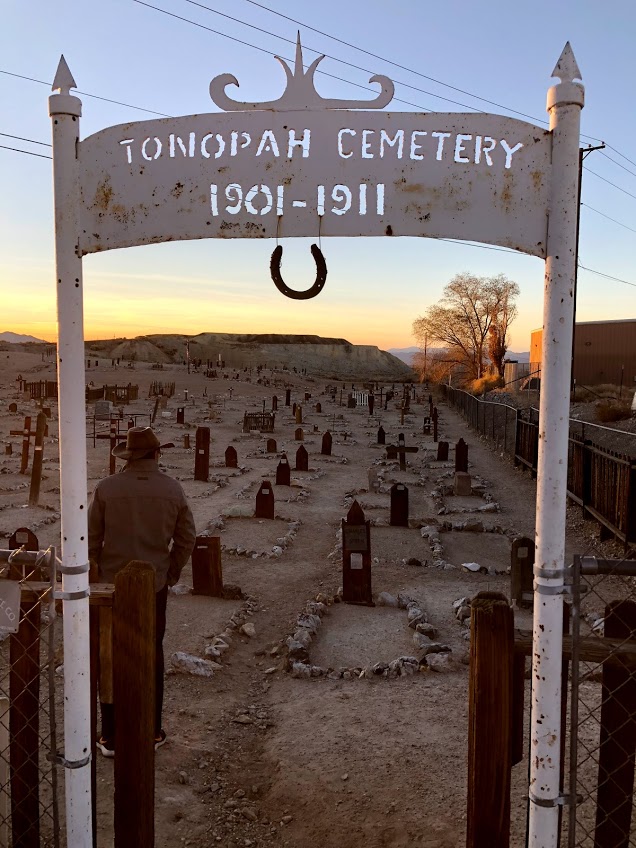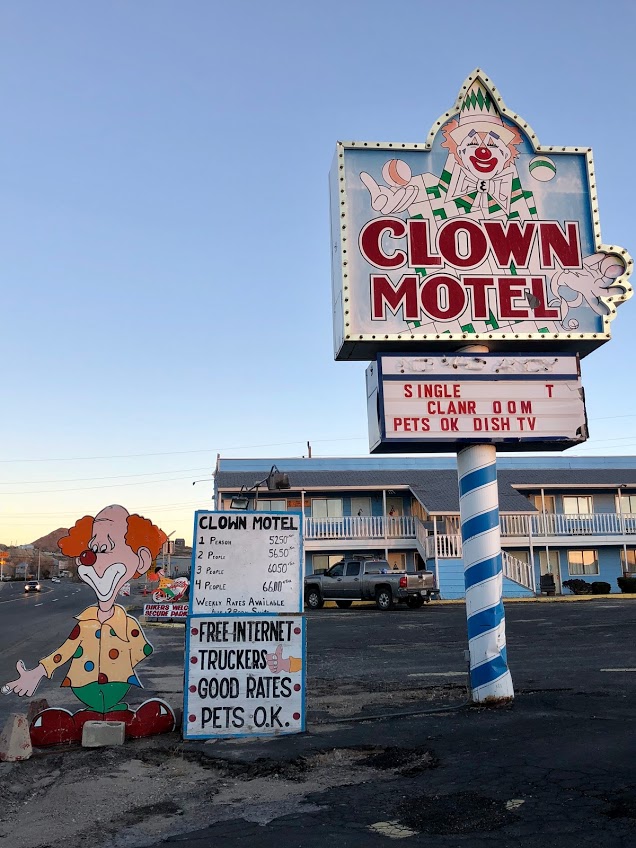 Mesquite, Nevada: Home on the Road # 97
In search of a little more warmth and to check out another random Nevada town we'd never been to, we booked a spot at another casino campground in Mesquite. Casino campgrounds seem to be the norm in Nevada, go figure. However, the route for getting here was a big part of the intrigue. You see, we took a drive down the Extraterrestrial Highway (Nevada State Route 395) in search of aliens, UFOs, and anything else on the paranormal spectrum.
But upon reaching Mesquite, an entirely different type of invasion actually occurred. Much to my surprise, my best friend conspired with my husband to book a spontaneous flight to Vegas and then drive to Mesquite just to see me. I had literally just taken my last bite of Saturday morning pancakes and was two seconds away from hopping in the shower when I stuttered, "Um…what is Michelle doing outside the camper right now?" It was baffling and amazing at the same time.
Highlights: 

Stocking up on alien souvenirs and a grilled cheese sandwich at the Extraterrestrial Highway pit-stop of Little A'Le'Inn, getting a surprise visit from my best friend and spending the day in the desert and later on the Vegas Strip with her, biking around Mesquite to check out the town, ending our stay at the hot tub at the Casablanca Casino & Resort

Lowlights: Only having a weekend to check out this new part of Nevada, having to say goodbye to my favorite lady and send her back to a blizzard in Illinois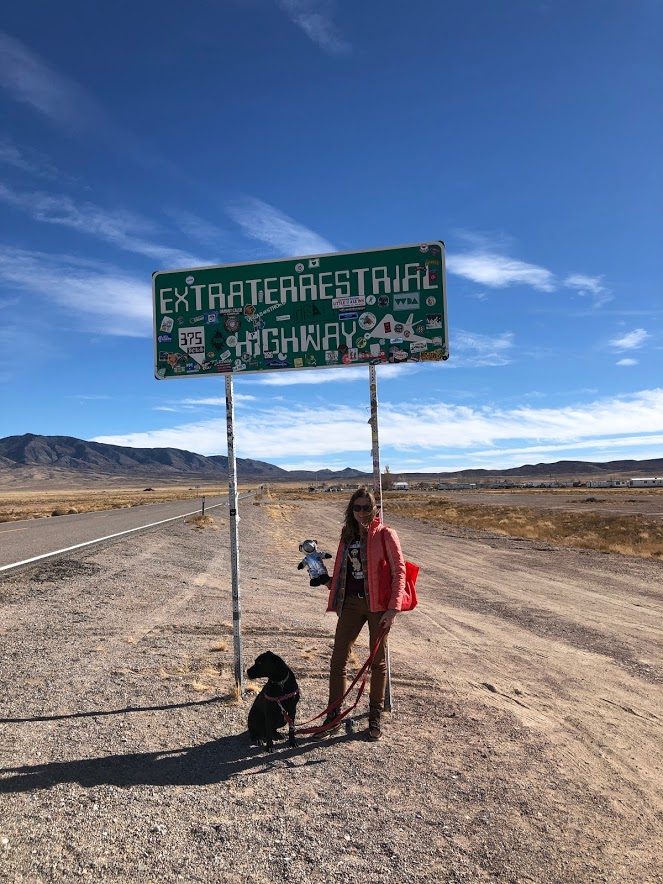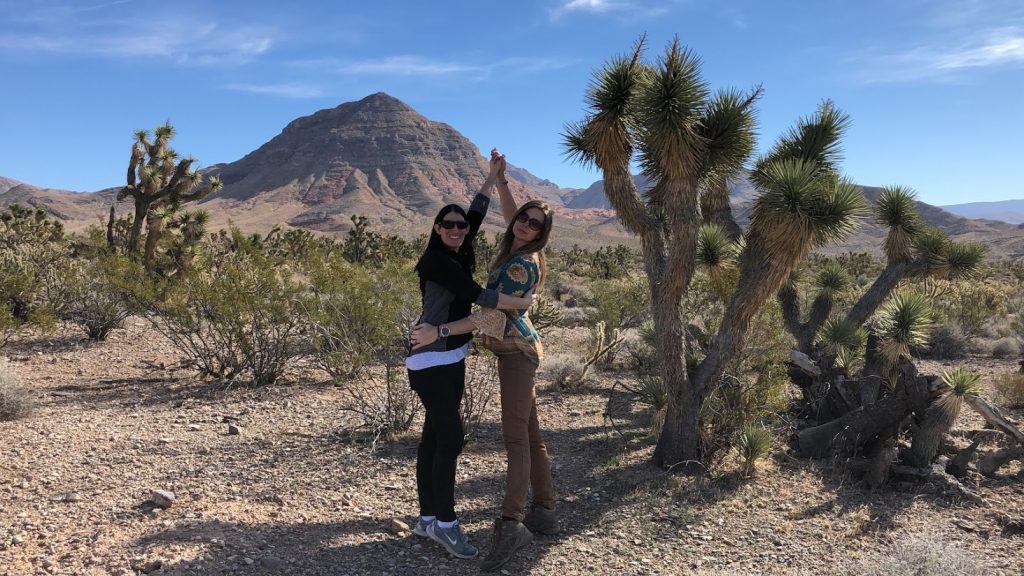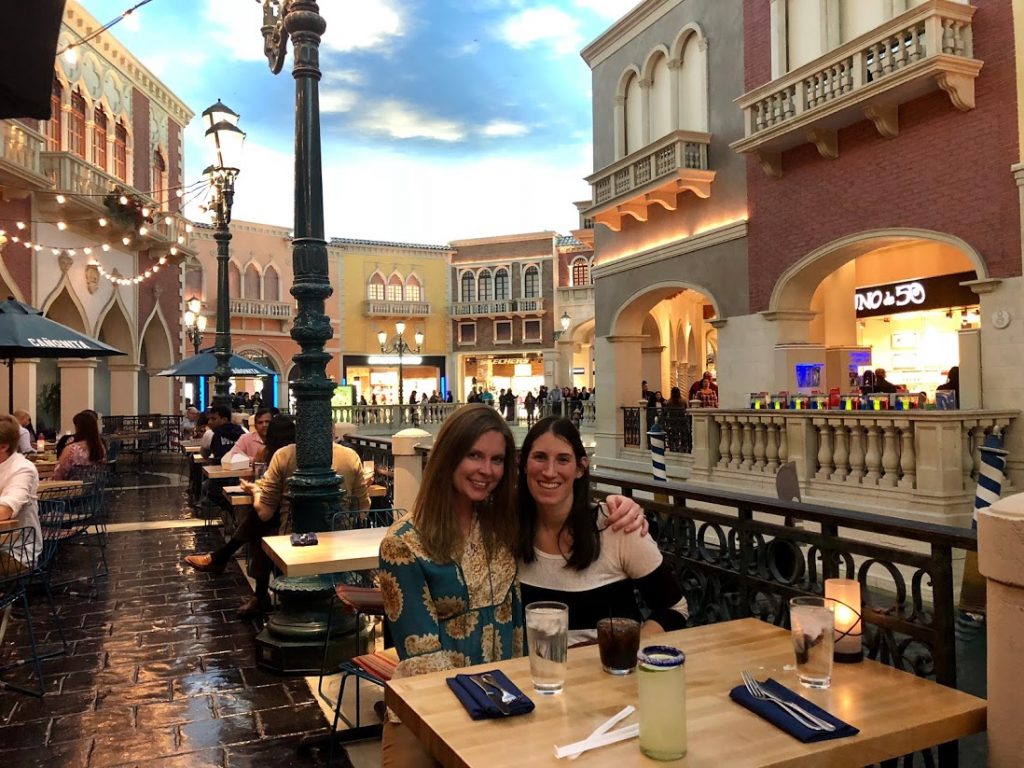 Kanab, Utah: Home on the Road #98
If I had to pick a place to live based upon landscape alone, I'd pick Southern Utah. Ever since my previous visits to Zion, Bryce, Arches, Canyonlands, and Kodachrome, there's been something magical that draws me to the impressive red rock formations of this area. We stayed in the nearby town of Cedar City for a couple weeks last year and made Kanab our destination this time. Aside from having our first snow of the season, Kanab welcomed me with views I never got tired of, uncrowded trails, and non-annoying people.
Highlights: Best landscape views ever, awesome BLM hiking that's dog-friendly and uncrowded at this time of year, seeing snow on the red rocks, touring the dog and potbellied pig areas of the Best Friends animal shelter facilities, getting into the Christmas spirit with a local musical production, slot canyons you can walk right into, going to my first-ever real estate open house (maybe SoUT will be in the future plans?)
Lowlights: Trying to work while wrapped in a sleeping bag/countless layers/hand warmers/etc. when our propane heater broke once again, almost getting stuck in the sandy backroads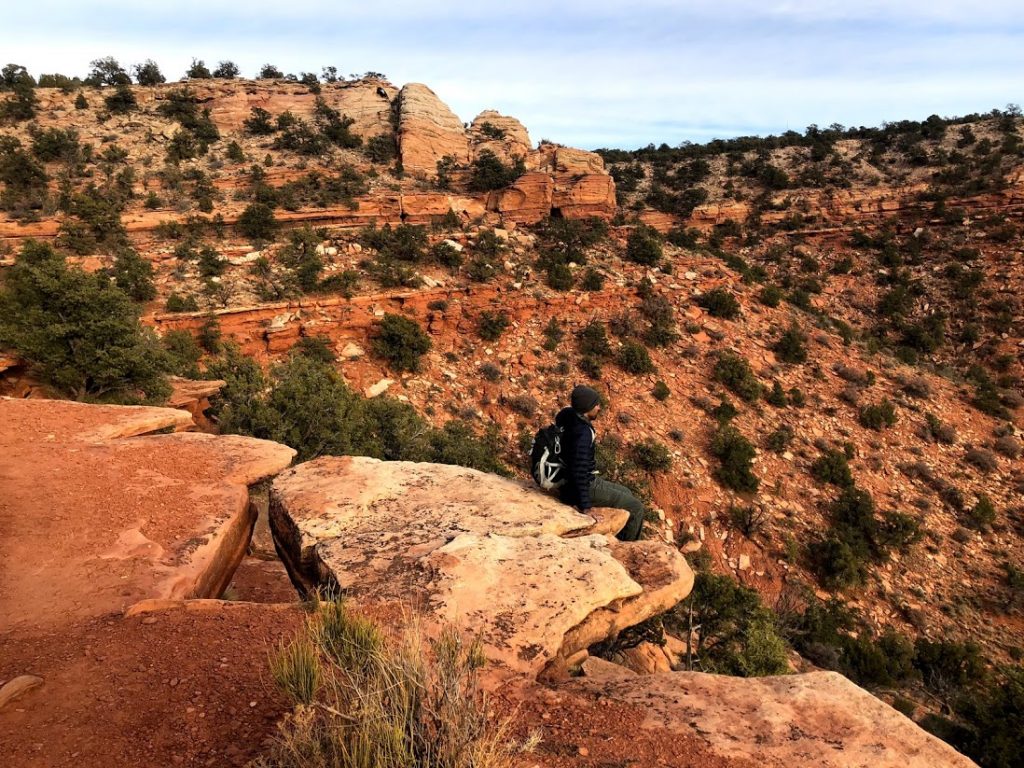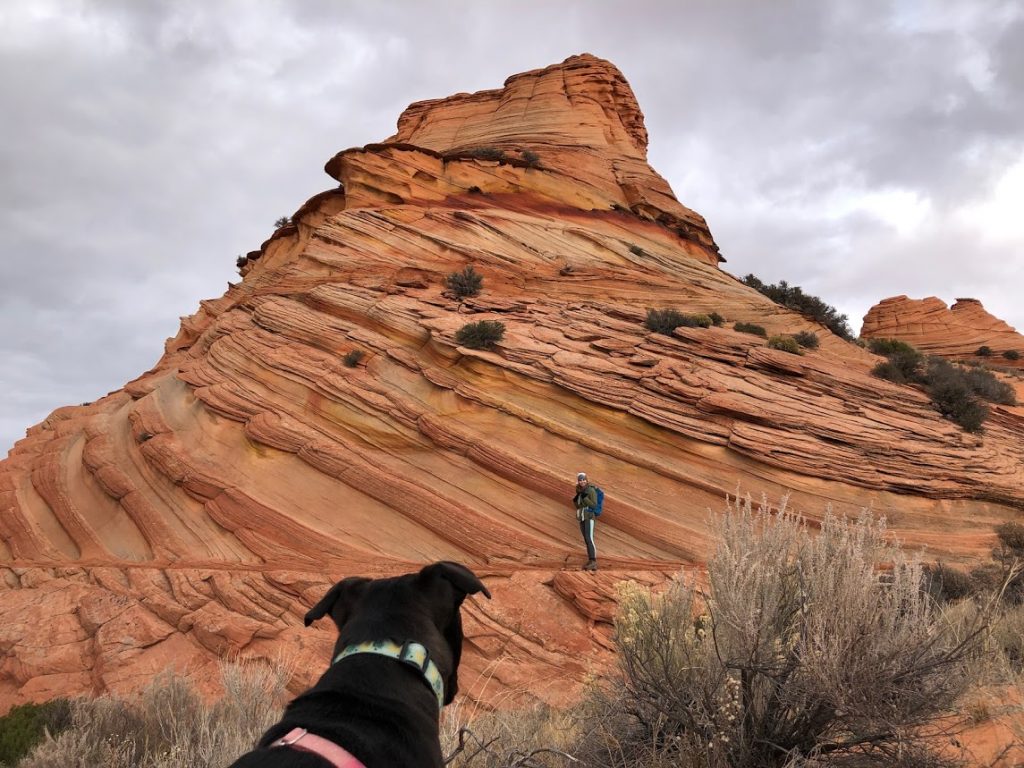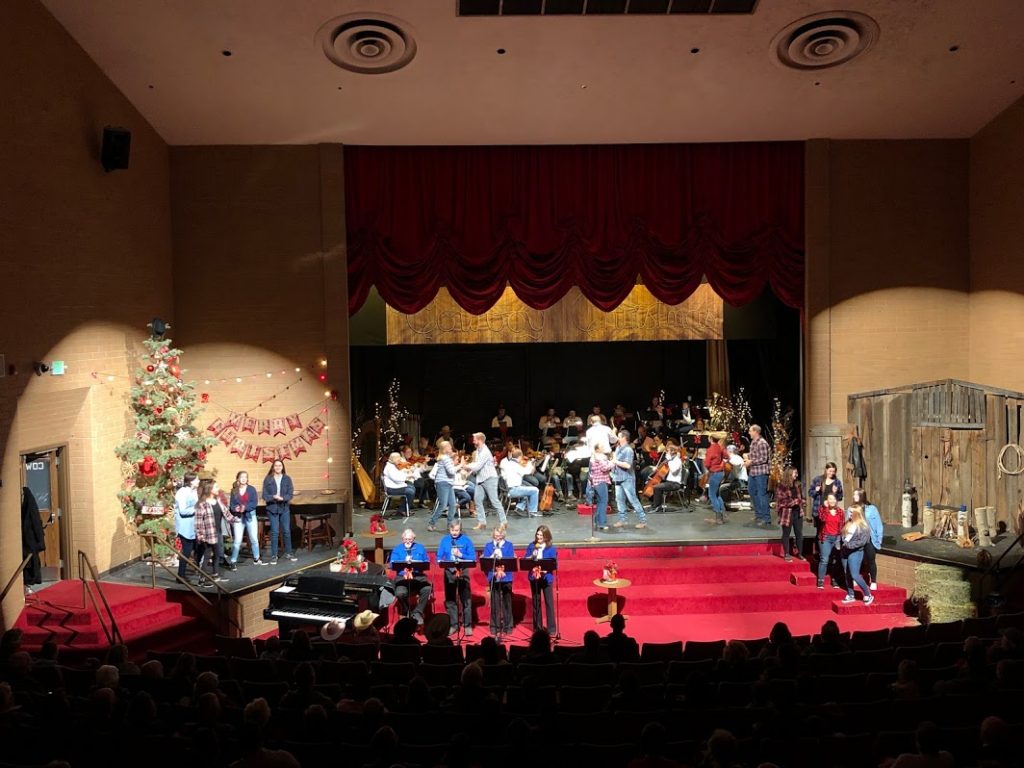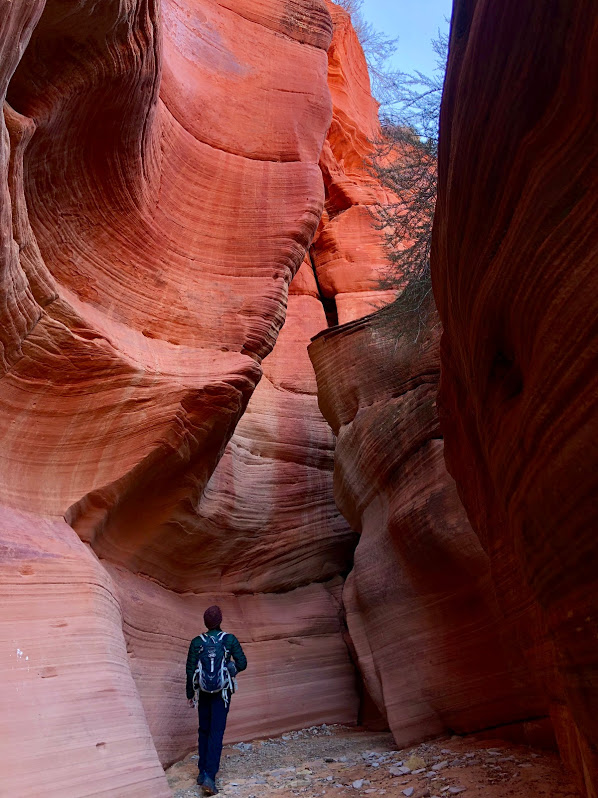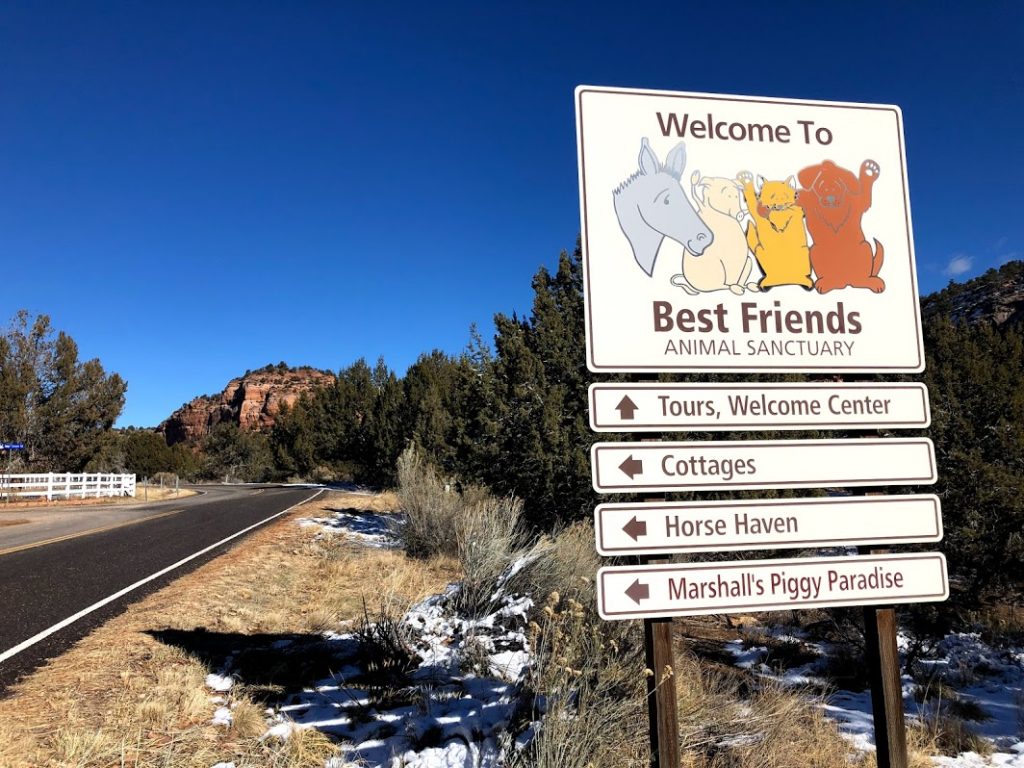 Monument Valley, Arizona: Home on the Road #99
Our stay in Monument Valley was short – just an extended weekend. But we packed a lot into it and saw Navajo National Monument, Monument Valley National Tribal Park, Canyon de Chelly National Monument, Hubbell Trading Post National Historic Sites, and the Chaco Culture National Historic Park. This circuit encompassed Arizona, Utah, and New Mexico and was a bit of a three-day whirlwind.
Highlights: 

Seeing incredible rock formations with hardly anyone else around, epic photos of light snow on the formations, learning about Navajo history, receiving a beautiful turquoise and silver Kokopelli necklace as an early Christmas gift

Lowlights: 

Having the Jeep's battery die and failing to successfully charge it with our solar system battery or push it to the front of the RV for a jump (had to ask a neighbor for help…ugh), lots of time driving and passengering in the RV, stray dogs everywhere and lots of dead dogs on the sides of roads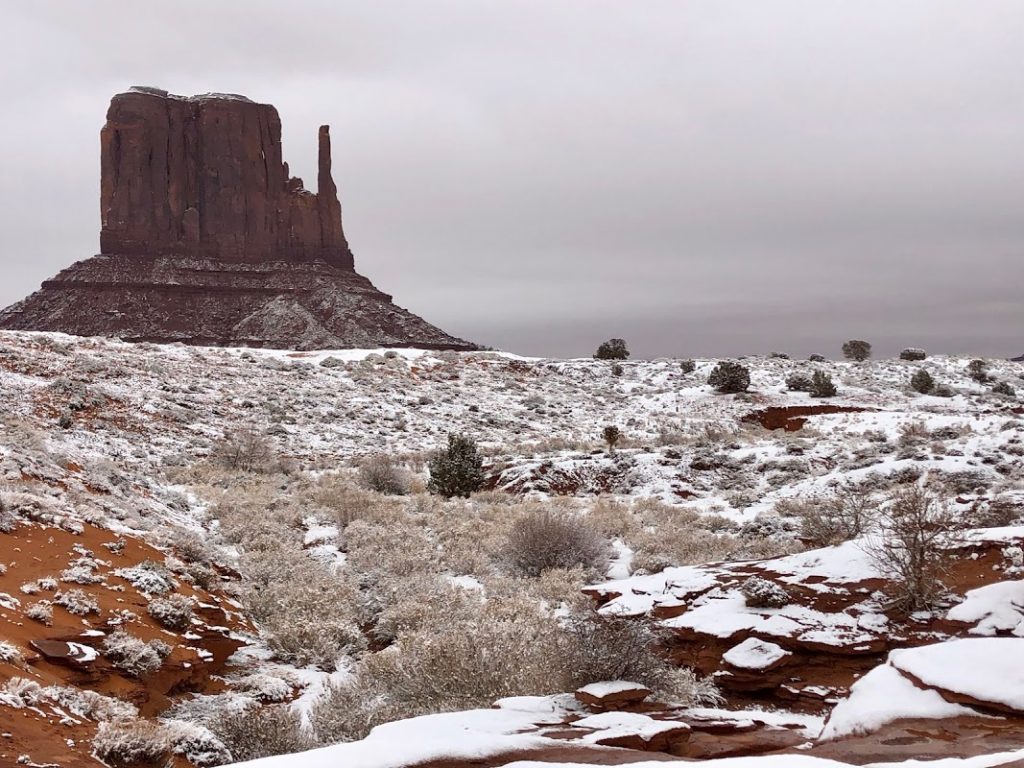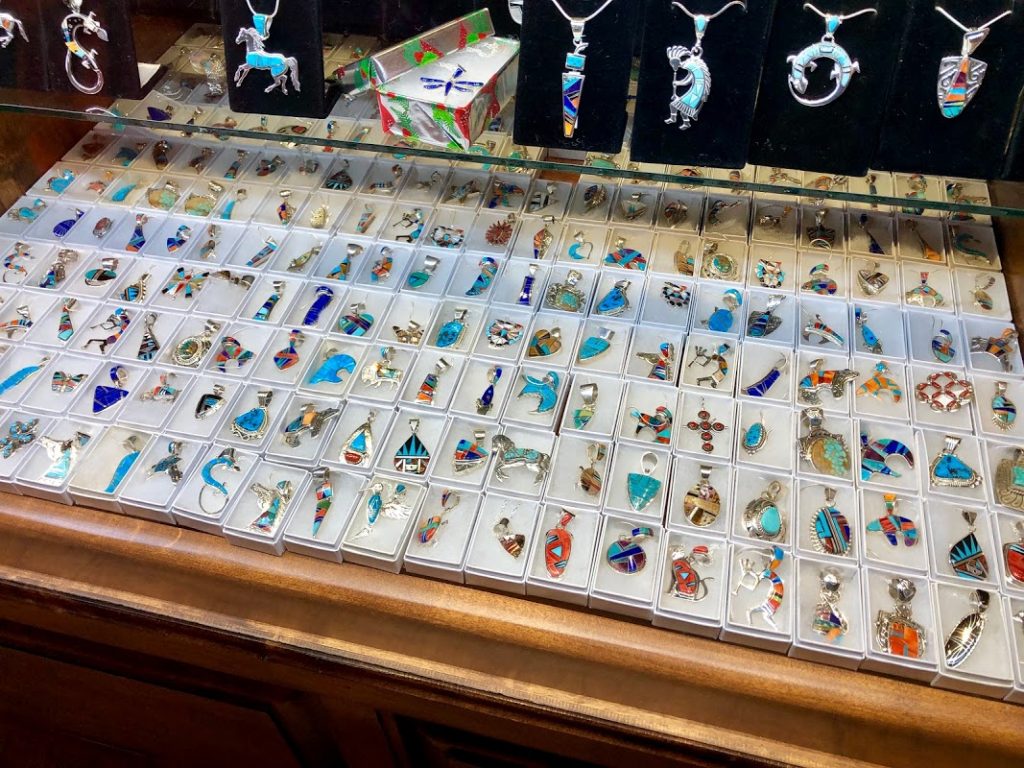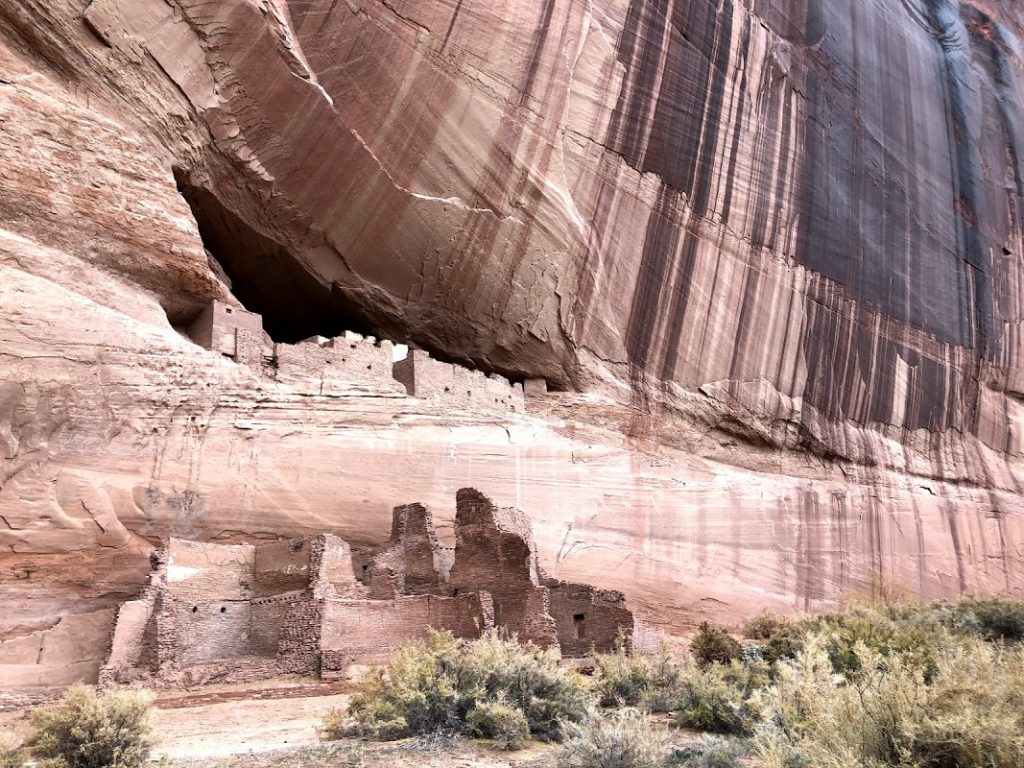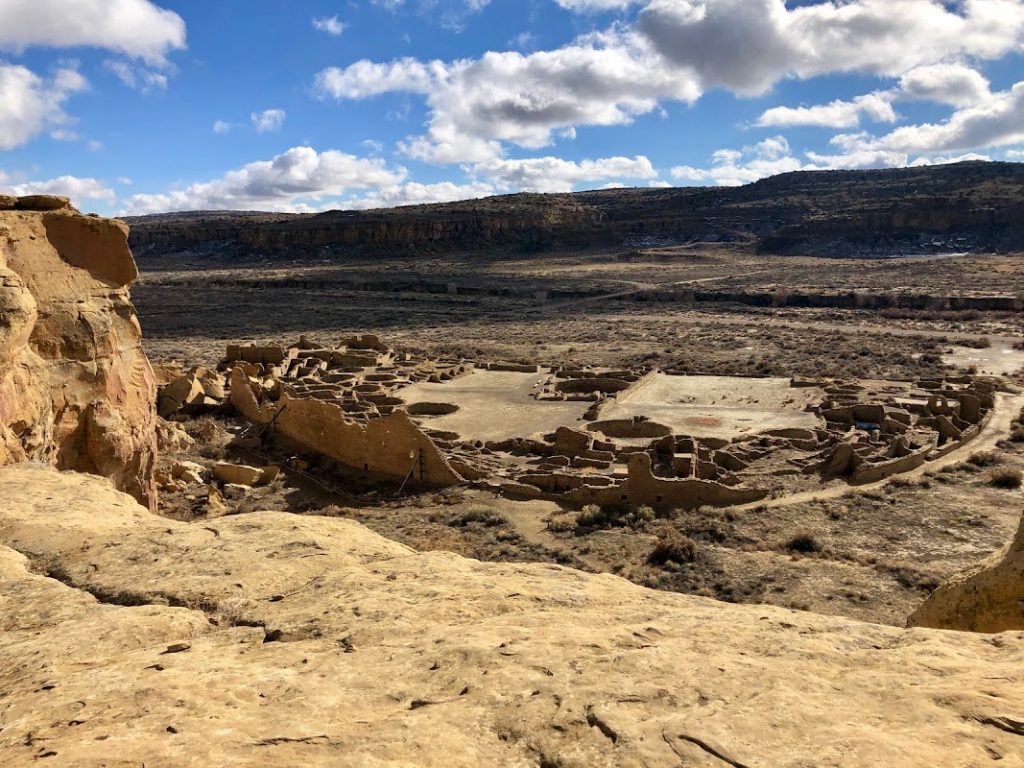 Gallup, New Mexico: Home on the Road #100
Our last pre-Christmas journey on this road-trip-called-life was Gallup, New Mexico. We'd been to Gallup before and honestly weren't all that in love with it. But it was the next logical place to stop before starting to head east. Plus, we wanted to check out the Red Rock Park and see a different side of town.
Highlights: 

Scenic hike up the Pyramid Trail and hike to Church rock, quiet campground and no neighbors for few work distractions, surprisingly decent Wi-Fi, the best public laundromat experience I've had in a long time

Lowlights:

More stray dogs everywhere, w

ork stress galore, immune system shutting down, all the prickly thorns that get in Monkey's feet from the desert shrubs (she got carried for almost a whole minute before squirming her way down), no time or inspiration to do anything in town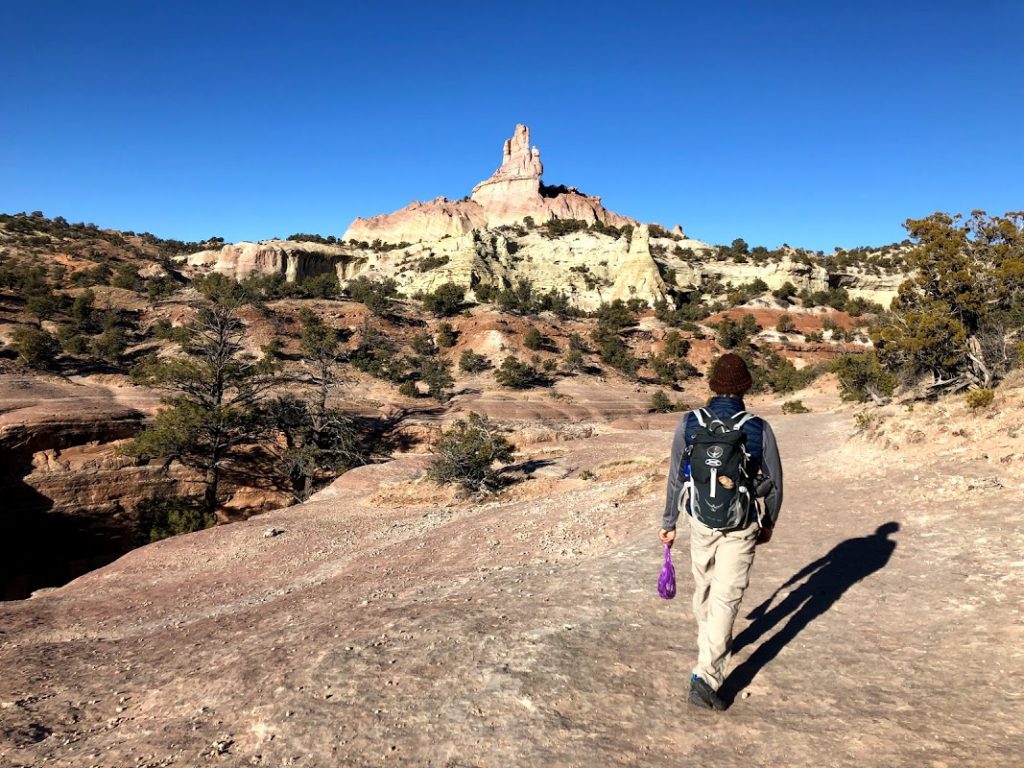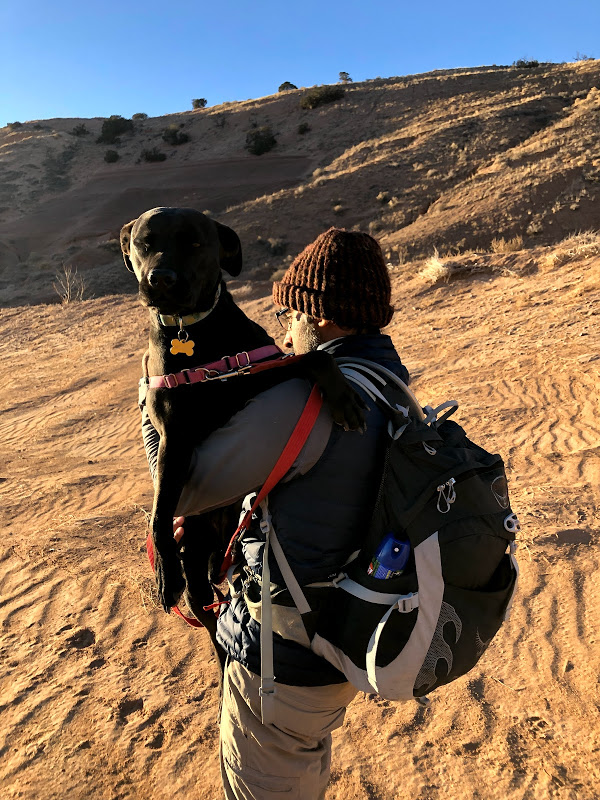 ---
---
This Month's Ramblings from the Road
You always have to pay attention to tunnels when you're driving a home on wheels. Our RV is about 12 feet tall. This tunnel was 13 feet and three inches. The one after this was only 10+ feet on the sides but taller in the middle. Spoiler alert: we made it through.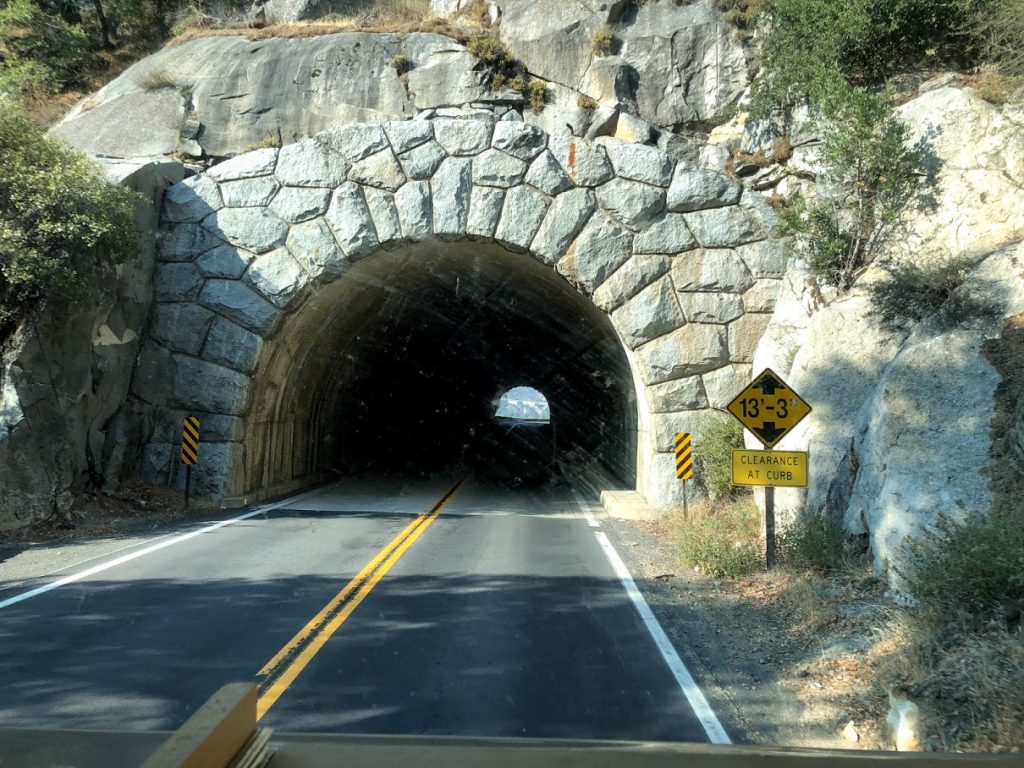 Maybe it's a sign of getting old, but my body is having serious trouble adjusting to the cold. However, I'm sure it would be more manageable if I had a comfortable place to wake up and come home to instead of an un-insulated tin box with a chronically broken propane heater. The circuit board gets flooded, no matter what, every time it rains, which kills it and only a $100 replacement gets the back heat on again. This is a shot I took on a morning when I woke up to 31 degrees inside the RV. Warming measures we've taken include 1 space heater (2 blow a fuse), covers for the roof vents, carpeted floor mats, and complaining a lot.
Then there are days like this…pretty, but no thanks.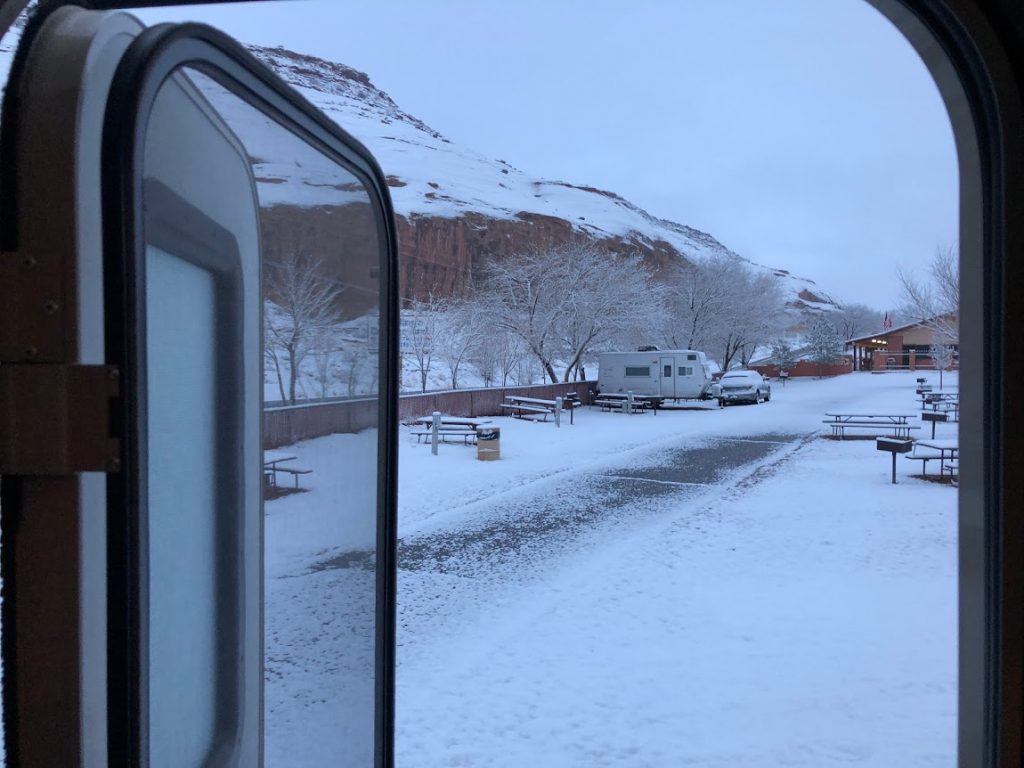 I'm not a fan of snow, but if I have to see it, I prefer it to be lightly coating some glorious red rocks in Utah.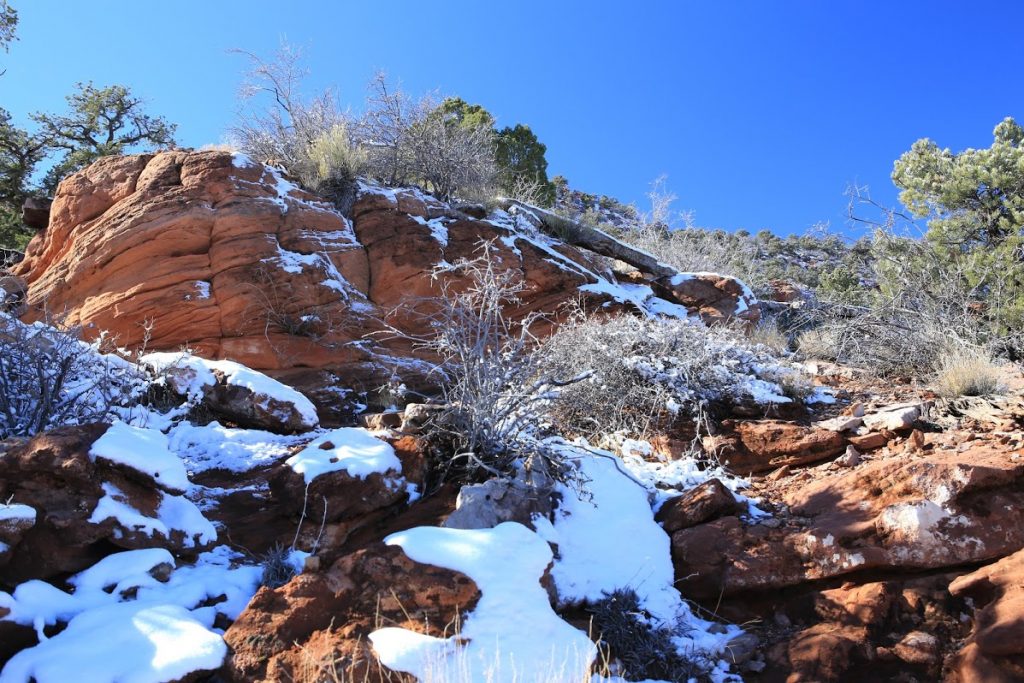 These are Thanksgiving crafts we made to celebrate the holiday out in the middle of nowhere in Nevada over copious amounts of wine. Because we're like five.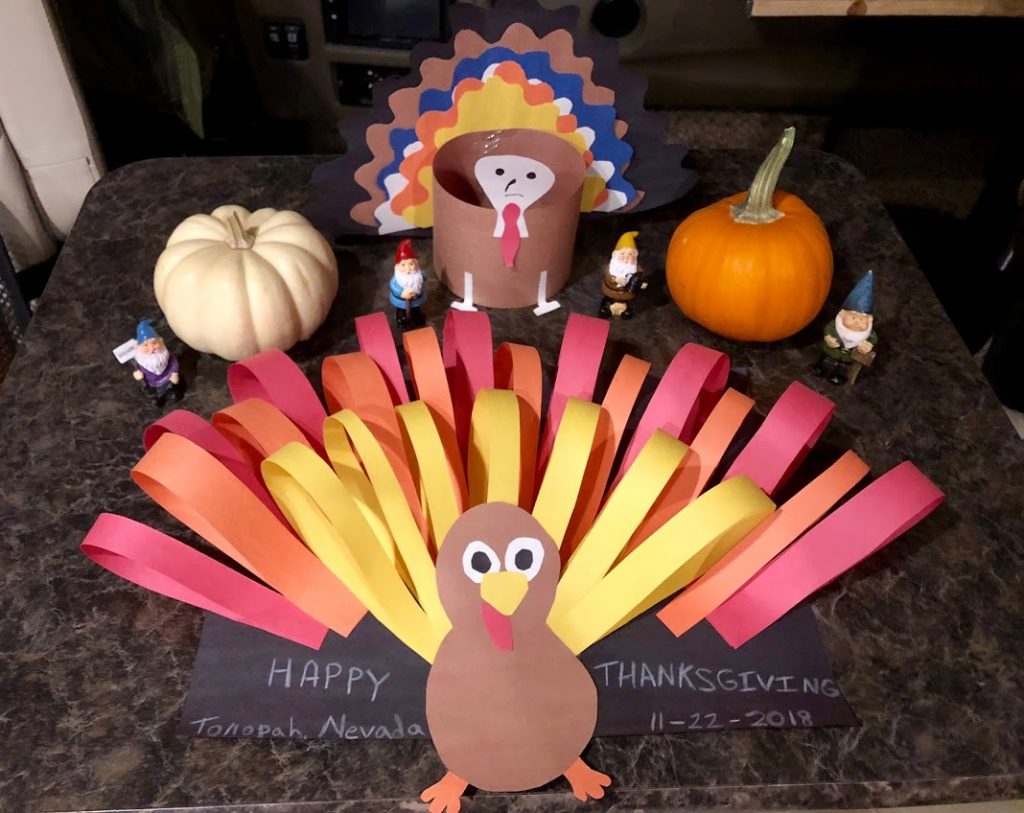 Picking up non-space-consuming souvenirs from super-random places is a favorite pastime of mine. This license plate now lives on the front of the Jeep (that's legal, right?), I can never have enough fun tank-tops, who wouldn't want to drink out of an alien shot glass, and my insanely large souvenir patch collection continues to grow.
---
Looking Ahead to Next Month
From here, we embark upon our big Christmas journey back east and sans RV. It never makes sense to schlep this gas-guzzler across the country for just a short amount of time, so we're sticking it in storage and heading eastbound in just the Jeep.
We shifted over to Albuquerque to make the transition because we found a campground with onsite monthly storage, which makes everything easier. The RV sofa is already piled with crap to pack, yet my packing list has a confusing number items yet to be checked off. Well, you know what I'll be doing for the rest of the day. Until next month, signing off and happy holidays to all!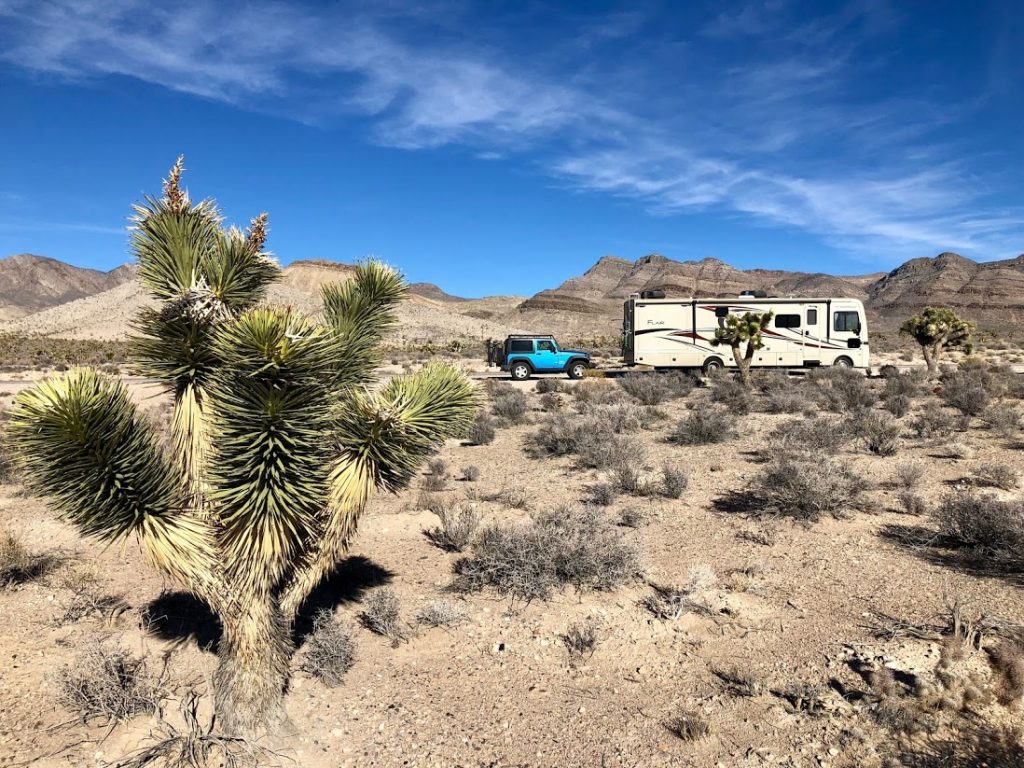 ---
Catch up with the journey: