Back in 2012 when I started this blog, local craft breweries were still something of an anomaly. Coincidentally, this is also when I really started to travel and get into beer culture. Four years ago, it was incredibly exciting to stumble upon a brew house in a warehouse district, along the railroad tracks, or on Main Street downtown. But that's when breweries were relatively few and far between in general, and definitely still new to me.
I celebrated each brewery with a strict attention to detail, with a trusty notebook in hand and a camera-toting boyfriend in the other. I used to write about each and every individual brewery I visited, noting the ambiance, the service, and casually rating my favorite and least favorite flavors.
Reminisce with me for a moment…
Fast forward to mid-2016, when every small town on the map has it's own brewery and every big city has about a dozen. I certainly don't love beer any less than I did four years ago, but the suddenly overcrowded marketplace has made that initial excitement wear off a bit.
Don't get me wrong, I still incorporate breweries into my travels and plan to check out at least one in each new place I visit. But I just can't muster up the energy to write about each and every one of them anymore. It's a daunting task that I'm just not up for…or getting paid for! So just like every other random craft beer fan out there, these days I simply plop down, pick my poison, and leave it at that.
Okay, so maybe I'm being a bit over-dramatic. I still do jot down travel notes and try to snap a photo of brew houses I visit after hikes or for an afternoon break. But after days of writing full-time for my day job, I just can't bring myself to write more, especially about an ever-growing niche that I no longer have hope of conquering.
Then again, to bring things back into perspective…IT'S JUST BEER FOR GOD'S SAKE!
When I recently spent a month in New Mexico, not surprisingly, I visited lots of breweries to scope out the local beer scene. In no particular order, these are some of the breweries I managed to document in some way and little bits and pieces of the things I can remember about them.
Santa Fe Brewing Company, Santa Fe
This was a post-hiking brewery stop after checking out La Tienda Trails. We actually only got about 1.8 miles into the hike before a work emergency came up and we had to turn back for the laptops in the car.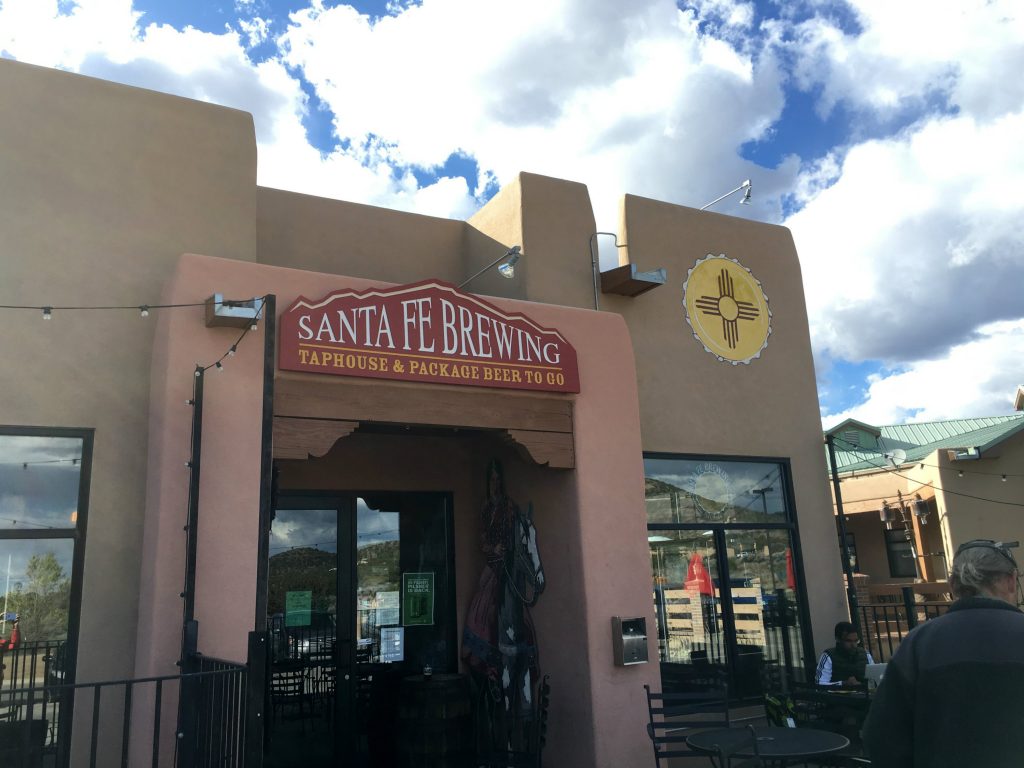 But fortunately, all the emergency required was a little attention and an internet connection. And Santa Fe Brewing Company was right around the corner.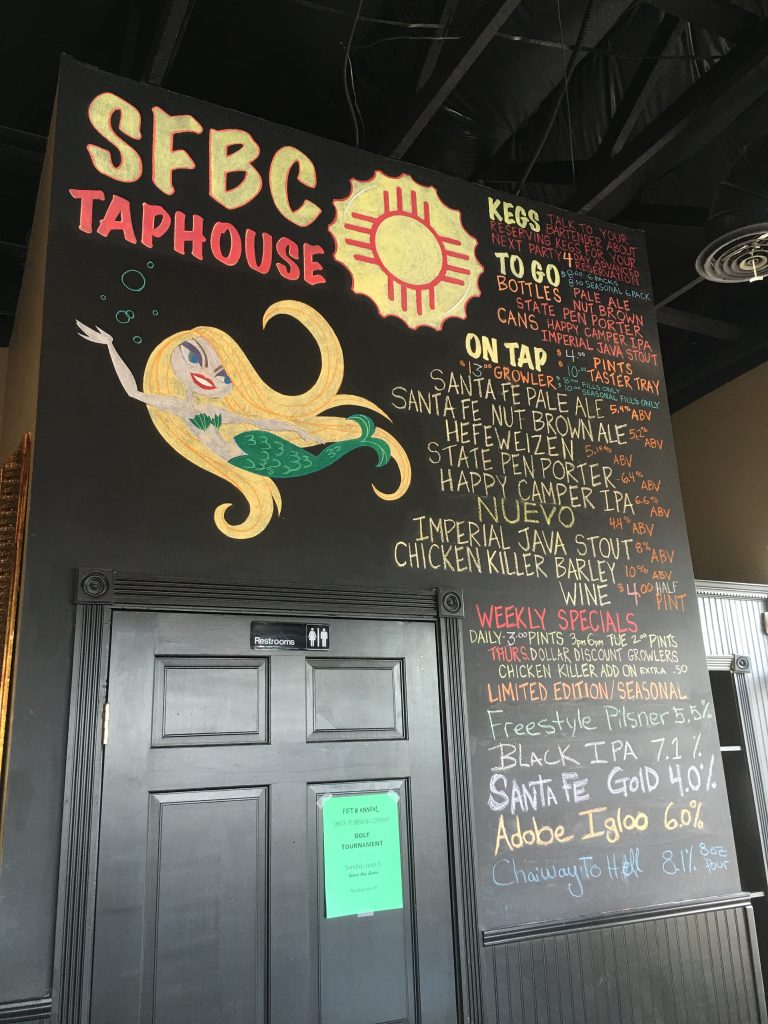 They had an insane number of beers on tap, but a terrible organization system for samplers. The reason I have so many photos of this place is because I actually had to compare and match up a photo of the beer listing board inside with faded abbreviations under tiny glasses, making about four trips back and forth from the bar to the patio.
But with 13 tiny beers in front of me, how seriously irritated could I really be?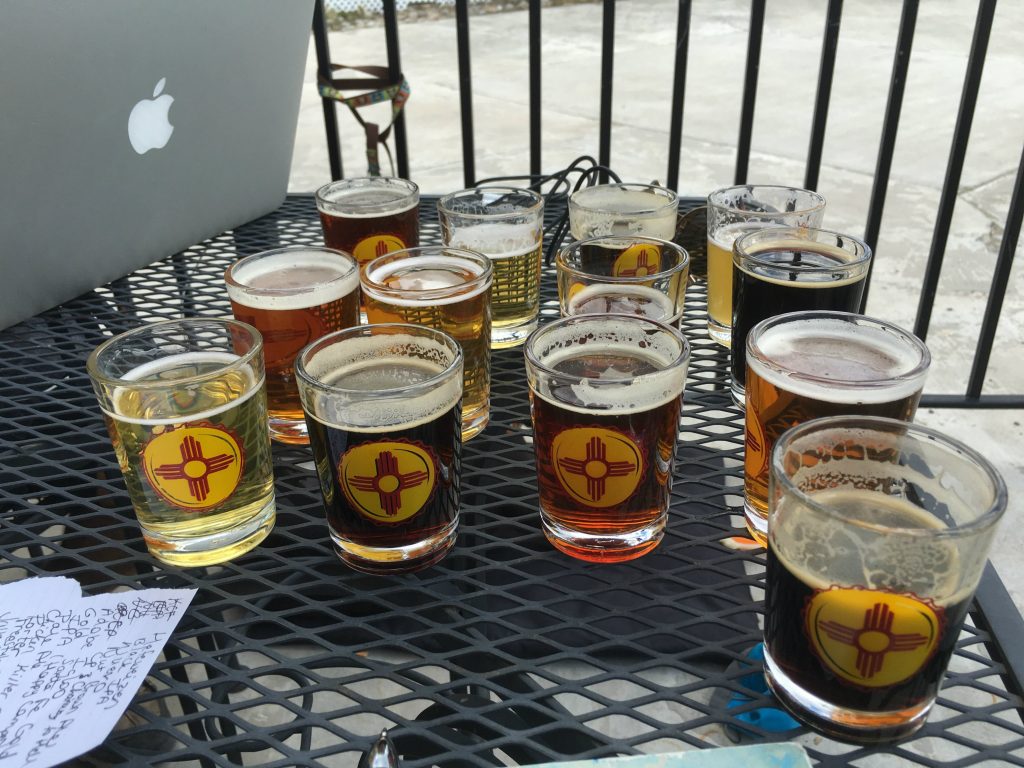 Second Street Brewery, Santa Fe
This was a post-biking brewery stop in Santa Fe after pedaling along the hilly, dirt roads of the Santa Fe Rail Trail. This wasn't one of my favorite breweries because of the questionable and inconsistent rules. Apparently, I'm getting a bit crotchety in my old age.
Their large patio was not dog-friendly, but we read online that people have brought dogs to the tiny smoker's area and didn't get bothered, so that's what we did. The brewery advertised happy hour specials but they didn't honor them for the beers we picked, and they couldn't justify their sizing and pricing. Oh well, you can't win every time.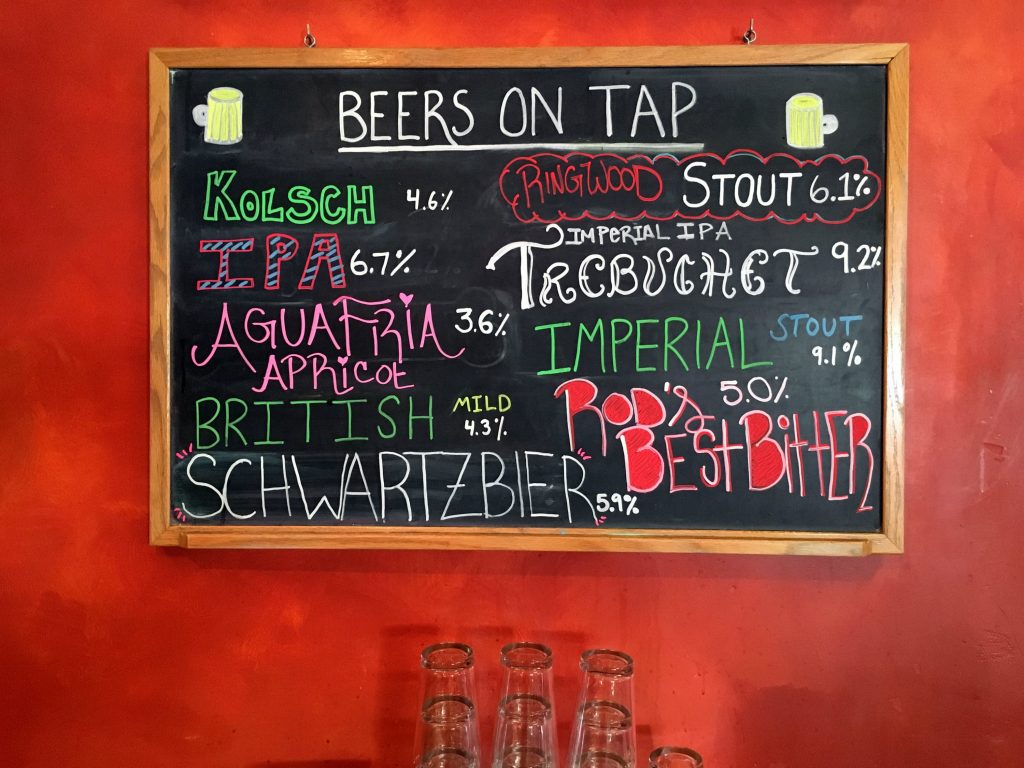 Spotted Dog Brewing, Mesilla
This was a great little brewery we visited after walking around Old Town Mesilla. There were lots of cute shops and historic buildings here, and the brewery was in walking distance from all that.
Here we powered up the laptops and cranked out a bit of writing over a sampler to finish off the day in an awesome way. As any good gnome collector will tell you, these little guys love gnome-sized beer and make the very best drinking companions.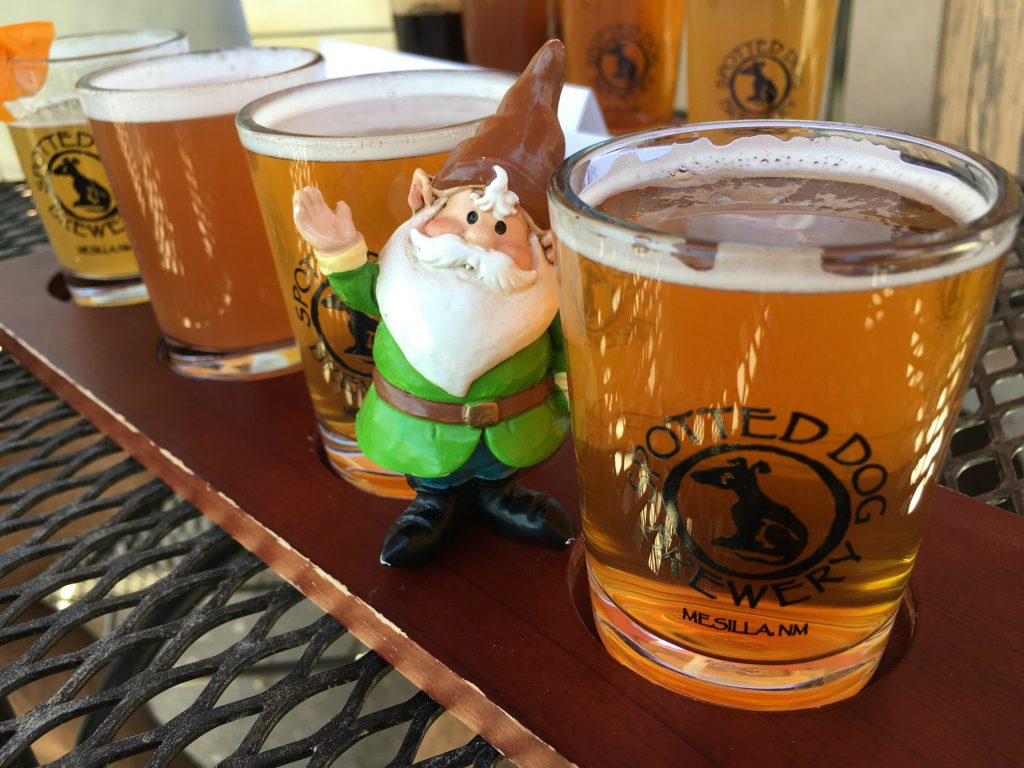 Red Door Brewery, Albuquerque
They really did have a red door! This was one of the first breweries we went to in Albuquerque after hiking the Sandia Mountains. I remember liking this place because it had a little outdoor patio that was completely empty and super chill. After sharing a sampler of 10 tiny beers, I grabbed our growlers from the jeep and got one filled up with the wit and the small one with the scotch ale.
Sometimes I forget to snap a shot or two of the brewery I'm at to help me remember it, or I'm just not in that mindset at the time. Unfortunately, this was the case with three breweries in the Albuquerque area: Canteen Brewery, Marble Brewery, and Turtle Mountain Brewing Company.
Canteen was a frustrating experience because Monkey was acting like a total nut-bag and stressed us out to an extreme degree. I barely even remember what the beers were because of that, but Canteen did have a nice side patio and an attentive server.
Marble Brewery had an amazing set-up but an awful smell. The city was doing sewer work just outside the brewery in the street, and some people nearby actually complained about getting sprayed by sewer stuff. If that wouldn't have been doing on, this Albuquerque spot would have rocked. We stopped by after a DIY Breaking Bad tour around town. There were a couple food trucks with tacos out front and a stage with a band playing music despite the crowd avoiding the outdoor space due to smells and sprays.
Turtle Mountain Brewing Company is in a fast-growing suburb of ABQ called Rio Rancho. I didn't get any pics of this place either for some reason, but we went here after biking about 26 miles on a very nicely paved trail along the Rio Grande. Like several other breweries we went to, this was a place that has a dog-friendly patio but no service out there. I actually prefer this arrangement because I don't have to wait on a server to come out, allowing me to just walk my own two feet inside and up to the bar when I need something.
Taos Mesa Brewing, Taos
Hands down, this brewery had the best outdoor scene ever. The ski resort town was experiencing crazy high winds the day we visited, but that didn't stop us from sitting outside to enjoy the mountain scenery.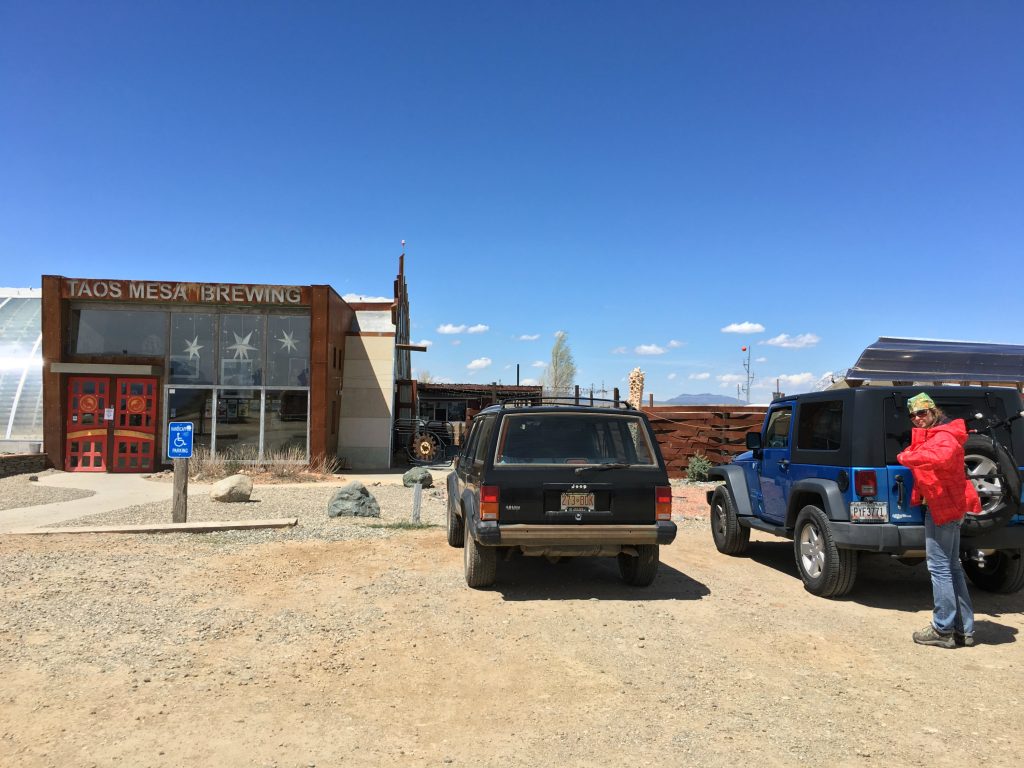 We stopped by after hiking at Rio Grande Del Norte and having a picnic lunch on BLM land near the parking lot. The brewery had stages both inside and outside and clearly hosts a lot of events and concerts. However, the taste of the beer paled in comparison to the views of the mountains. The beers were mediocre at best, with standard flavors and nothing truly interesting. But those views though!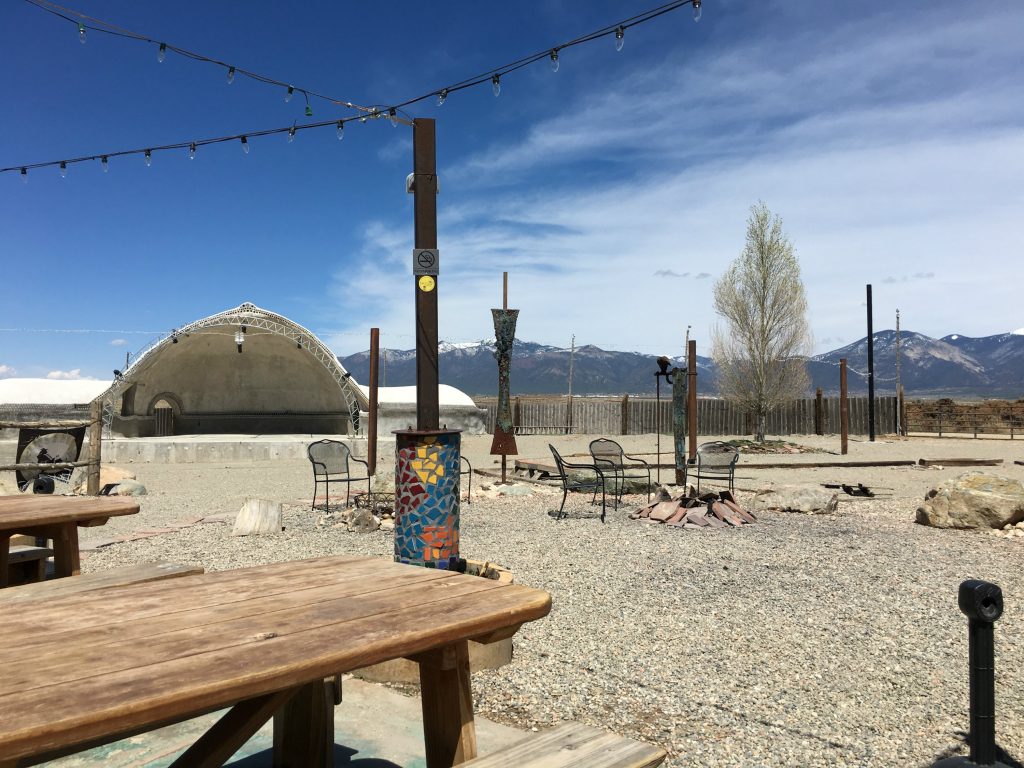 Pecan Grill & Brewery, Las Cruces
This was a rare find that we stumbled across after taking a wrong turn following a hike in the Organ Mountains. I was actually on the hunt for a PetCo because Monkey was (gasp!) nearly out of food. I had seen the Pecan Grill and Brewery come up in a Yelp list a few days before, so we stopped in to try it to make the wrong turn worthwhile.
I was hesitant at first because it seemed like it would have more of a restaurant vibe, which often means that the beer takes a back seat in quality. However, this place pleasantly surprised me more than pretty much anywhere else on this trip. They had happy hour specials that they honored the price on, cheap appetizer specials that were quite tasty, and a laid-back environment where I got a little writing done. Our server did a killer job too.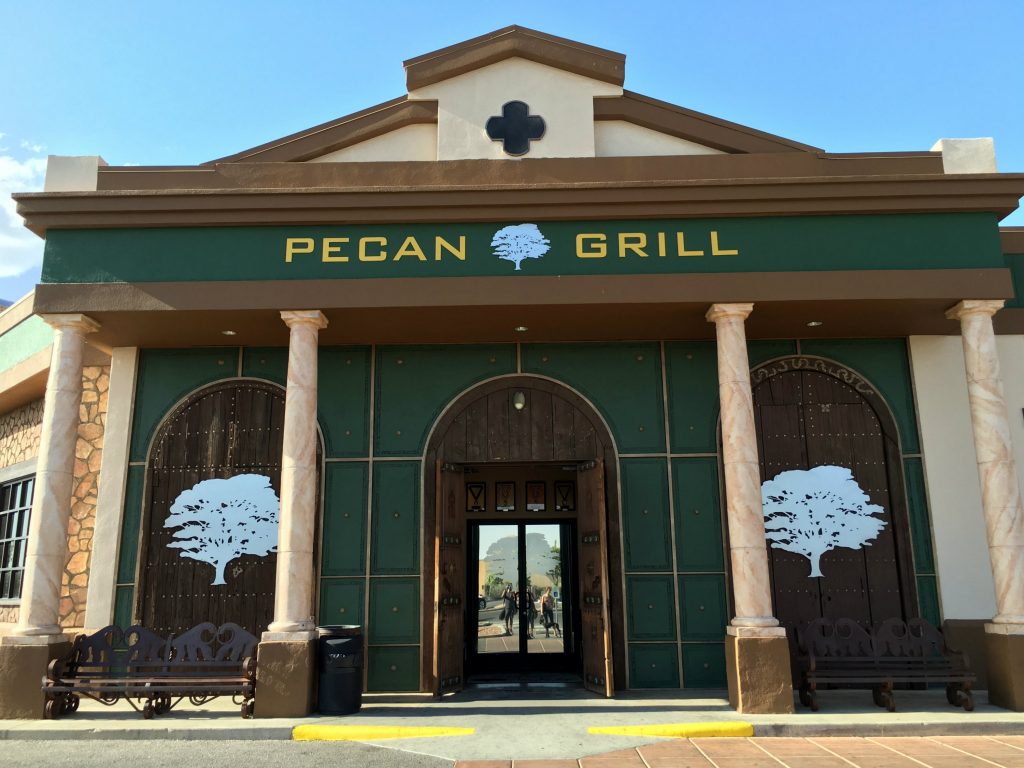 High Desert Brewing, Las Cruces
Another Las Cruces brewery we visited was High Desert, which was our destination after hunting for peridot gemstones at Kilbourne Hole. Some of these New Mexico breweries serve food, while others are drinks-only. We try to save money by making our own food in the camper, but making beer from the road isn't really all the feasible. However, at this place, we splurged and split a couple appetizers to go along with the sampler.
It was an awesome environment, despite Monkey being super-restless after a long and bumpy car ride. The patio was cozy and closed in, which provided some shelter from the crazy high winds that I'll always remember about Las Cruces.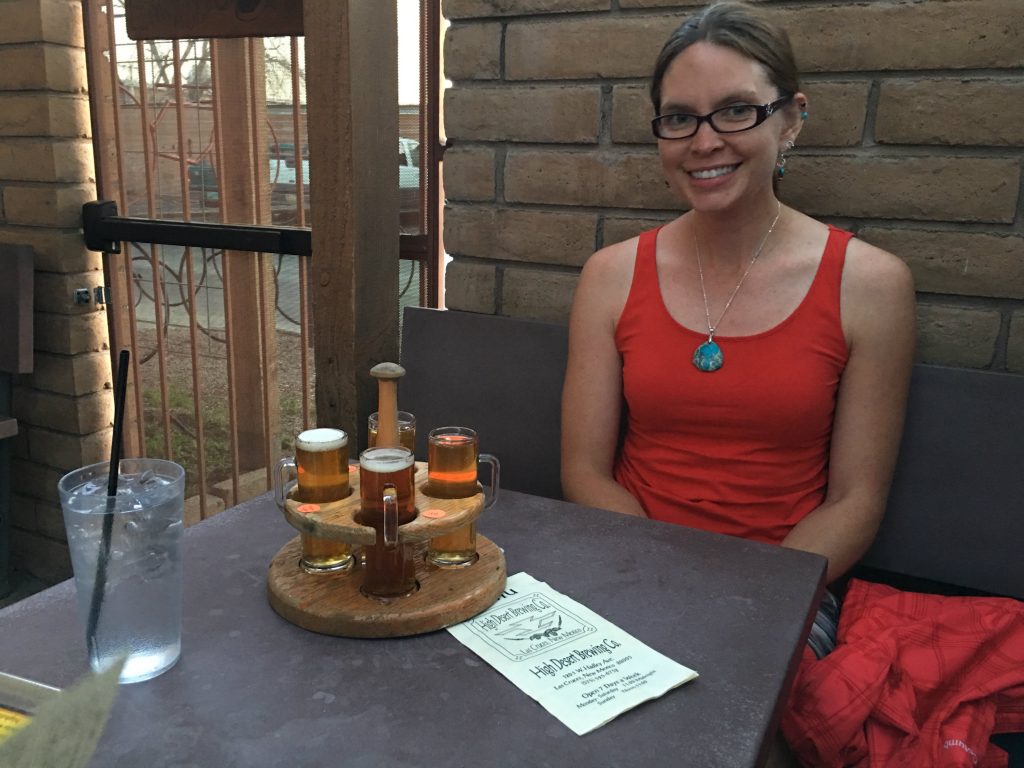 Don Quixote Distillery & Winery, Jaconita
But of course, there are many other things to drink besides beer…namely wine and spirits. This was a stop on the way back from Chimayo, which is a Catholic pilgrimage site in the middle of nowhere.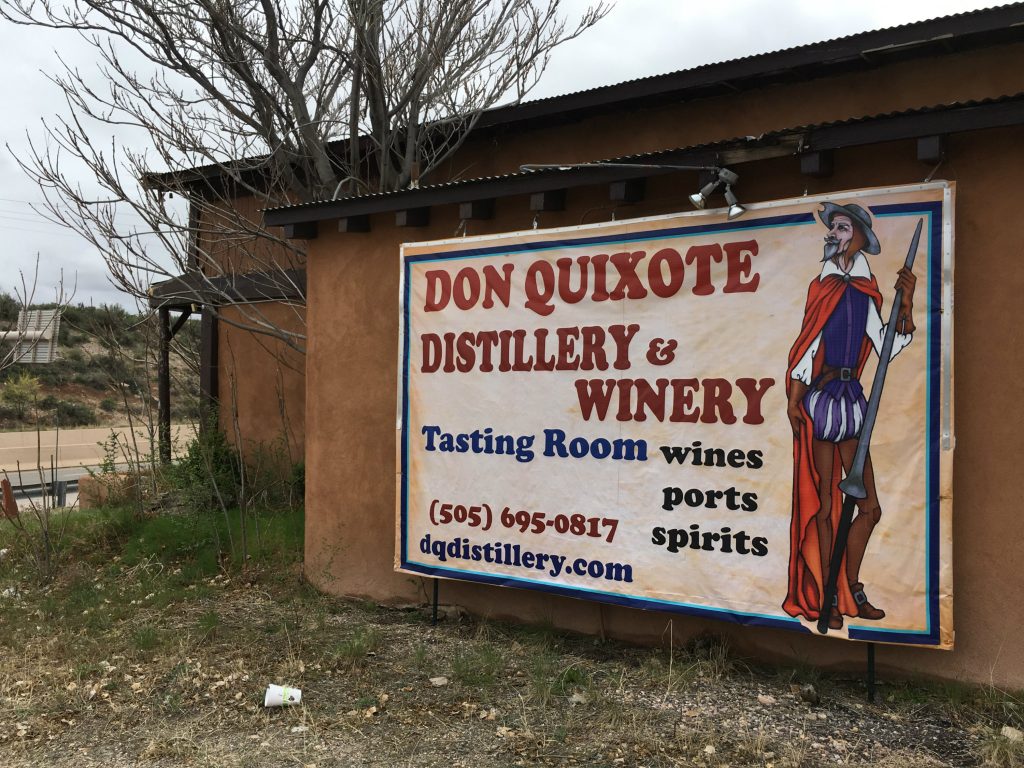 We arrived to Don Quixote a few minutes before it opened and downed cans of soup and beans in the car while we waited. The bartender/sole staff worker was the most unfriendly host I've encountered in a tasting room. We were the only ones there, but she talked on her phone the entire time and seemed genuinely annoyed by having to serve us (paid) samples.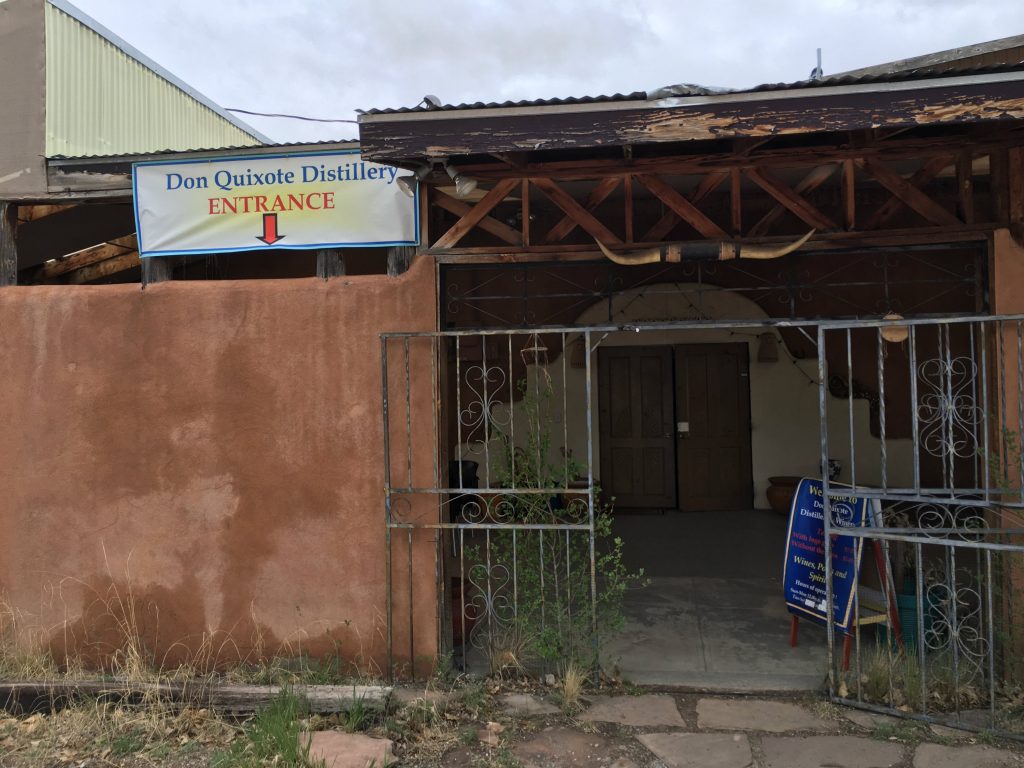 I remember really liking the lavender and juniper gin, which was a surprise because I've never been a gin drinker. The flavors were intensely good though. I also remember liking the rose-infused wine. However, I didn't buy anything except the tasting, mostly because of the service.
Breweries and Dogs
Although I may have started off writing this a bit disenchanted with the ever-expanding craft brewery scene, I still believe there are new experiences to discover at each one. Lately, my brewery experiences can be best defined as dog experiences too.
We've been slowly but surely training our newly adopted lab/pit, Monkey, to become the ultimate brewery companion. Breweries and dogs seem to go hand-in-hand, and I've always wanted a chill and friendly pup by my side while I sip my brews on a patio.
Before visiting any given brewery, I've gotten really good at one particular phone call that goes something like this:
Brewery Person: Hi, XYZ Brewing Company, how can I help you?

Me: Hi, do you have a patio that allows dogs?

(response #1) – Yep, sure do.

(response #2) – Nope, sorry, only service dogs.

(response #3) – You wanna do WHAT?!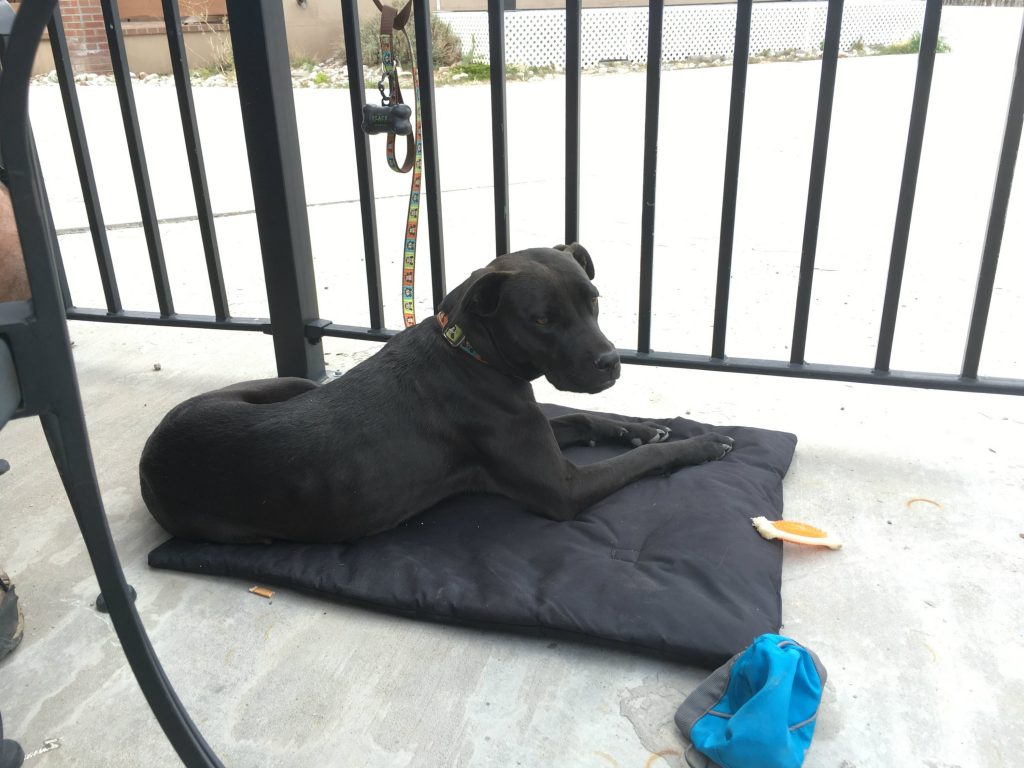 On dog-friendly patios, Monkey is getting better at the fine art of hanging out, usually equipped with a comfy pad, bone, and travel water bowl.
But of course, sometimes she likes to do this and sit like people, which is a bit awkward.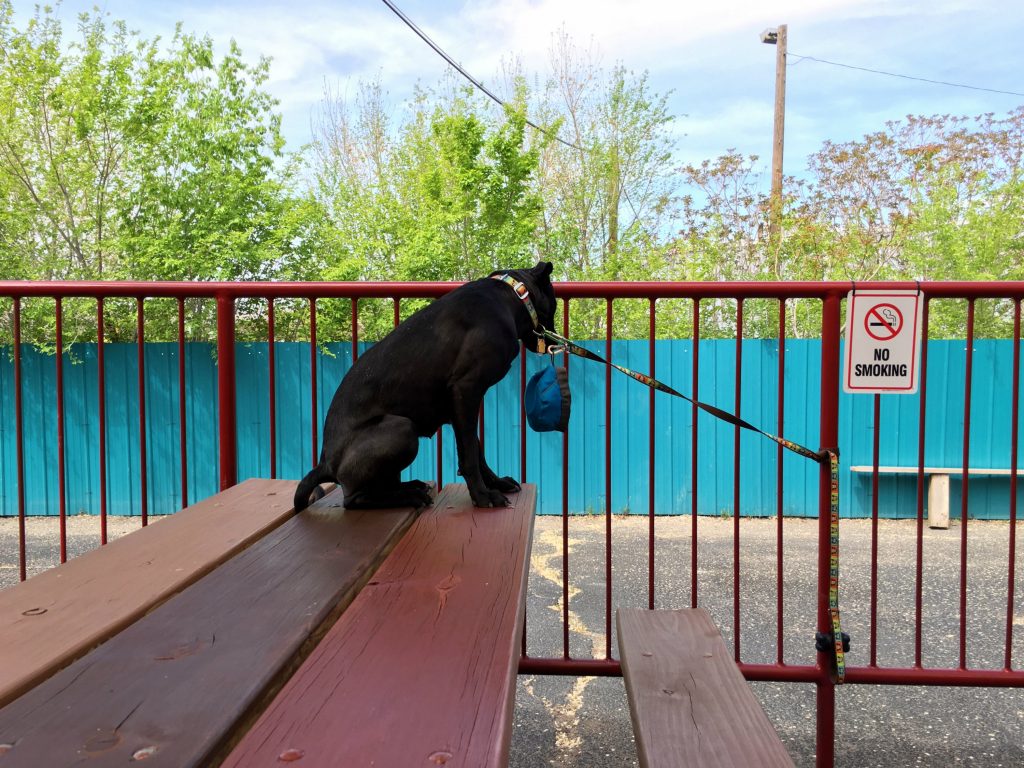 Then other times, she does this and sleeps all cute-like and curled up under the table. And I forgive her for all wrongdoings.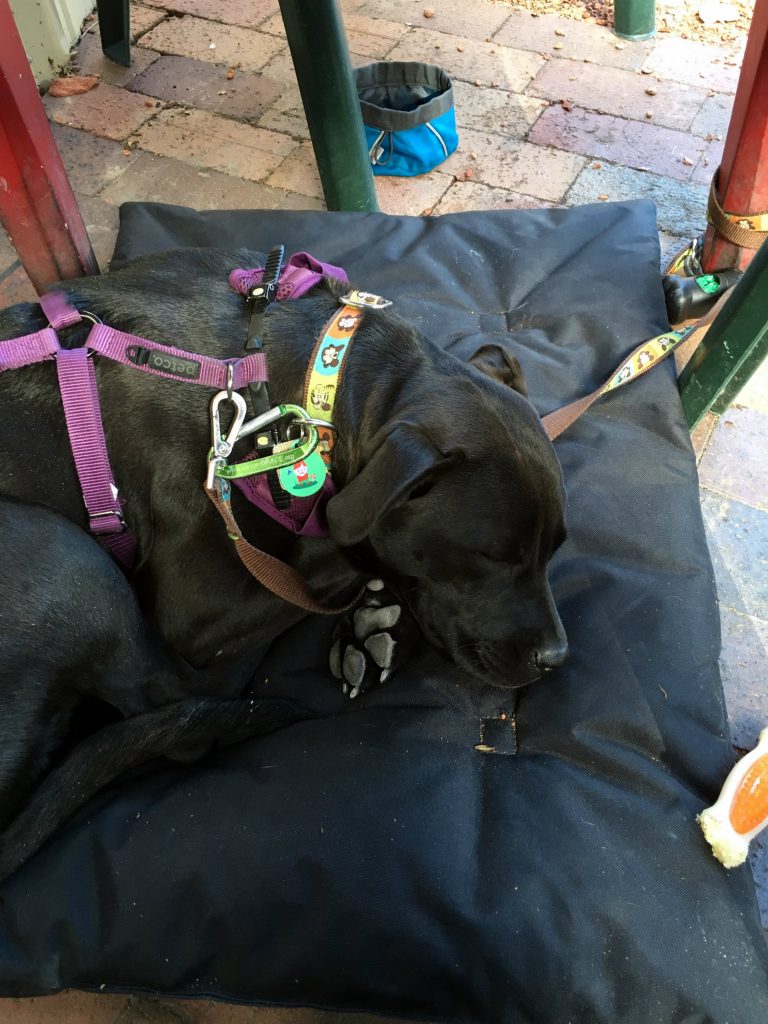 Perhaps one of these days I'll manage to secure a writing gig that pays me to write about and review breweries. Then, without a doubt, I'd be all over this scene as if I'd never lost a beat since 2012. I've already started to break into the wine scene with a steady gig at The Grapevine Magazine, so perhaps craft beer writing could be in my future as well.
But until then, I'll just jot down a sentence or two at the end of the day, snap a picture if I think of it, and not stress out over missed writing opportunities. After all, quality beer is best enjoyed with a chill state of mind, right?