My next post in this "Southwest Road Trip Series" is all about Santa Fe, a two-week destination that I enjoyed so much that I've considered moving there. There aren't too many places that I've visited and thought I could see myself living for a while (Portland is another one of them).
So to get to know the city and surrounding area a bit better, we decided to spend a couple weeks at a campground in Santa Fe. Much of this time was spent on foot, hiking in the nearby parks and strolling around town with Monkey, adventure dog extraordinaire.
One awesome part about our home base, Ranchos de Santa Fe Campground, was that there was a half-mile wooded trail right behind the tent sites, yet still on the campground's property. This was a great place to walk or jog Monkey first thing in the morning and as work breaks throughout the day before heading out for whatever activities we had planned.
Dale Ball Trails
The big trail system in Santa Fe is named after Dale Ball, the lead guy who designed and constructed the trails, and our first hiking outing in the area was here. The Dale Ball Trails are a 22-mile network of trails managed by the Santa Fe Conservation Trust at the base of the Sangre de Cristo Mountains. The trails here are also connected to the Atalaya Trails and Dorothy Stewart Trails.
We parked at St. John's College and hoofed it on sidewalks to the trailhead.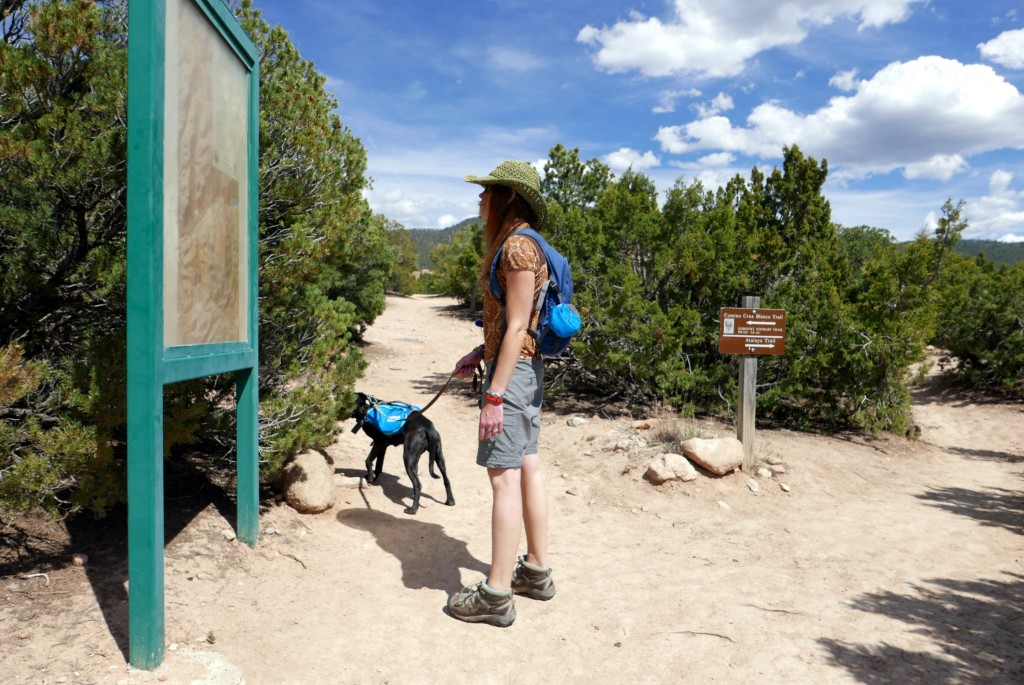 We chose the route that led to Castle Rock, because well, that seems majestic enough right? The route was pretty steep and actually one of the more strenuous ones we've done in a while.
Oh, but the views!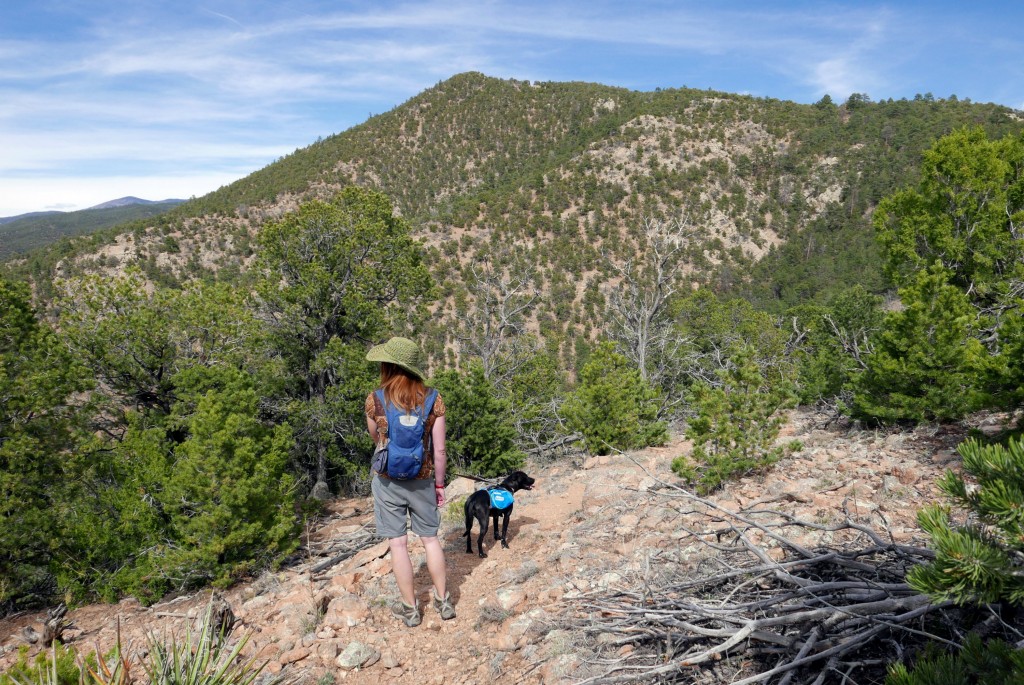 The approach to Castle Rock, which was an impressive exposed rock outcropping, involved scrambling up boulders and teaching Monkey the basics of rock climbing. She has a crazy amount of stamina, a severe lack of patience, and an obsession with all creatures from lizards to squirrels. But despite her little personality quirks, she proved to be a pretty solid rock climber.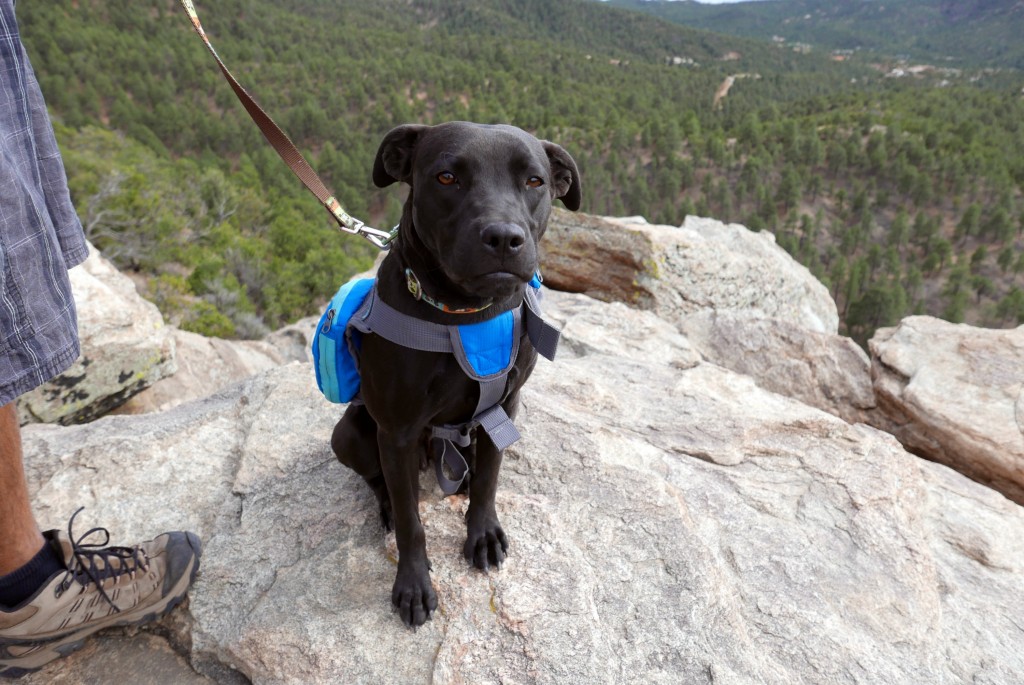 La Tierra Trails
A lesser-known hiking area lies outside the city, but apparently it's a pretty popular spot with mountain bikers. La Tierra Trails extend over 25 miles and were formalized by Santa Fe less than a decade ago to develop a multi-use trail system northwest of the city.
We started this journey on La Cuchara Trailhead at the south, which was near a dog park we intended to visit but never actually made it to.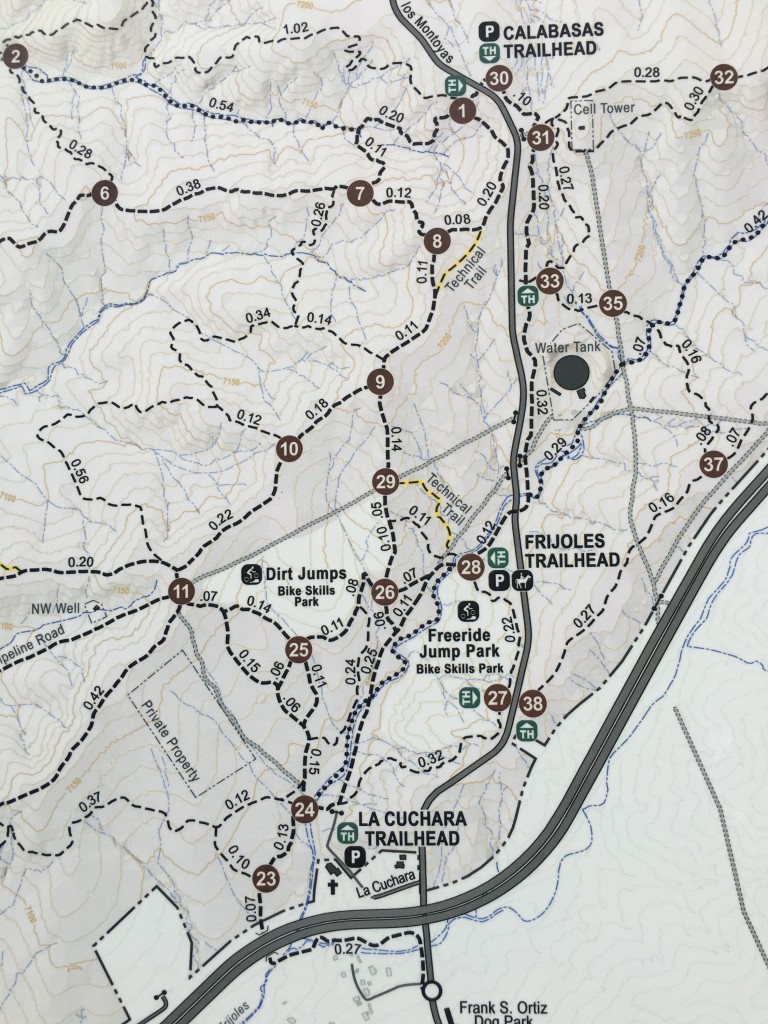 We nearly made it two miles and then had a work emergency and had to turn back to retrieve laptops from the campground and settle things. These types of emergencies don't happen often, but when they do, unfortunately hiking has to take a backseat to the day jobs.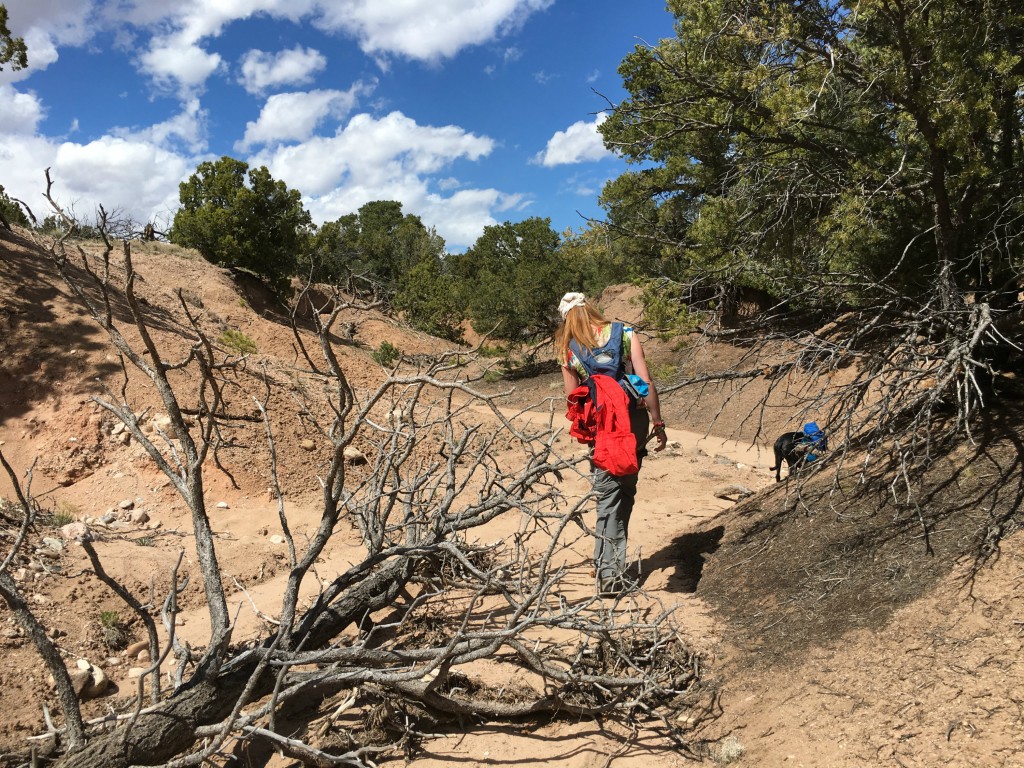 This was a pretty rugged hiking area with downed dead trees and few trail markings. The trails were sandy, and my feet sunk in a bit with every step to make that 1.85 miles feel a bit more challenging than it really was.
We were all frustrated with having to turn around so soon in this remote and peaceful area, but fortunately a trip to Santa Fe Brewing Company picked our spirits back up when the work emergency had been resolved.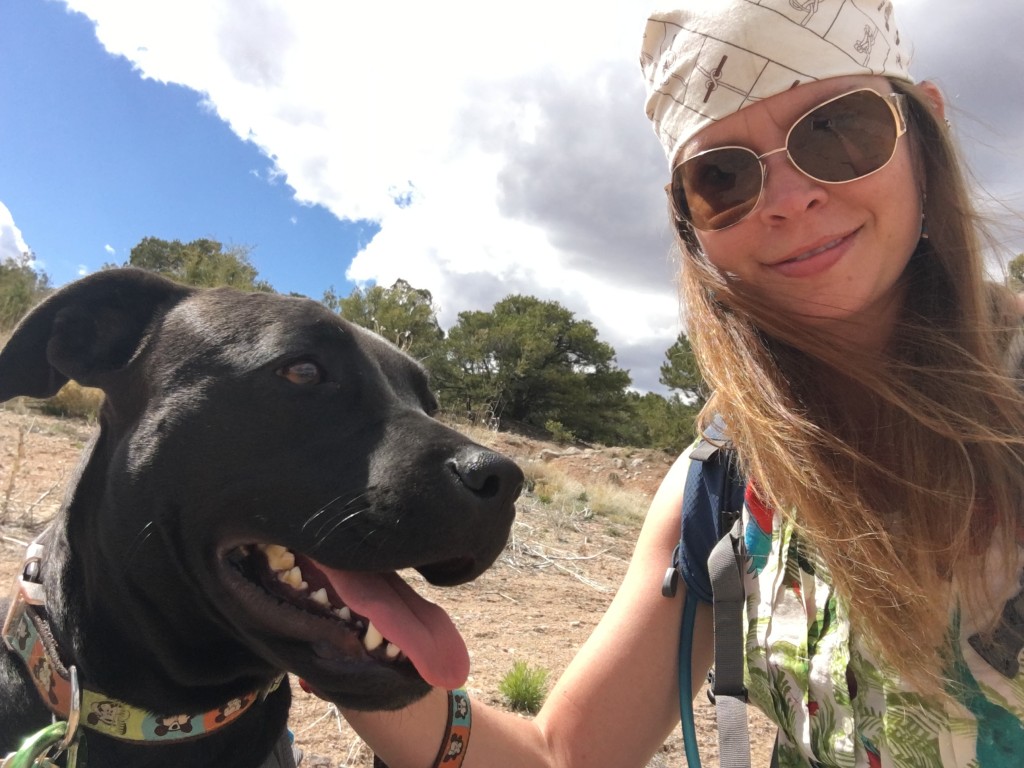 Santa Fe Plaza
However, each one of our week-long (two weeks in the case of Santa Fe) area explorations include some urban hiking as well. When we first got into town, I took myself out on a solo outing to check out the downtown plaza and do some jewelry shopping.
Solo time is totally a must when you're traveling and camping one-on-one with someone (no matter how cool they are) in a very confined space. I spent my Santa Fe solo time checking out local community/donation yoga classes at Yoga Source and wandering around town. I had read about the Native American Vendors Program of the Palace of the Governors, which is a government program that encourages artists from the nearby pueblos to "set up shop" on the plaza sidewalk to sell their treasures. I ended up buying a ring for myself and a necklace for my best friend here from a guy from Santo Domingo (a pueblo we actually visited on the way to Santa Fe), and he cut me a decent deal for buying two pieces.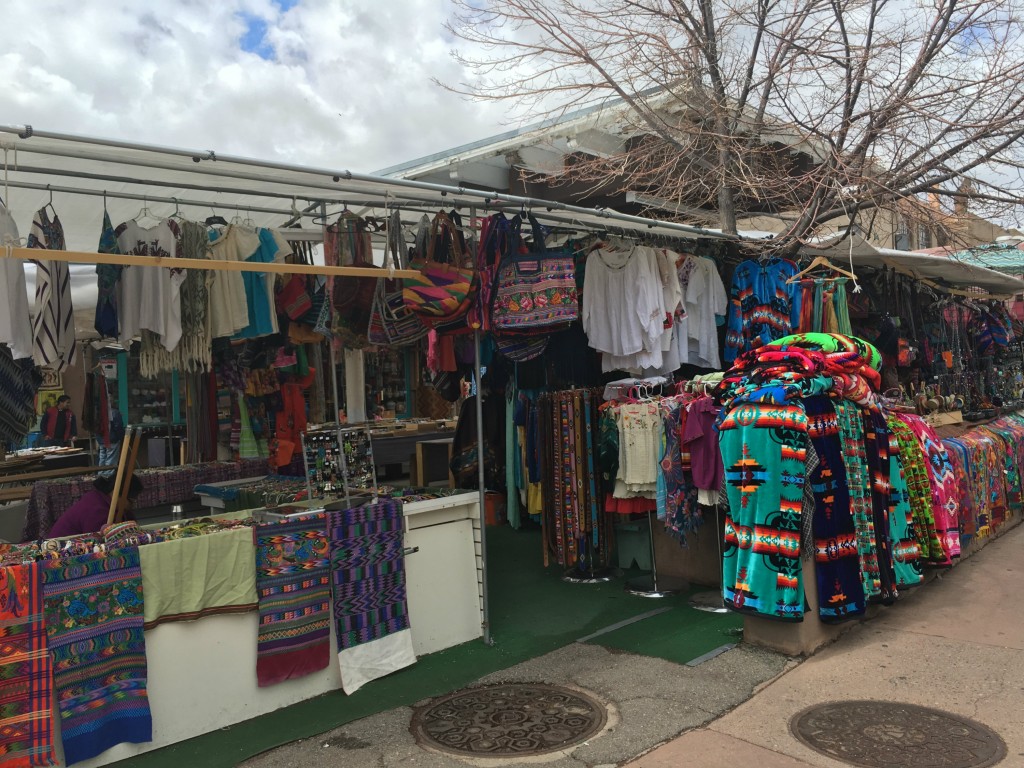 There are tons of shops around the plaza, most of them out of budget but nice to look at anyway. I love the architecture in Santa Fe, which was surprisingly consistent in the churches, shops, restaurants, and homes in the local neighborhoods.
The Santa Fe Plaza is the central part of the city and has been the heart of downtown for over 400 years. Native American and Spanish markets are the centerpiece, and there are a lot of concerts and community events scheduled here at certain times.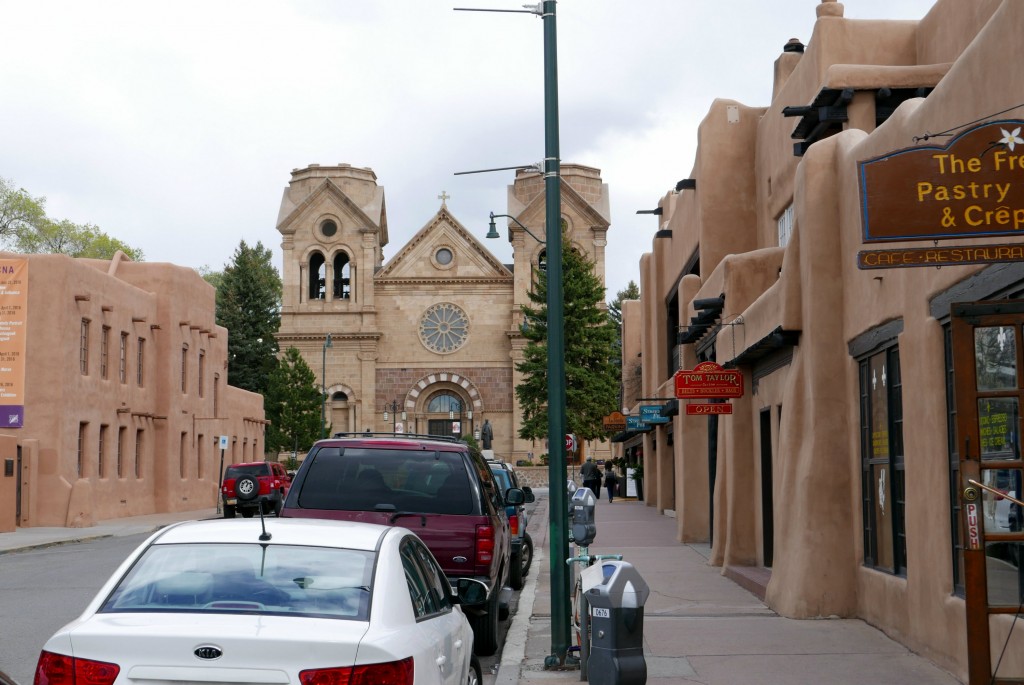 A lot of things appealed to me about the southwest: the laid-back atmosphere, the weather, the outdoorsy-ness, the artsy-ness, the lack of traffic, the abundance of good hair days. However, one thing left me a bit unsettled.
There were tragically few gnomes living in New Mexico…none in shops, none in front yards…nowhere.
This is my one and only gnome encounter from my month in New Mexico, which was at a Christmas shop of all places in Santa Fe's downtown plaza. I'm convinced that it is not a Santa nor an elf, but a full-fledged gnome and an instant friend on a surprisingly cold southwestern day.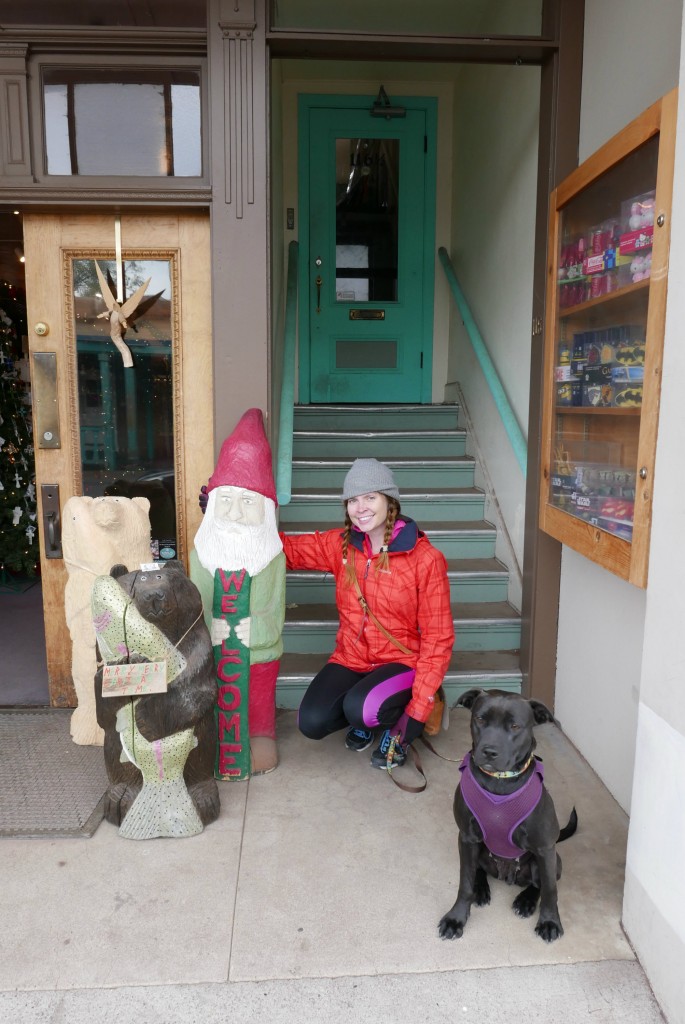 Railyard District
Lots of cities have industrial areas that they've been trying to transform into the next trendy place to hang out. In Santa Fe, this is the Railyard District. The railroad has played a crucial role in Santa Fe's history, and old-timey photographs of it were once pitched to East Coast-dwellers to entice them to come experience the Wild West.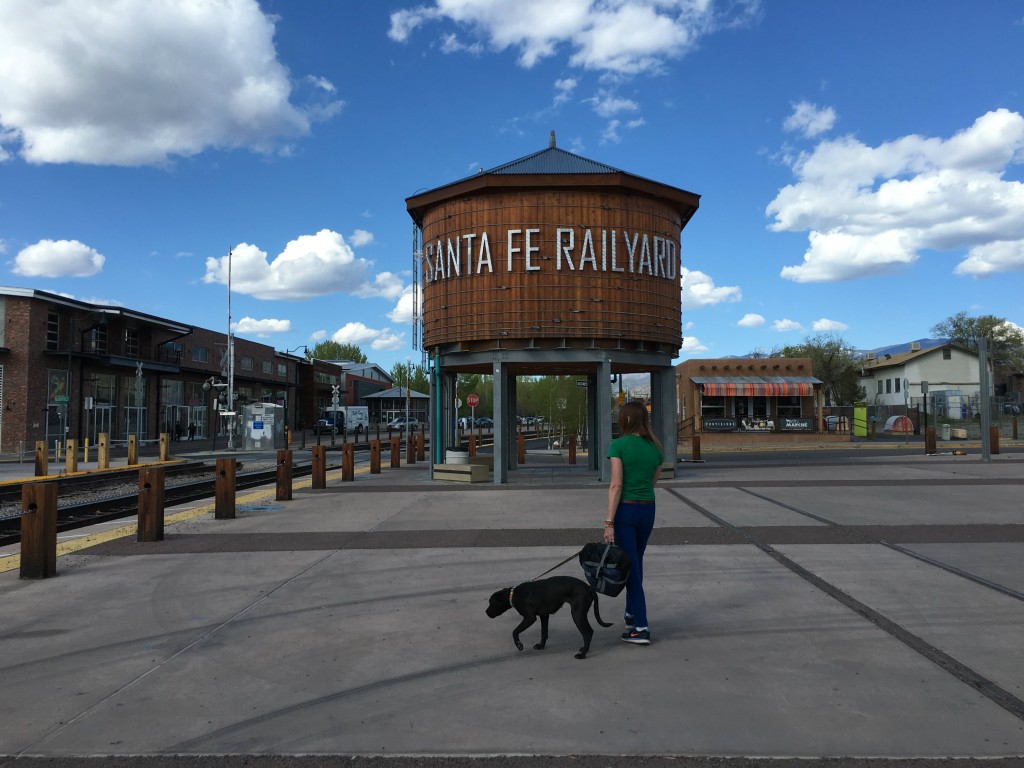 The railyard was declared a blighted area in the late 1980s and started undergoing serious redevelopment. Today this area is home to a popular farmer's market, arts and cultural organizations, shops, art galleries, and restaurants.
We visited the Railyard as a hybrid hiking/biking excursion after finishing the day's work back at the campground. We biked to the Railyard and then locked up our bikes to check out the area on foot and venture into a few shops and indulge in some fro yo.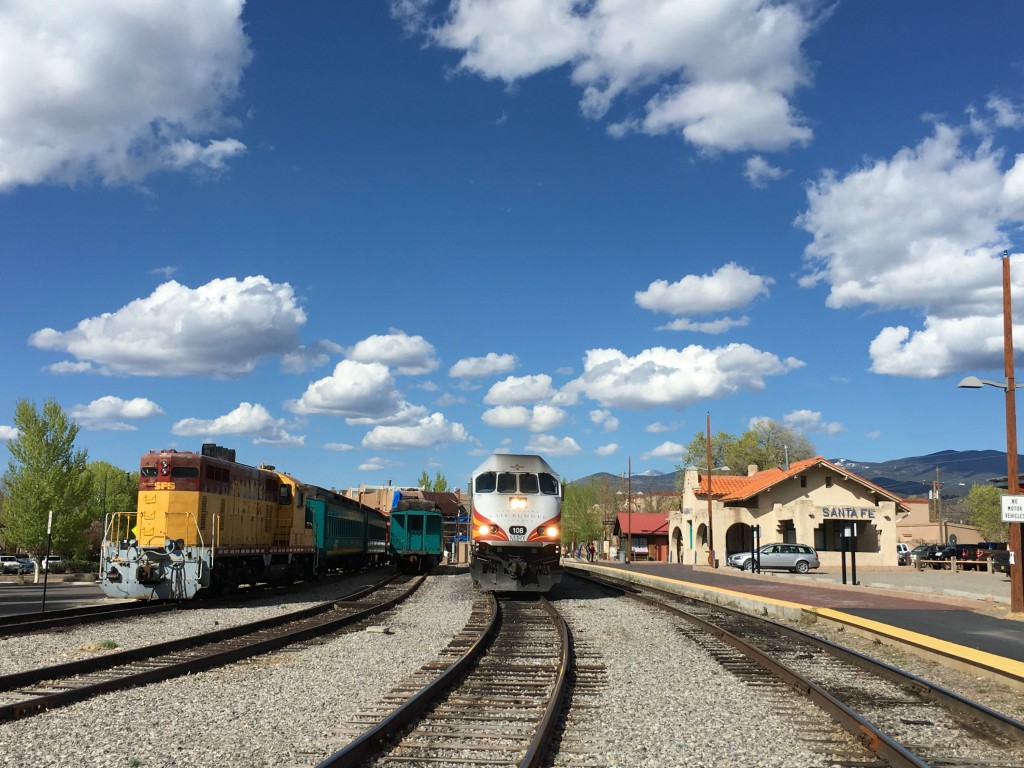 Museum Campus Trails
The weather was all over the place in Santa Fe, and some days were just too cold and windy to be able to enjoy a good hike. But that's okay because I also enjoy a good museum from time to time. The only issue was what to do with the dog because nine times out of ten, dogs and museums don't mix.
That tenth time was the dog-friendly International UFO Museum in Roswell, New Mexico…more to come on that later!
So to solve our dog woes, my husband and I took turns going into a museum of our choice while the other walked around with Monkey. There's a big museum complex on the outskirts of Santa Fe, so it's easy to walk from one to the other. I decided to check out the International Museum of Folk Art, and the husband chose the Spanish Colonial Art Museum.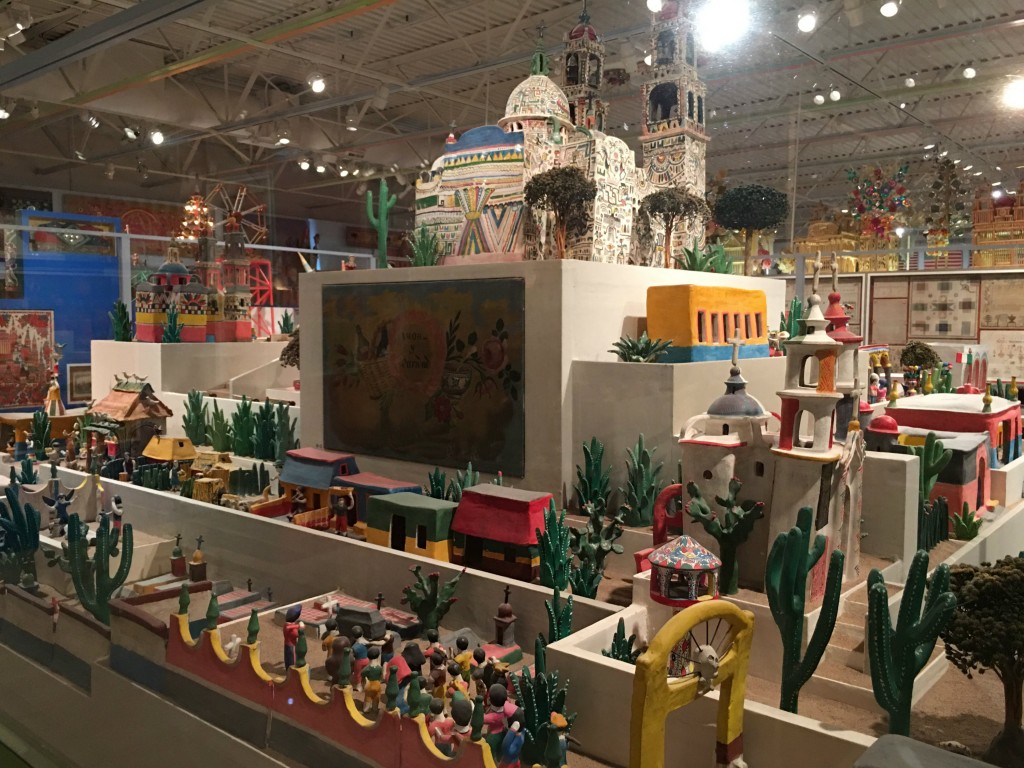 I definitely enjoyed the displays of miniatures and flamenco culture. Museums are a great place to soak up some solo time, especially if you like looking at certain things more than others or like browsing at your own pace.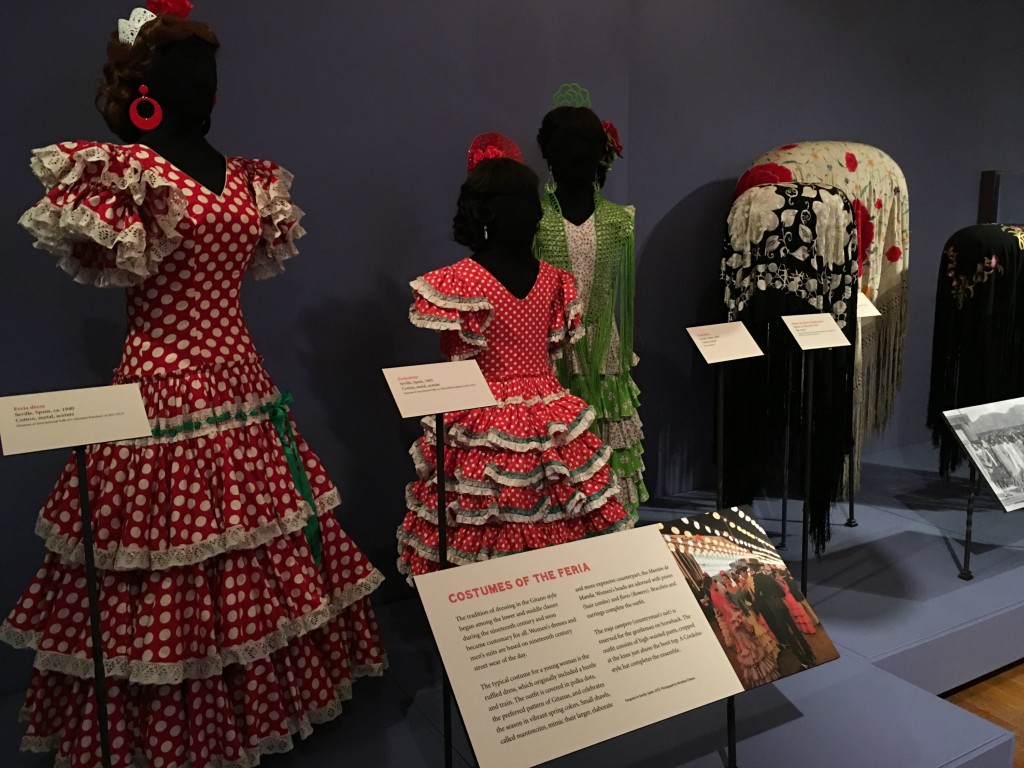 But something unexpected at the museum campus was an extensive set of hiking trails! What started as a crappy day actually turned out to be a pretty nice one. So when my museum turn was over, I took Monkey out behind the museums to do some hiking.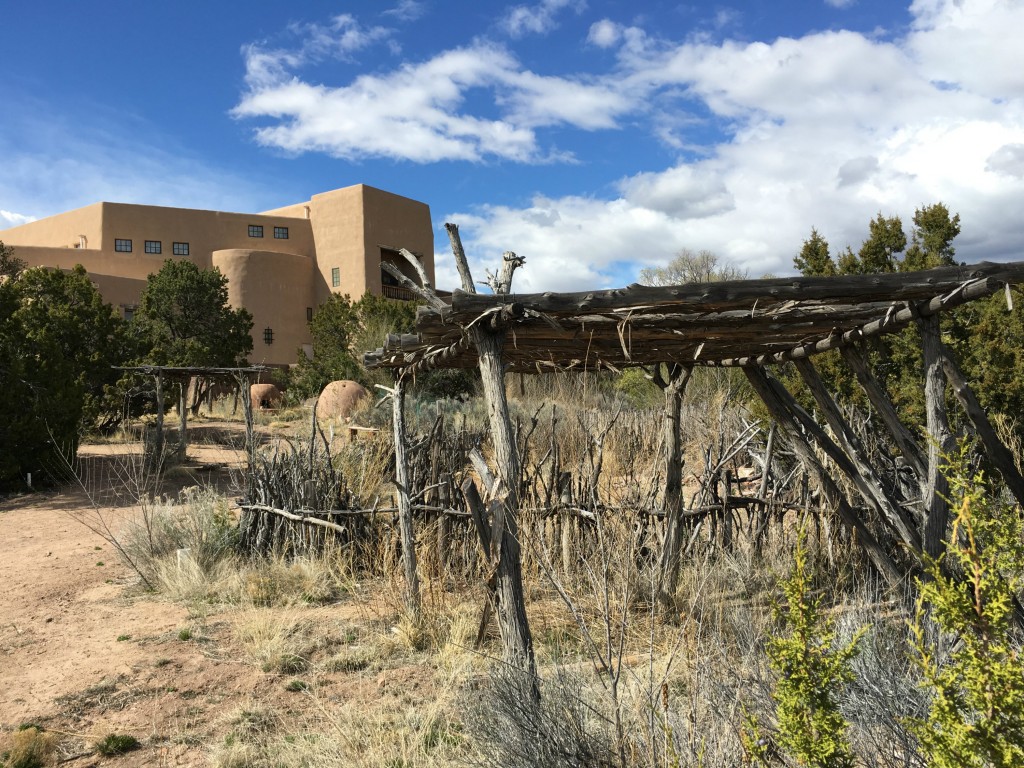 The trails were pretty flat, but winding and not marked. I found it surprisingly easy to get lost (as my directionally challenged self usually does), but eventually found my way back to the Jeep before the storm clouds rolled back in.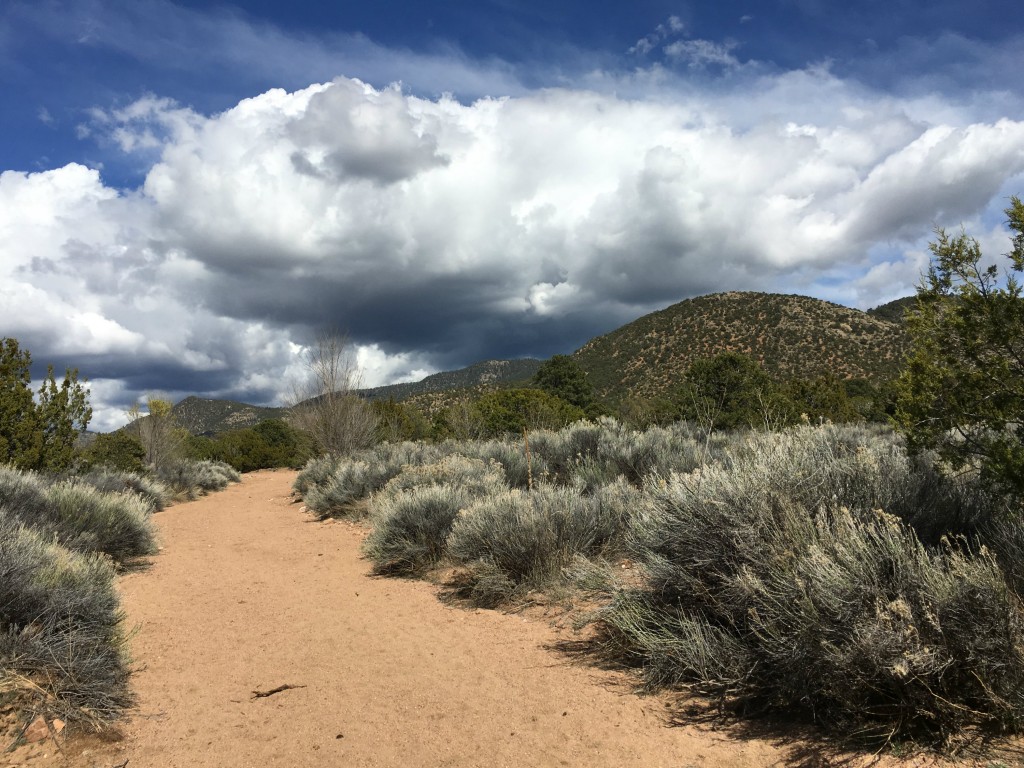 Not far from Santa Fe, we also got off-the-beaten path to check out Chimayo, Ojo Caliente, and the Turquoise Trail. Details on those day trips coming soon, slowly but surely!
So is Santa Fe still in the running for a possible future residence?
Maybe. The big thing holding me back thus far is price. Santa Fe is not a cheap city to live in, or even visit for that matter. Rent is high, taxes are high, and restaurants and shops are pretty pricey too. We scoped out a bunch of Craigslist postings for houses and apartments for rent and drove around Santa Fe neighborhoods to see what they were all about. Even if you're not super-serious about moving to a destination, this is great way to get an inside look into what a city really looks and feels like away from the tourist circuit.
But only time shall tell where the next long-term destination will be, or if they'll even be anything permanent for a while. Life on the road is just too way much fun 🙂