Two months down…??? to go!
Two months ago, we drove out of Atlanta with the Jeep and pop-up camper filled to capacity and have been touring the East Coast and Mid-Atlantic states ever since. On or around the 14th of each month, I'm aiming to write a quick update about where we've been, where we're headed, and things I'm learning along the way.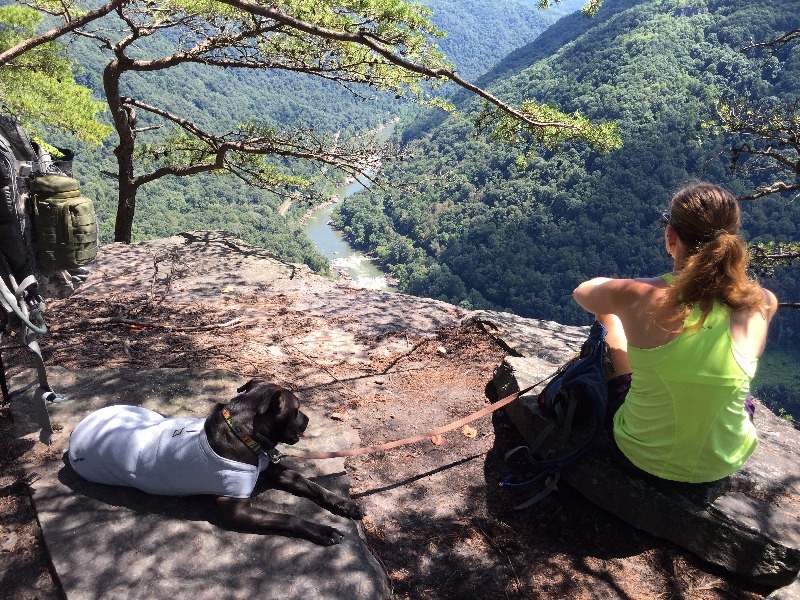 Related: 
Places We've Been: Month #2
We slowed down our pace a bit and have been spending a week in each place to better accommodate our work schedules and see more in each place.
New River Gorge, West Virginia: Home on the road #8

Favorite Parts: Hiking around the gorge and bridge with beautiful views, coal mine & ghost town hikes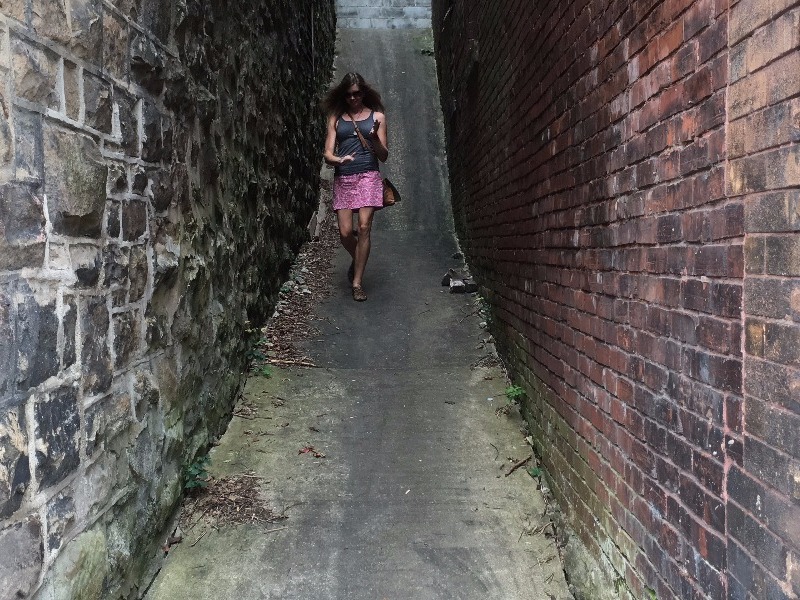 Red River Gorge, Kentucky: Home on the road #9

Favorite Parts: Turning 33, meeting up with my parents, rock climbing and lazy floating on my birthday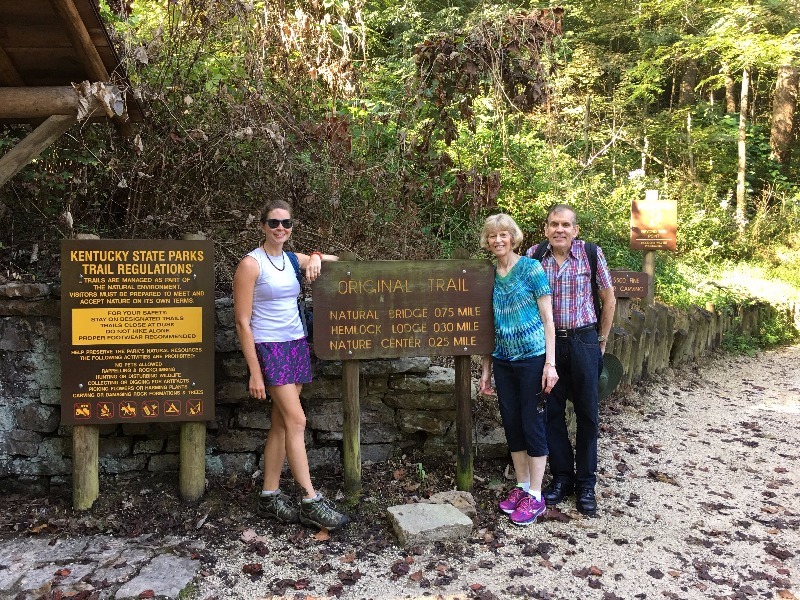 Claytor Lake State Park, Dublin, Virginia: Home on the road #10

Favorite Parts: Easy access to kayaking & SUPing, playing horseshoes, decorating for fall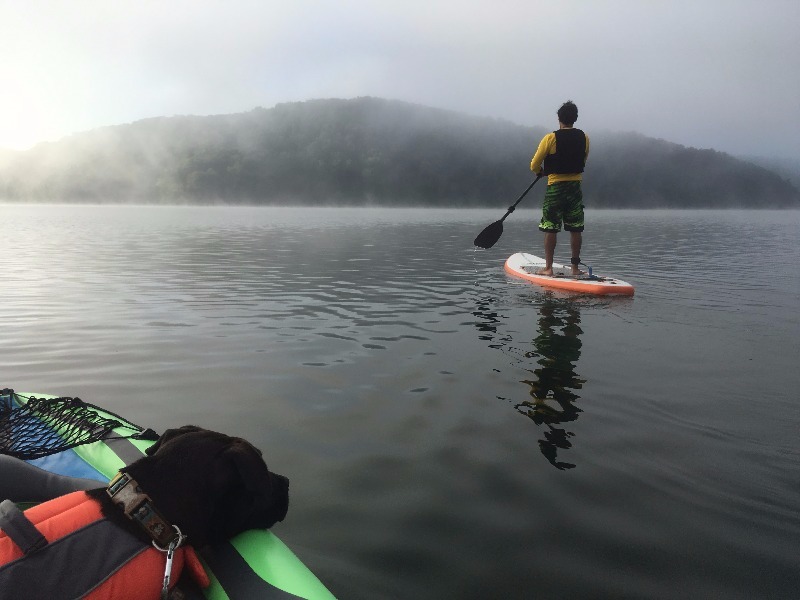 Roanoke, Virginia: Home on the road #11

Favorite Parts: Staying in a hotel (Labor Day camping is for amateurs), solo museum outings, Black Dog Salvage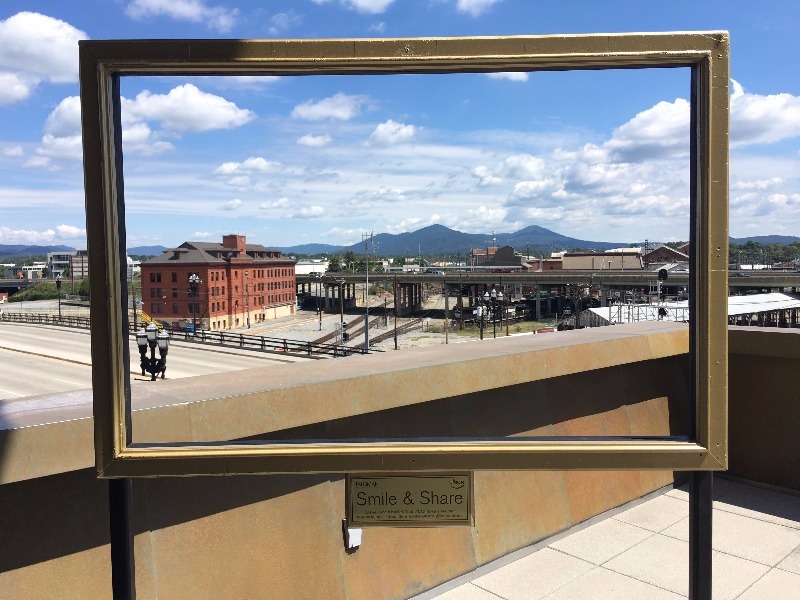 Virginia Beach, Virginia: Home on the road #12

Favorite Parts: Camping right next to the beach, beach yoga/running/swimming, meeting up with my buddy Dwight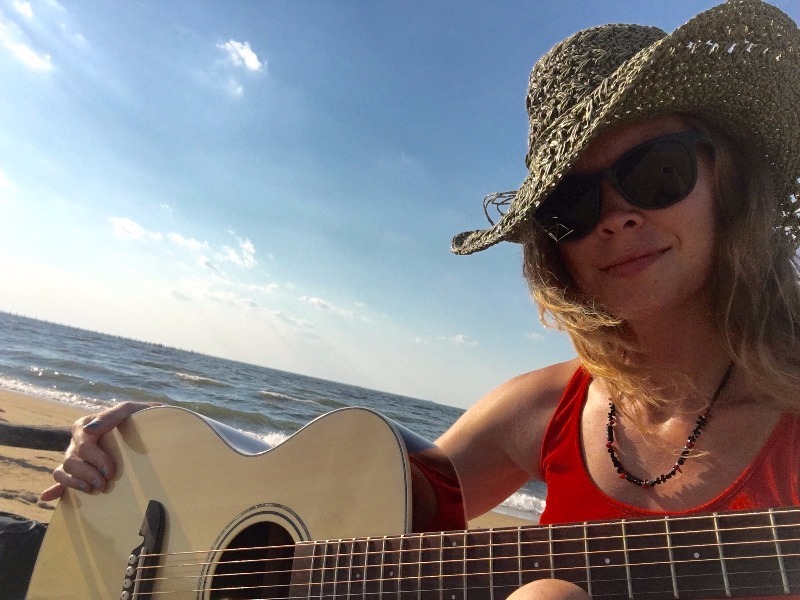 Surf City, North Carolina: Home on the road #13:

Favorite Parts: Still here, but so far it's been surviving a crazy storm with flooding (bit of a rough start)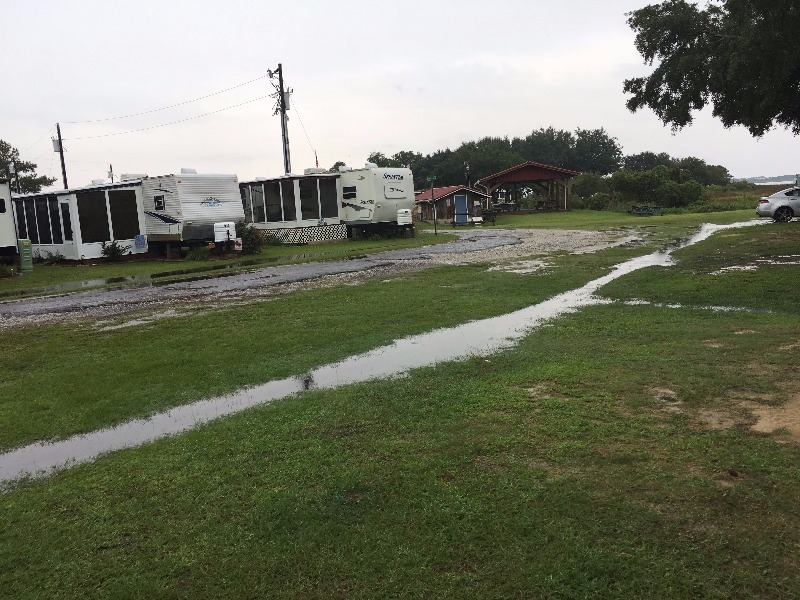 Biggest Challenges: Month #2
A lot of the challenges that were really getting to me in month #1 have mellowed out as I've settled into a better routine. Overall, the weather has been more pleasant in month #2 and our campgrounds have been pretty accommodating.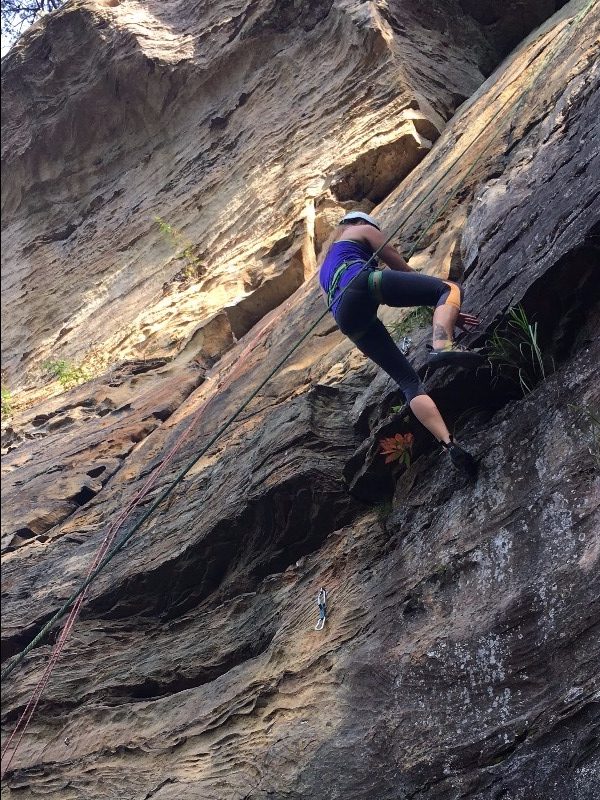 The single biggest challenge I've felt this month is finding good internet for working. We've had to upgrade our data plans to make up for crappy service at campsites and have even had to move sites within campgrounds for better reception. These distractions cut into my productivity and make it more difficult to enjoy the other aspects of camping life.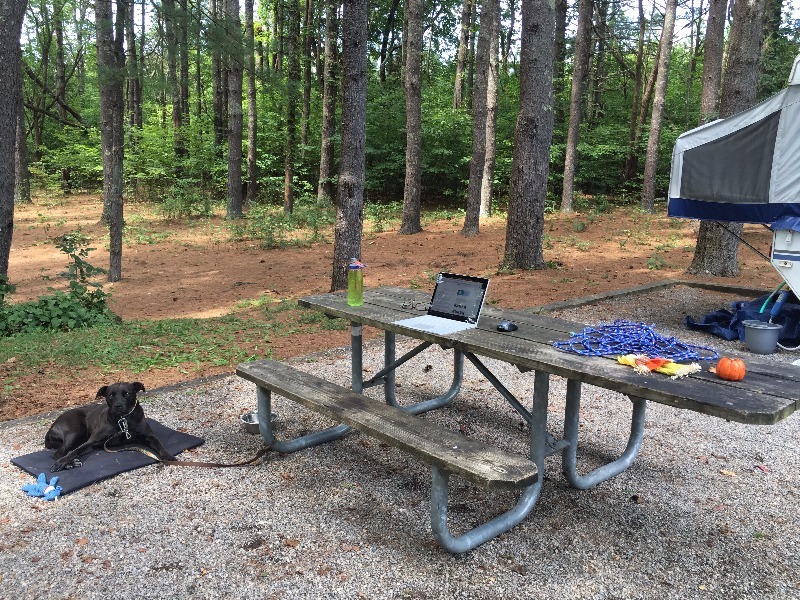 The other big challenge that comes to mind is mold/mildew. After some rainy days in West Virginia, it started growing on our camper canvas above the two beds. We didn't discover it until we were in the Middle of Nowhere, Kentucky where cleaning supplies were very sparse. Vinegar ended up working pretty well until we got to a bigger store and picked up some mildew spray. Fortunately, no one got sick.
Realizations & Ramblings: Month #2
Over the course of the month, I jotted down random thoughts as they came to me. Here's what my month #2 list looks like:
I'm getting better at doing yoga in weird places and feeling better physically and mentally because of it.
I'm getting more tolerant of bugs and getting better at ending their lives when necessary.
Monkey needs social time even when I don't. We met her perfect playmate at Arrowhead Bike Farm in Fayetteville, WV – a hound named Hank.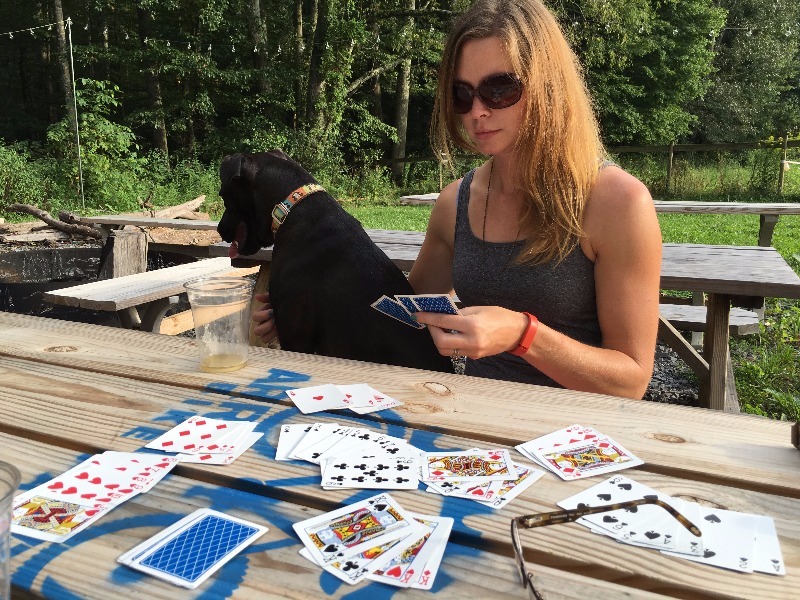 Keeping the inside of a camper clean is hard, especially when you're camping in mud or sand. We are constantly sweeping the floor with a tiny broom and dust pan.
I really crave my end-of-the-day beer or mug of wine
I don't necessary identify with West Virginia culture, but the uncrowded/outdoorsy vibe really resonated with me.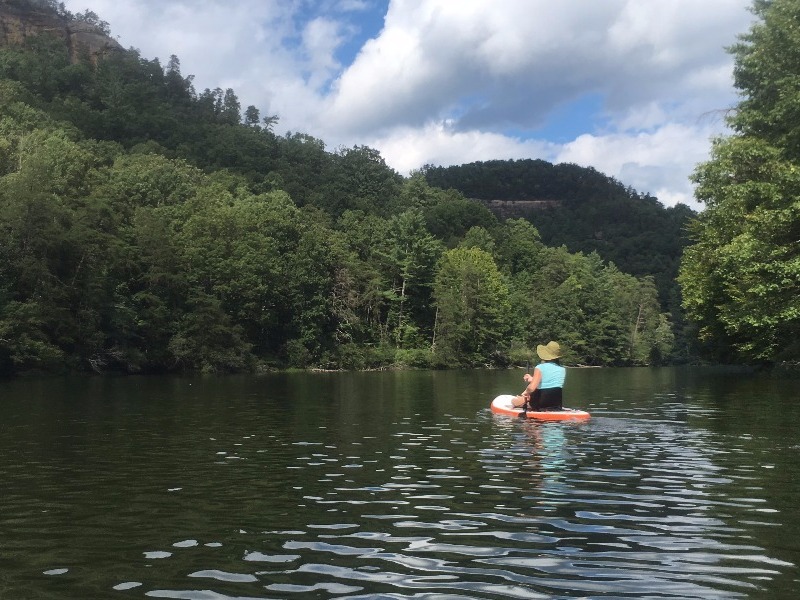 Having our own downloaded TV shows to watch separately makes for easy and refreshing solo time. I'm currently watching Girls, Scandal, and Wentworth solo.
We did an "art in the park" day that involved drawing in sketchbooks and painting on watercolor postcards. I want more of these days.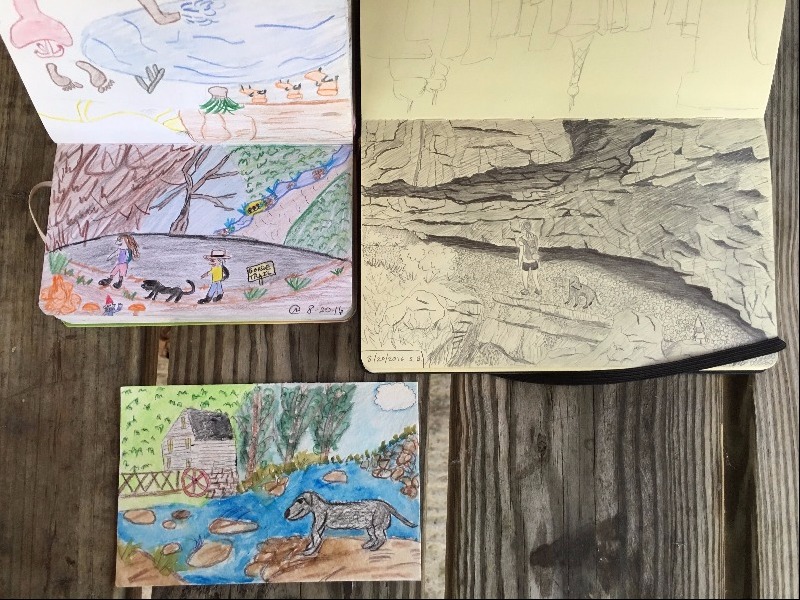 It's possible to keep up many favorite hobbies even without an apartment.
When one person in your travel party isn't coping well, the other needs to pick up the slack. Take turns with negativity.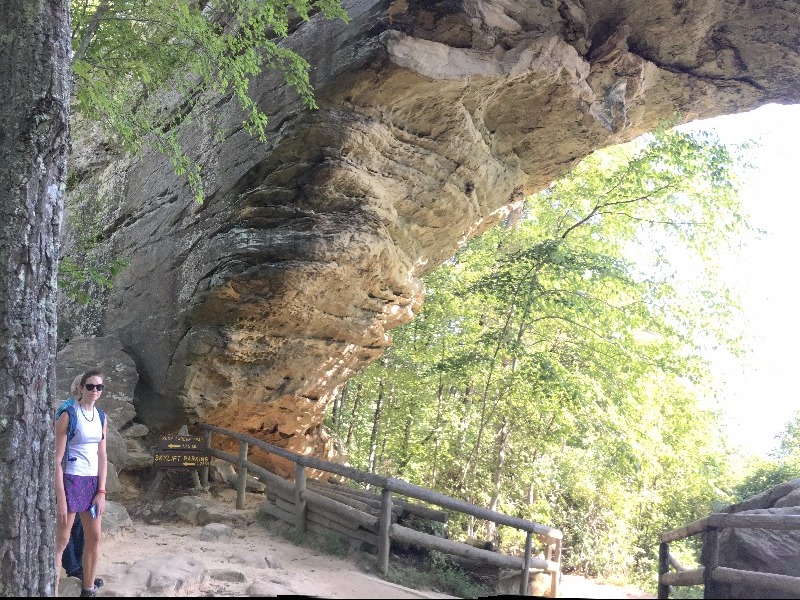 Inspired by scary campfire stories, I wrote a short fiction ghost story. Once I fix it up a bit, I'll plan to share it here and perhaps write a few more too!
Once a month, it's nice to treat ourselves to a hotel to switch up the routine. The Sleep in in Roanoke over Labor Day weekend to avoid crowds and the hurricane was really fun.
I love living by a beach.
Inspired by the beach I'm trying to start meditating again. I'm trying out guided meditations on this app, Meditation Studio by Gaiam.
I'm getting tired of wearing these same clothes and can't wait to toss/donate them at the end of the season.
I have made more income so far this year than ever before in life!
Looking Ahead to Month #3
If you take a quick look at a map, you'll see that we've made a big loop and seem to be circling back. But don't be fooled because this trip is nowhere close to done!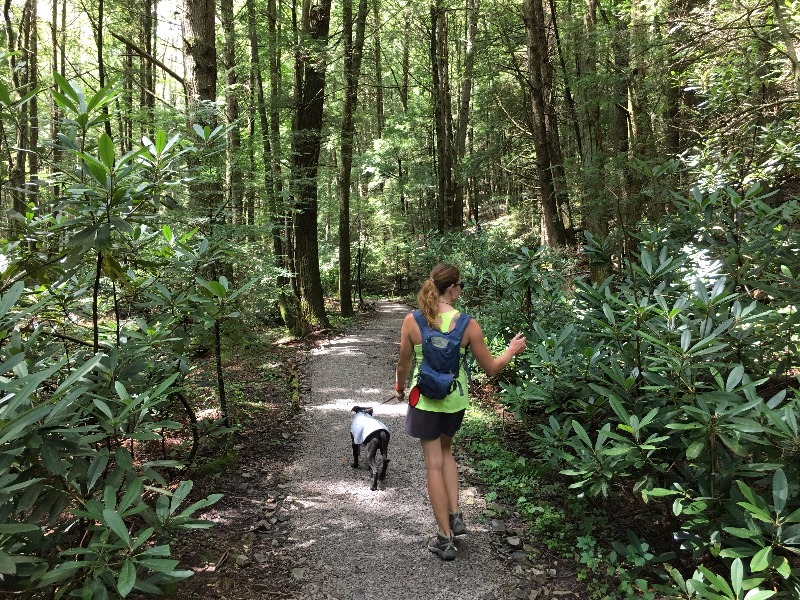 After stops in North Carolina and South Carolina, we are heading back to Atlanta for a few days. Here we'll revisit that packed 10′ x 12′ storage unit and swap out water sports gear for biking gear, and summer clothes for fall and winter clothes. This will wrap up our tour of the Eastern U.S., and from here, we drive west!
For many years, we've wanted to go to the International Balloon Fiesta in Albuquerque, and this is the year we're finally going to do it! So we'll be putting in long hours in the car to breeze through Alabama, Mississippi, Oklahoma, and Texas to get to the festival in time. Month #3 will be incredibly different from months #1 and #2 because it begins our journey of the west. I can't wait, and as always thanks for reading and staying in touch!