You're going to Mexico?! But why? That can't be safe. Have you even been watching the news lately? What if the wall is built while you're down there?
A lot of eyebrows are raised and questions come up these days when you say you're planning to take a road trip to Mexico…especially with a non-white husband and a black pit bull in tow. Mexican travel has become synonymous with "not safe," and of course, there is some truth behind that. But really, how safe is America right now? Should we all hole up in our houses and hide until the world magically becomes free of violence, prejudice, and bigotry? That's not how I want to live my life.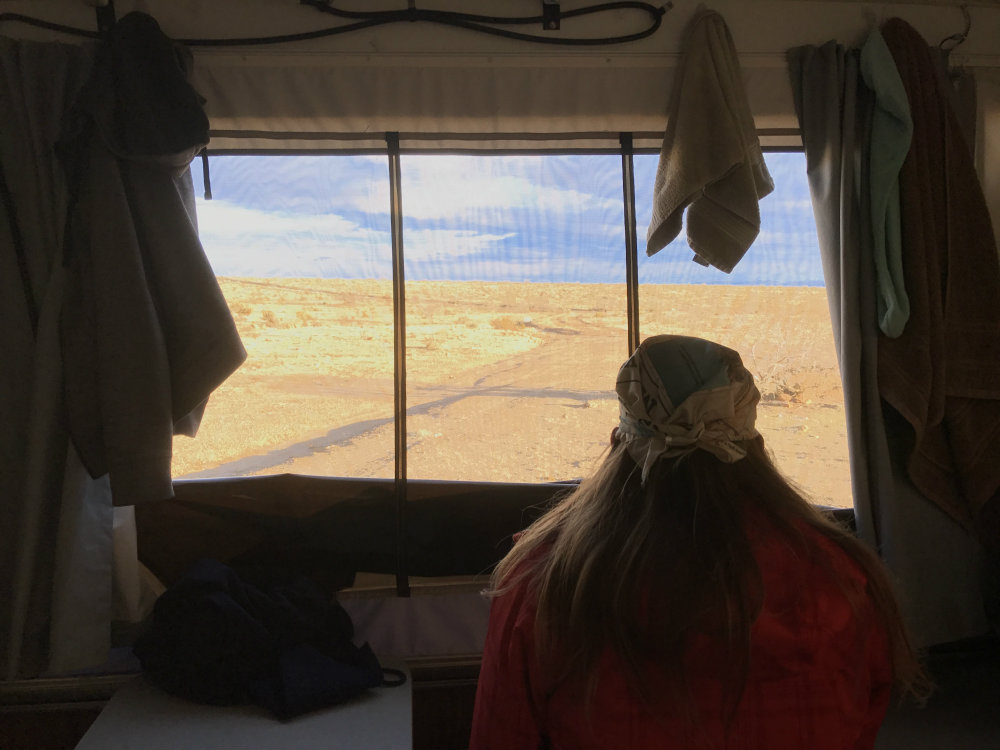 Mexico is a large and diverse place, and it's ignorant to casually lump it all into the category of "unsafe" and "just don't go there." Sure, the current political situation we're in could change things in the future, but for now my advice is to do your research, don't be an idiot, and you'll be fine.
For example, we decided to leave our camper back in the U.S. at our current campground for safety and ease of driving/parking, opting for an AirBnB and motel in Baja California instead. In retrospect, we probably should have taken our camper because there were lots of great places to camp, like vineyards and beaches. Next time!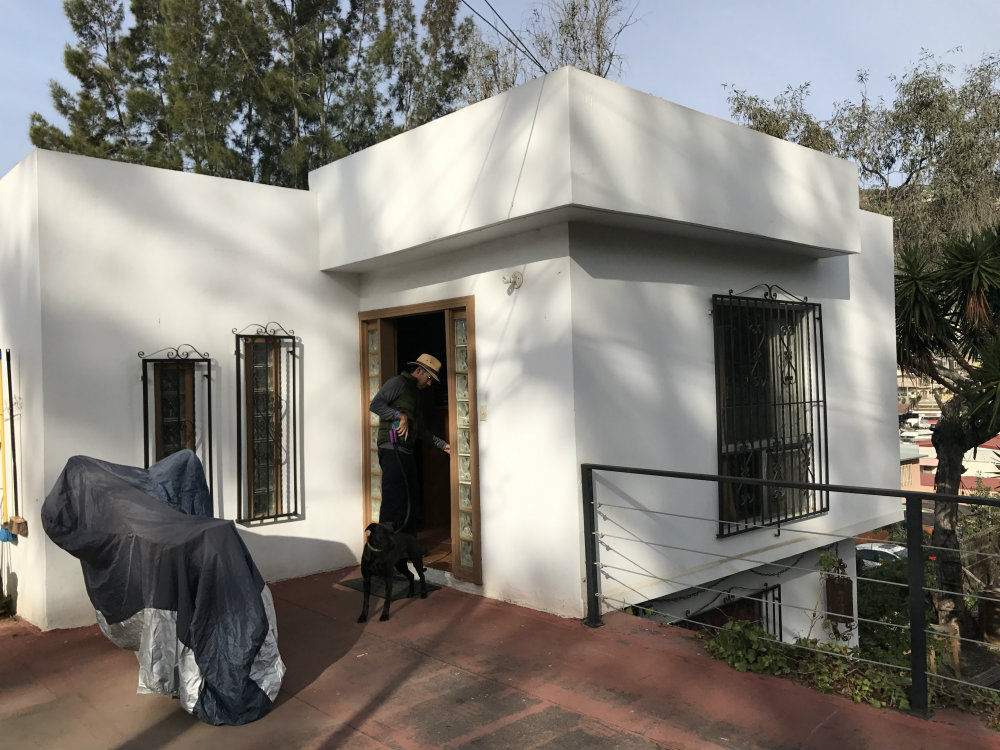 Prior to leaving for Mexico, we'd been camped out in Yuma, Arizona for a couple weeks near the U.S./Mexico border. Being THISCLOSE to Mexico, it seemed silly to not take out travels south of the border…as long as we did our research and could get all of our ducks in a row. And my, how many ducks there were.
We've been switching locations from city to city and state to state for over six months. And by now, it pretty much comes as second nature. We typically plan our route a few days before moving locations, but not much before that. You'd drive yourself crazy doing this type of trip if you planned out every little itinerary detail way in advance. But with international travel, things are a bit different.
As a chronic list-maker, I jotted down a list of we'd need to take care of before making the trip. But it was all really contingent upon one thing: an international travel certificate for Monkey. Basically, this is a dog passport, and we've heard that you need one if you hope to cross the border and get back in to the U.S. again later. Sure, we could board her and just go ourselves. But where's the fun in that, and how many dogs get to be international travelers after all?
We looked into getting a "dog passport" back in Vegas when we updated Monkey on her shots. But then learned that you have to get the certificate within 10 days of travel, and we weren't ready to leave just yet. Waiting actually turned out to be a good thing because our camper route diverted from rainy Southern California to sunny and windy Yuma, Arizona. Since this is a border town, the vets here are more than familiar with what international travel certificates are and are certified to give them.
We combined our health certificate visit to a Yuma vet with a dental cleaning and a heartworm test. The cost of the certificate was $40, which I've read is pretty standard for these things. It's just a silly half-sheet of pink paper with a few pieces of information like her breed, weight, which shots she's had, and a doctor signature. It took a lot of hassle and research to get this one little piece of paper, but we finally had it. And that meant that our other plans could go into motion.
In addition to the "dog passport," these were the other things on my pre-Mexico to-do list:
Research places to visit (settled on Ensenada and San Felipe in Baja California)
Research border crossing wait times (chose Algodones)
Find camper storage (safer to leave it behind to avoid theft and damage from crappy roads)
Find dog-friendly places to stay (doing one AirBnB and planned on campground cabin, which ultimately failed so we found a motel instead)
Get Mexican car insurance (went with ABA Seguros)
Get visas for us (got at the border, we parked and agent took us inside a building to fill out forms)
Figure out if cell phones/internet will work (AT&T worked amazingly, better LTE than in parts of Arizona)
Stock up on drinking water (got a big jug for the jeep and filled up all our Camelbacks and water bottles)
Get cash and currency exchange (took out a couple hundred bucks in cash and used ATMs in Mexico)
Inform bank and credit card companies about travel dates (super easy to do online)
Print out copies of passports, driver's license and car insurance (our campground office let us use their printer)
So lately, I've only been writing camper life updates once per month, but I thought the jaunt to Mexico deserved a post all its own.
Because it's the first time we've gone international on this trip
Because there are way too many misconceptions about traveling to Mexico
Because there were a lot of logistics to figure out that may help someone else to do this
So here's a rundown of how this mini vacation to Baja California played out. I jotted down a few notes throughout each day. It actually felt like a vacation too because we fully took days off work like normal people do when they travel!
Day 1 (Ensenada)
Monkey woke us up early as usual, which was good today so we could get an early start on the border crossing.
Drove to the Andrade Port of Entry and the border town of Los Algodones. There were literally only two cars ahead of us in line. The agent asked if we had our international permits yet and we didn't. So he showed us where to park and led us to a tiny building to fill out the paperwork. It was free for seven days of travel but would have been $25 for up to six months. The agents didn't care about Monkey at all or even ask to see her paperwork. All they were interested in was the addresses we were staying at in Mexico.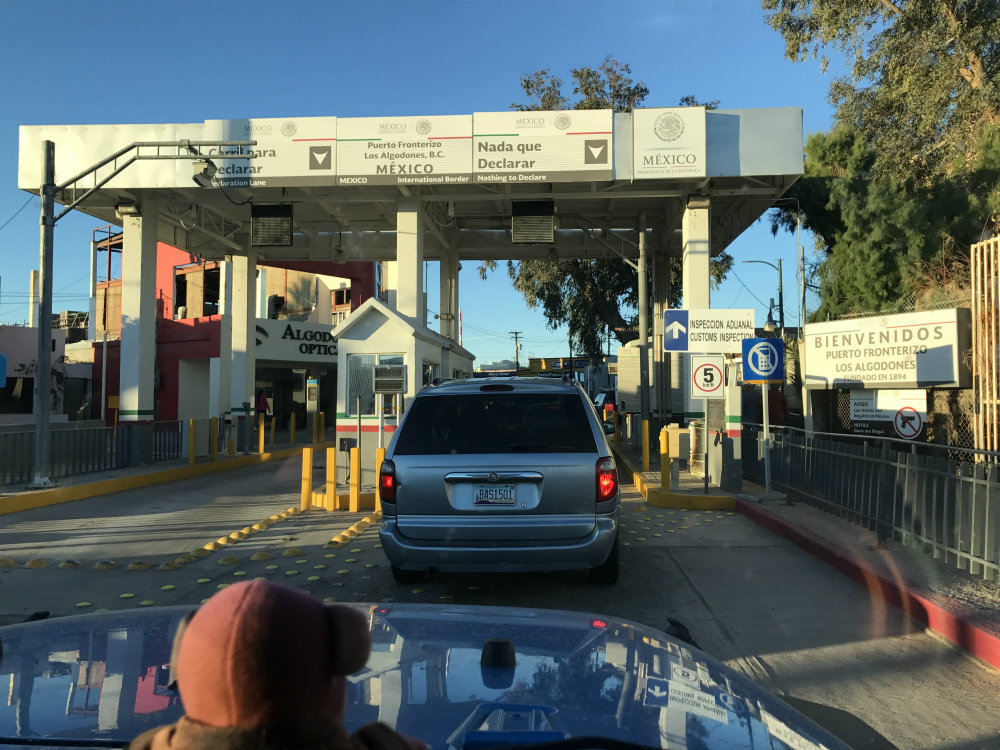 Algodones is packed with medical, dental, and optometry clinics. This is where all the snowbirds walk over to get their cheap healthcare.
Drove through farms and pretty decent roads, but people love to pass you and trucks get over in the shoulder lane to be passed.
Gas is expensive and so are tolls. Some tolls are about $4USD which is worse than Chicago.
Very mountainous and lovely views before passing the vineyard region on the way. We'll be back!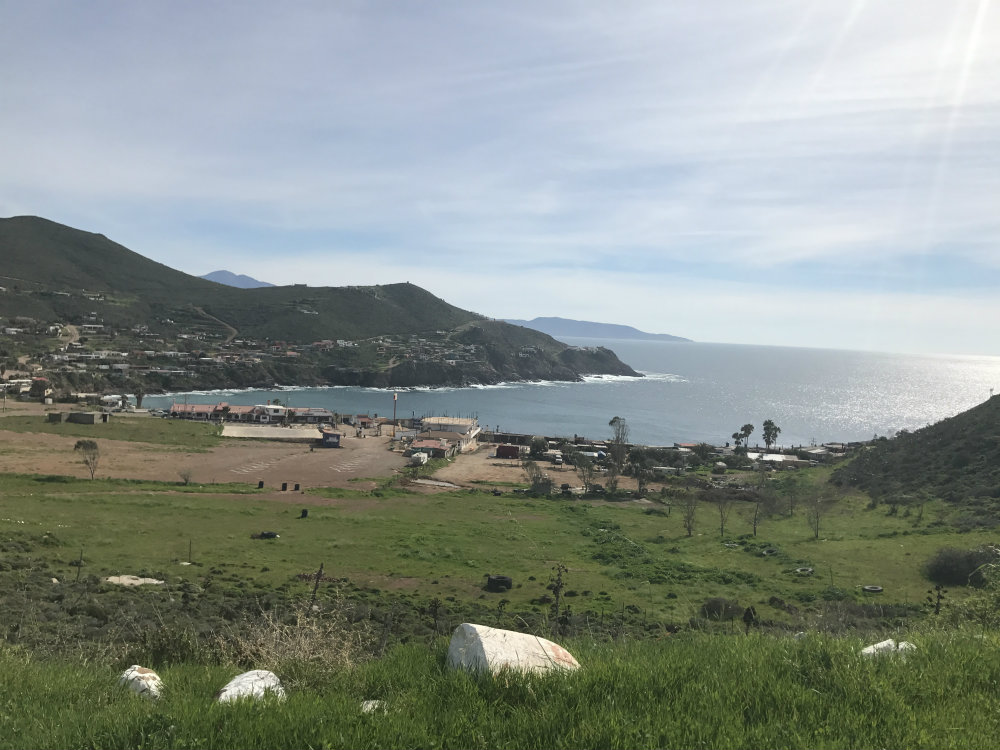 We totally could have camped in Ensenada because there are RV parks, some right by the ocean. Maybe next time.
Walked around the marina area and got Mexican seafood lunch in the touristy area because it was a no-brainer and were offered free beer.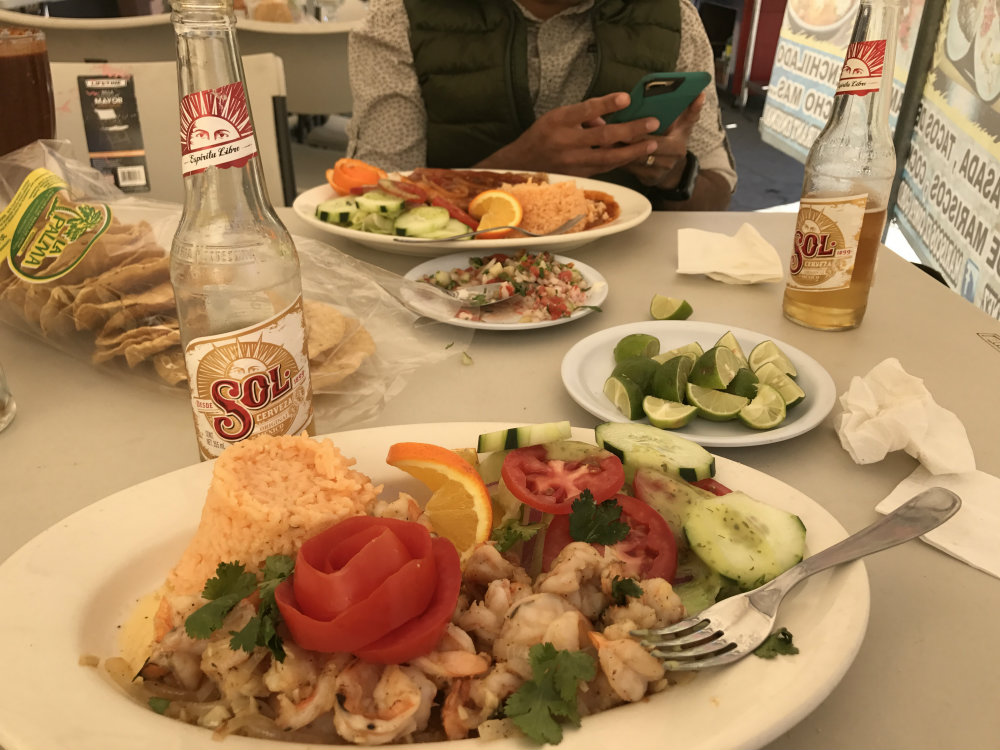 Our AirBnB is up in the hills, and my, these hills are steep. I kept calling and messaging our host because we couldn't find his house and he wasn't responding. Was starting to worry I'd been scammed but then we got out and walked and found a picture on the listing that looked like a house we were by so I just yelled in if anyone was home. Finally got in and it's a nice little house with a fenced-in back yard and our own bedroom and bathroom inside.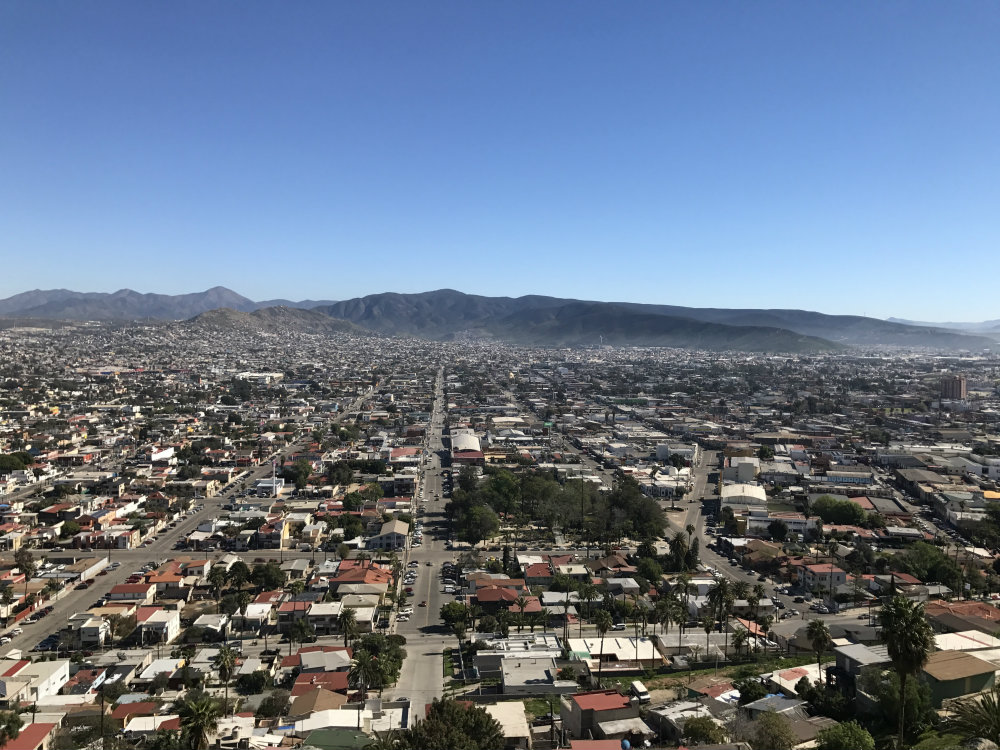 Walked around downtown to see the touristy shops and ignored all the vendors relentlessly beckoning us inside. Overall, the people seem nice though and the streets are clean. Walked along the waterfront again.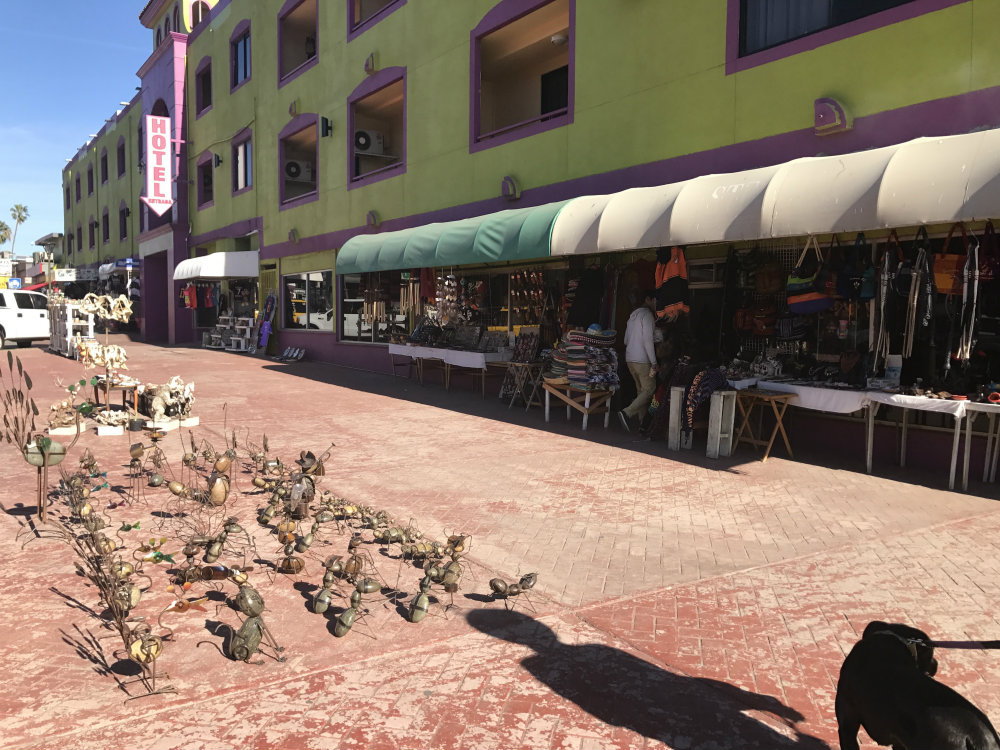 Stopped by San Miguel beach, which is a surfing beach. Walked along the shore and watched the surfers, totaling wanting to try it but feeling particularly lame and uncoordinated.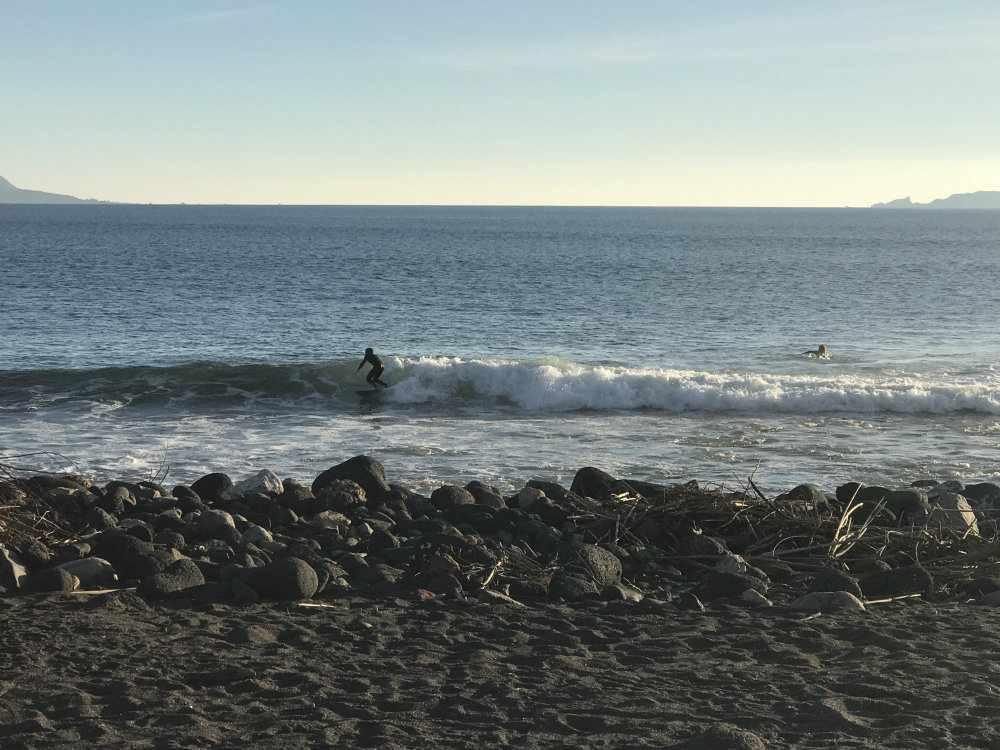 On our AirBnB host's recommendation, we hit up Agua Mala Brewery for happy hour. How can you go wrong with $1.50USD craft beers? We had my ideal setup at this place: outside table to watch the sunset over the ocean, decent cheap beer, dog-friendly, corner spot where Monkey could chill out, unique and delicious appetizers, big table to play cards. The parking guy was insistent on a tip, which was awkward. But we got six beers and three appetizers for $25USD, which would be a steal in the U.S.
We'd been told by other campers that there are so many stray dogs in Mexico as a blanket statement. I've only seen a few strays, but leash laws nonexistent so owners just let their dogs out and about. Monkey is so high-energy around other dogs that this is insanely stressful. People here seem to think about their dogs differently than I do. Most of them seem to live outside in the front yard and serve as guards rather than household pets. Monkey doesn't bark, but the barking and lunging from these front-yard dogs when we go for walks is intense. Other than that, the streets around where we are staying feel very safe and quiet.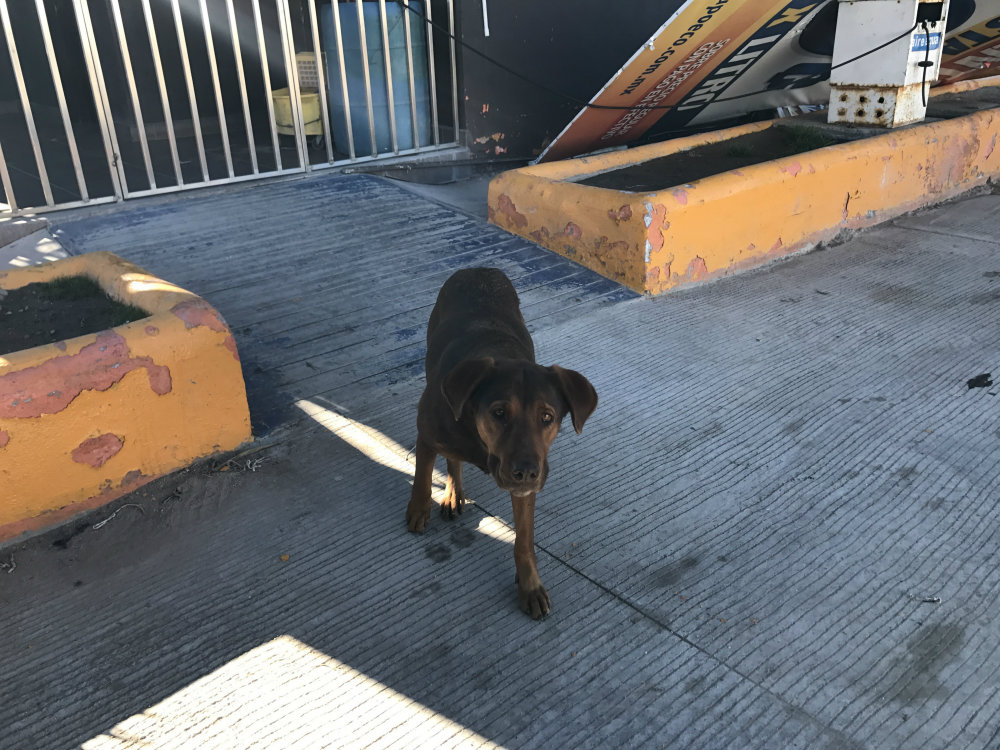 Day 2 (Ensenada)
Slept in a bit and had some leftover granola bars for breakfast
Drove to El Salto to hike to the waterfalls – about 30 minutes away – paid a guy 60 pesos to get in – 4 loose dogs made getting out of the Jeep super stressful
Easy dirt trail for a while then very rocky about a mile in. I heard and saw waterfalls in the distance but steep drop-offs. Apparently, this is a big rappelling area, but we have no rappelling equipment and a dog that probably wouldn't enjoy rappelling too much. So we crossed the river at the shallowest part for better views, snapped some pics, and did our sets of push-ups, crunches, and squats – the daily circuits we've been keeping up since Christmas.
Drove to La Bufadora and unnecessarily paid $5USD for parking. Parking attendants in orange vests flag you in and make it seem like you have to park here but don't. If you parked back up the road a bit, you could have avoided the fee and the hard sell. These are the kind of things that you just can't know until you've been here or have been told by someone who has.
Lots of shops lining the street with tons of vendors selling purses, blankets, shirts, and trinkets. Didn't buy anything but 2 overpriced beers.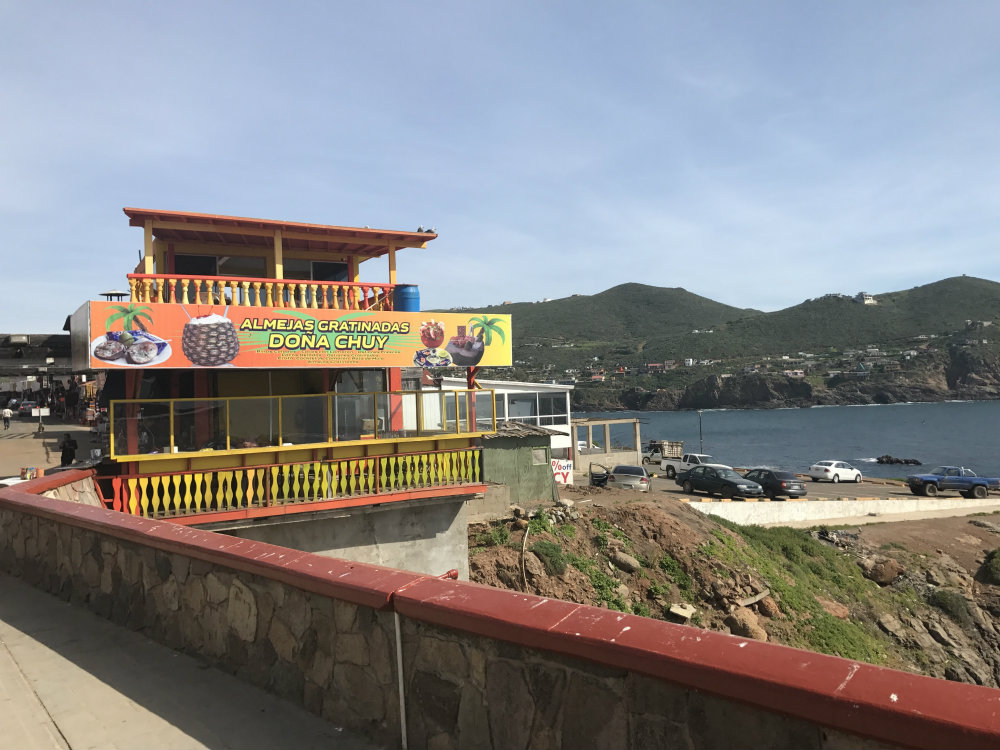 La Bufadora is kind of like a geyser, but not exactly. Waves crash up on the rocks and enter up the middle of them to make a big splash on the top. We got splashed a couple times, but each time the waves hit with a different level of intensity.
The roads here are riddled with potholes but paved pretty much everywhere. The shops and vendor carts on one street totally reminded me of the street I lived on for 6+ years in Chicago, Western Avenue. Here's an example of one of the crappier roads. They are NOT all like this. Still, it's good to have a Jeep.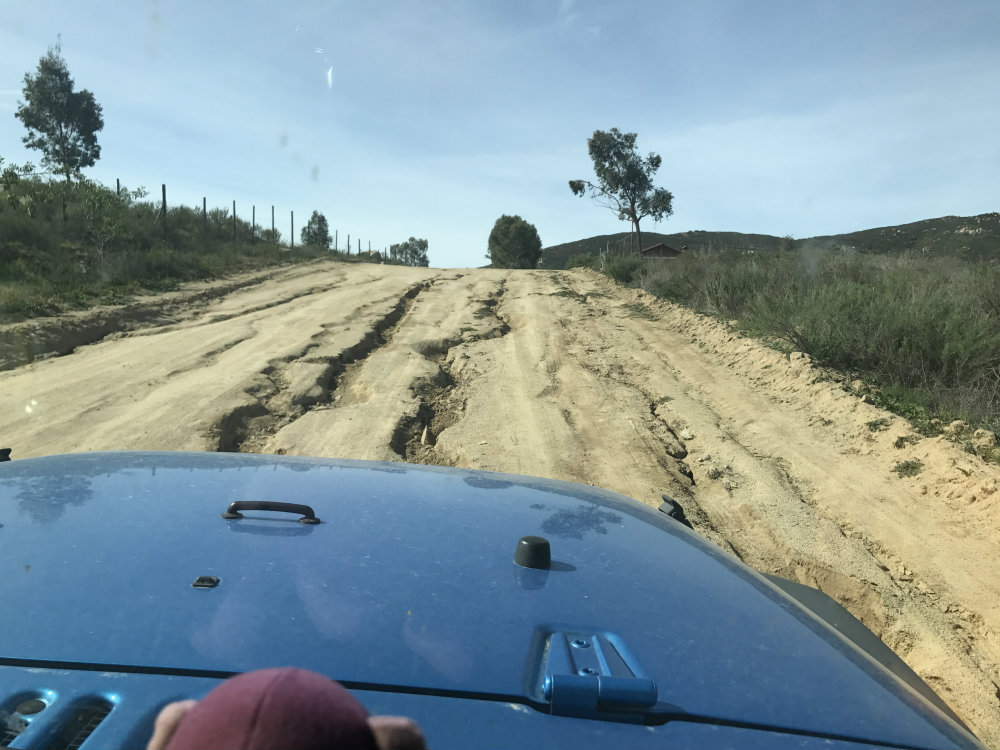 Found a chill lounging beach just off the side of the road – free parking area and a couple nasty port-a-potties. Not exactly bikini weather but felt great in leggings and a long-sleeved shirt. Not crowded, but still plenty of loose dogs running around and up to Monkey to cause chaos. Watched the waves, wrote in my journal, meditated for a bit.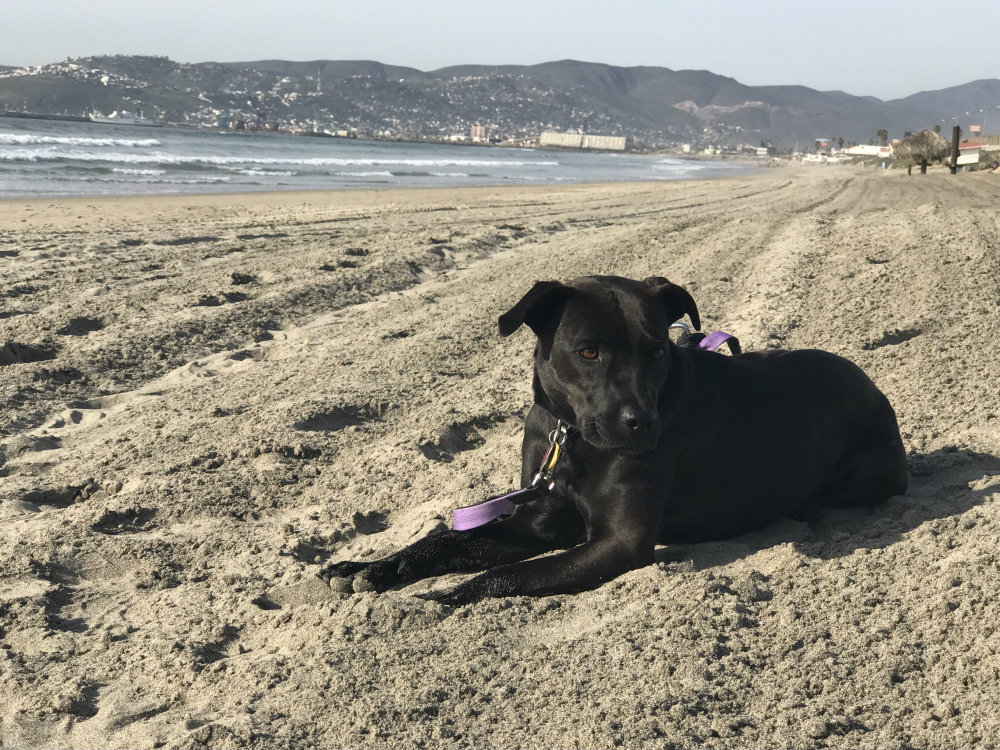 Got a nagging headache which was weird because I never get non-hangover headaches, so we chilled out back at our AirBnB for a bit before heading out to dinner.
Got brews and dinner at Wendlandt Brewery in downtown Ensenada – standard types of beer and pretty much like Aqua Mala. But dogs are welcome at tables inside, dimly lit, got busy around 7pm, veggie pizza was awesome.
Day 3 (Ensenada)
Found a better street to walk Monkey in the mornings without so many barking dogs – fancy houses up here in the hills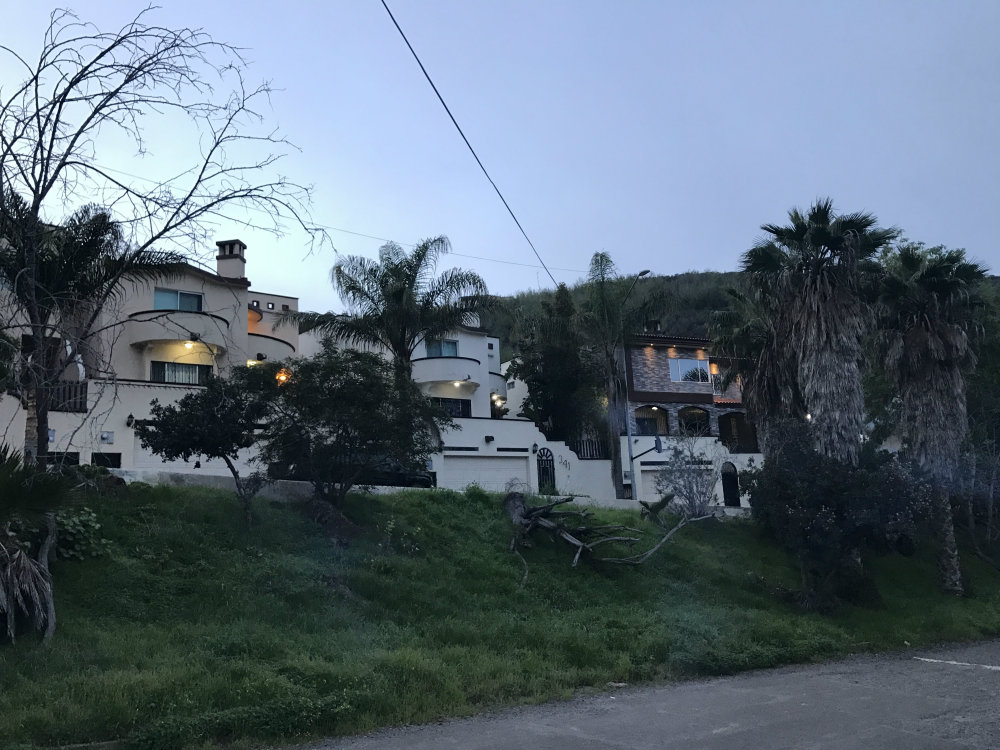 Spent the morning catching up with this blog post, downloading photos on the AirBnB's Wi-Fi, and researching dog-friendly wineries in Ensenada's vineyard region.
Tried to take a shower and discovered the house had no water.
Encountered an electric company guy at the house who told us, in a totally unrelated matter, he was shutting off the electricity because the owner didn't pay the bill.
Freaked out over the last 2 bullet points for a while and finally got in touch with our host who vowed to fix the situation of no electricity and no water
Headed out to the Ruta del Vino, about 30 minutes outside of Ensenada to check out some wineries.
Winery #1: Corona de Valle – very attentive waiter who described the wines and the history of winemaking in the region, beautiful outside seating area, dog-friendly, walked among the vineyard rows with Monkey but could have rented bikes too, best wines of the day & bought a bottle to take home, had lunch here.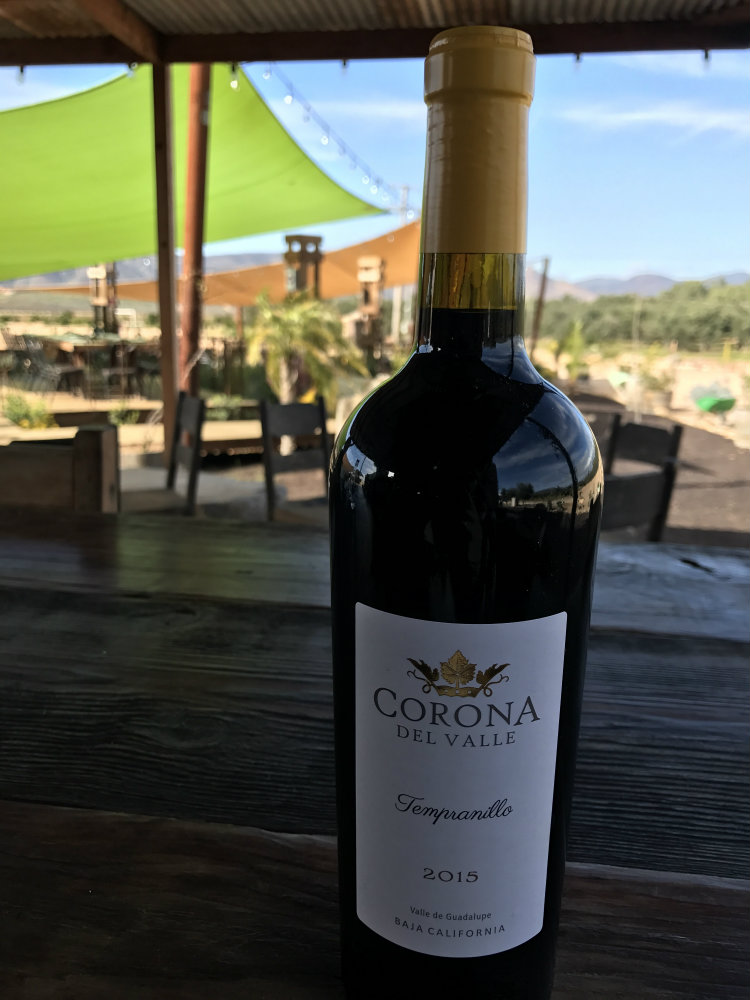 Winery #2: Xecue Vineyard – older owner guy was very friendly and told us about how his wife and he started the place, showed us a magazine they were featured on, wines pretty good and also did a tasting here, lovely outside space overlooking the hills, dog-friendly.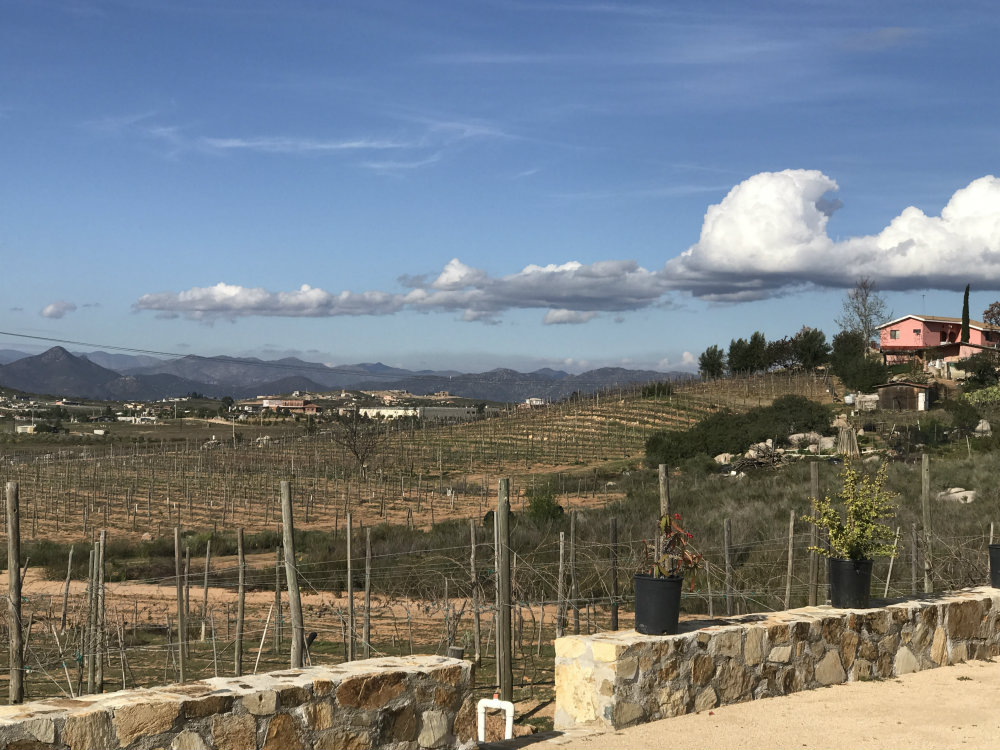 Winery #3: Sol y Barro – This was a backup stop since the place we originally tried to go to was closed for the day. It was about 4:45 and a slow day in the region so places seemed to be closing early. This place doesn't grow their own grapes, but it does make their own wine. Tasting was in a dark adobe building, felt rushed for them to close, no nice outside seating area to chill out at, pretty unique wines though.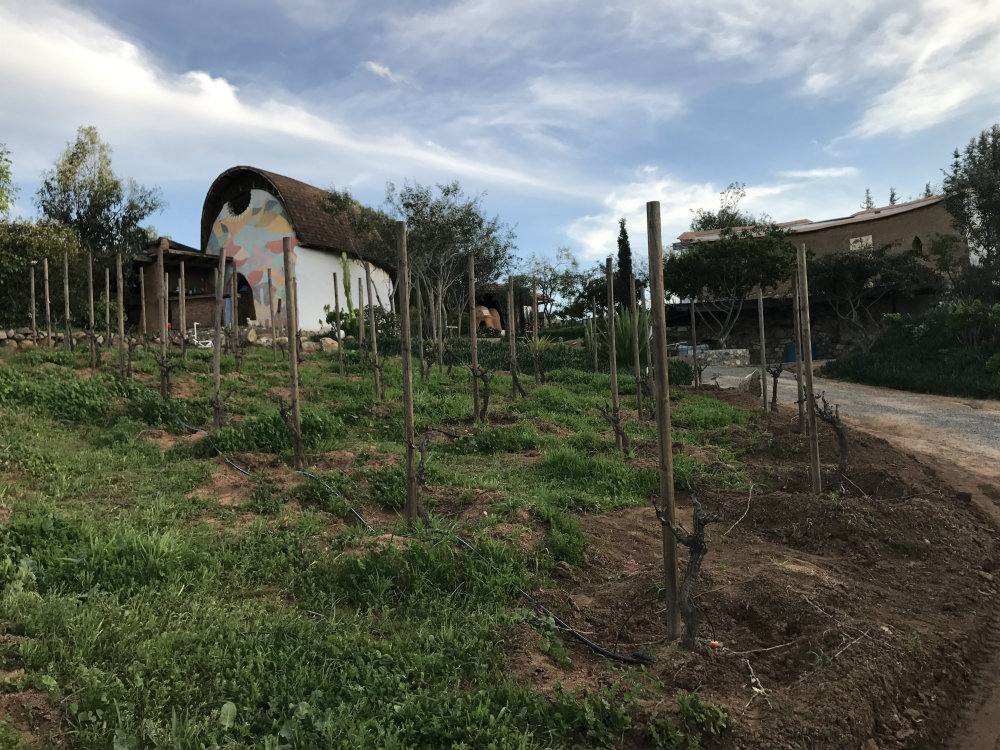 All 3 were incredibly chill places where we were the only people there for at least part of the time. I hope they get business at other times for their own sake. But it was super peaceful to have these beautiful spaces all to ourselves and personalized attention.
Came home to find working electricity…yay!
Water? Not so much.
Day 4 (Ensenada)
Squeezed in a quick morning shower with a little hot water that was trickling in…yay!
Took a local breakfast recommendation from our host, Birrieria la Guadalajara, only to discover it was disappointingly meat-heavy. Still, it was a nice local spot and reasonably priced.
Tried to visit several museums and failed at all of them because they were closed on Saturday, not open until later, or under construction.
Went for a hike at Canon de Dona Petra instead, an old park that wasn't too maintained but had some peaceful trails with a cross at the top of a series of hills to climb.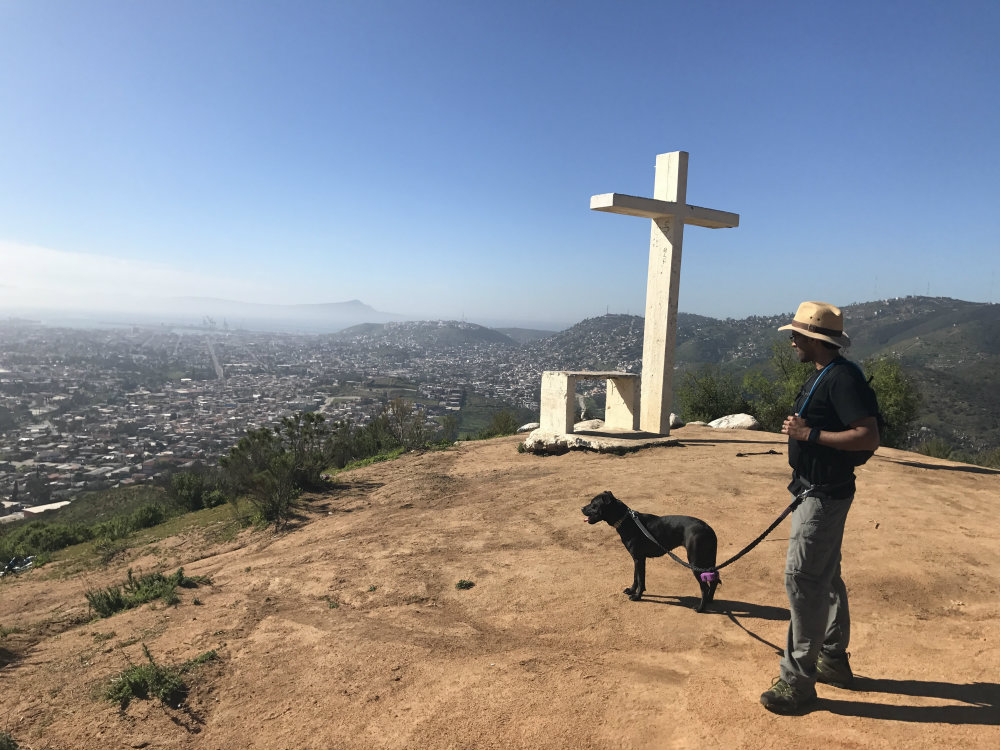 Discovered the most amazing business model EVER: Baja Brews. It had multiple local craft breweries setting up stands alongside restaurants on a cliff side with views of the crashing waves. Definitely hung out here for a few hours.
Just a few days off work really helped me keep up with my personal writing, photos, reading, journaling, etc. I really need to do this more often, not just for international travel, for my mental wellbeing. 
Left Monkey behind at the AirBnB for a bit to enjoy a nice seafood dinner at Mahi Mahi – tons of kids and it felt like Chuck E. Cheese – decent seafood but nearly U.S. prices
Watched a random semi-truck parade for Carnival on the sidewalk after we finished up with dinner
Returned to our AirBnB to find Monkey safe and sound but a rave going on – fortunately, the music died down before 10pm so we didn't have to get ugly
Day 5 (San Felipe)
Why does this dog wake us up before 5am – doesn't she know it's vacation?!
Drove to San Felipe – no one on the roads – very mountainous and rural – lots of potholes – one security checkpoint that we had to open the back of the Jeep for inspection
Discovered that La Palapa RV camp actually does NOT have cabins to stay in overnight even though it was confirmed to me via Facebook message beforehand – clearly a language mishap
Walked into El Capitan, a nearby motel, instead and found a clean room a block from the beach – our first option would have been 400 pesos and this was 630 pesos but no problemo
Walked around Malecon (the boardwalk) in San Felipe and climbed the stairs to the top of a shrine for views of the lighthouse and beach

Opened up the bottle of wine we bought at the Ensenada vineyards and thoroughly enjoyed it at the beach – no silly rules about booze and dogs here!

Watched Mexican music videos about farm animals
We don't really care about football but still watched our most recent hometown, Atlanta, lose to the Patriots at Agave bar – womp womp
Had chile relleno, my long-time favorite Mexican dish for dinner at BajaMar

Day 6 (San Felipe)
Started the day with yoga at the beach – a bit chilly but peaceful AF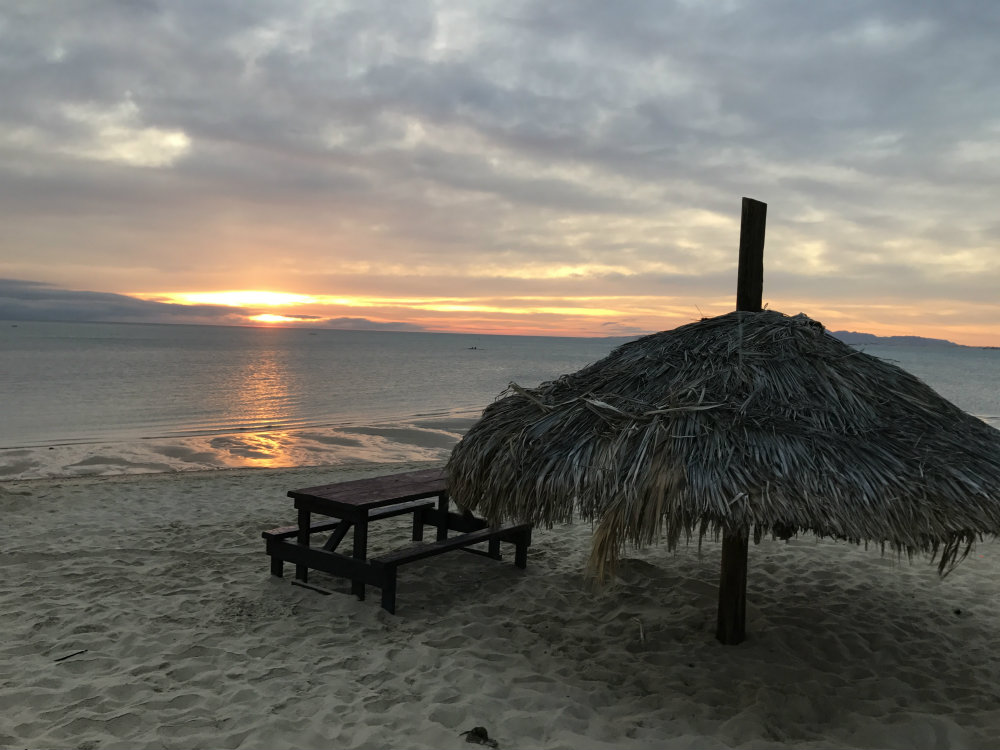 Did a couple hours of work in the motel and had the best shower I've had in like a month – had to come to Mexico to get it
Grabbed our last Mexican seafood lunch on the boardwalk and spent the afternoon at the beach relaxing, reading, and trying not to inhale the nasty smells of dead fish washed up on shore
Thought we were being thrifty by spending the very last of our pesos and dollars but then panicked when we realized we didn't have any toll money. We hit tolls on some drives, but coincidentally not this one after all. In retrospect, traveling with no money of any currency was irresponsible. We finally found an ATM in Mexicali and I wasted about $25USD for no reason on the endeavor. But, lesson learned.
Ultimately, it was 4 or so hours to Los Algodones border crossing, which was a total non-event. We returned out travel permit to a little office at the border and the line to get through never stopped moving. We weren't hassled about anything, and the agent didn't even acknowledge that there was a dog in the car let alone view her international travel certificate that we'd worked so hard to get.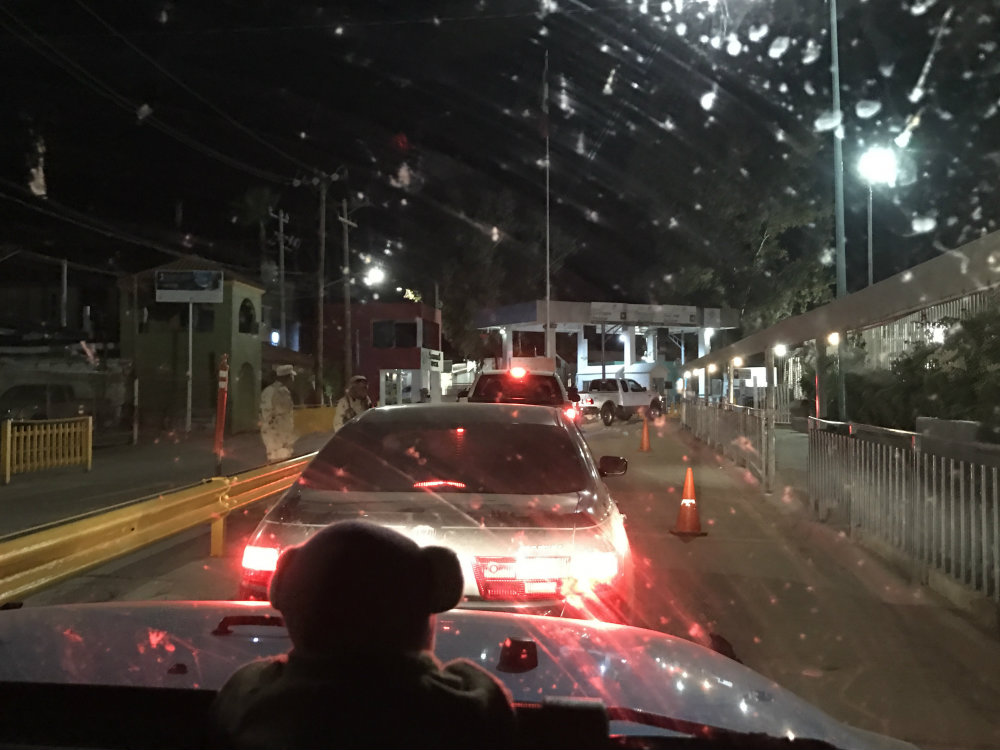 Ultimately, the biggest stresses on this trip weren't drug violence, theft, or getting back into the country. It wasn't the language barrier with our sub-par Spanglish, gas shortages, or animosity towards Americans.
Instead, the only things that stressed me out was managing loose dogs with Monkey in tow and being hassled by vendors to buy things and tip everyone. That's it. Those two things are mildly annoying to me, but totally manageable in the scheme of things.
Things are a mess in America right now, so I encourage you to get out of it and not be afraid. Do your research, don't be an idiot, and get out while the gettin's good.
El fin.