Well I've officially been living on the road longer than I've been able to endure some jobs…four months! And it's supermoon day!
Mid-October through mid-November has been a whirlwind for me in terms of work, and I've been so swamped that I haven't even glanced at my blog since the 14th of last month. My workload has made it a bit more challenging to find balance day to day and not feel stressed out while making time to explore new places. I felt so scatterbrained just trying to put this post together that these photos are totally not in sequential order at all. But they're all from month #4, so there ya go.

Yet Colorado and Utah have been awesome and solidified my perception that I feel more at home in the West than the East. To start blending in with the locals, I've also begun to assume a new identity as well. I found this name tag on a hiking trail and am ready to pull it out whenever necessary for Mormon perks.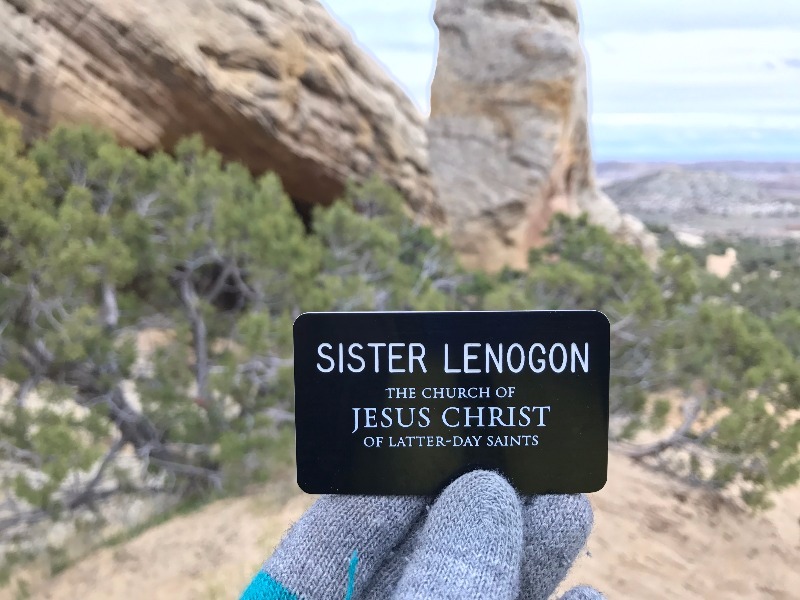 Places We've Been: Month #4
Month #4 began in Cortez, Colorado and then began moving north and west. We've been taking our time and spending a couple weeks in places when they seem cool enough to warrant it.
The only exception was Grand Junction. Every private campground in the area had ridiculous dog breed restrictions that forbid pit bulls, rottweilers, and dobermans. Campground reviews shared that many campground owners would scrutinize dogs and hassle owners, and we just couldn't justify giving money to close-minded and discriminatory people like that. However, we had friends driving in to GJ from Denver and already established social plans. So the solution here was to stay at an all-breed-friendly hotel in GJ just for the weekend and take advantage of a hot tub and hot breakfast. It ended up being pretty sweet actually and really fun to hang out with the Colorado gals.
Here's a quick recap of this past month's batch of "homes on the road":
Montrose, Colorado: Home on the Road #20
Highlights: Challenging hike/climb to the bottom of Black Canyon, mini golf at our campground, bike paths & off-leash dog area at city park, clothing optional hot springs at Ridgway, exploring nearby Ouray, bowling alley next to our campground, art afternoon inspired by the canyon, Halloween shopping, finding creepy animal bones along a trail
Lowlights: No recreational shops for fun edibles like I'd pleasantly gotten used to in Cortez
Grand Junction, Colorado: Home on the Road #21
Highlights: Meeting up with a good friend and getting to know two new ones, taking a camper break for a hotel stay, local pumpkin patch and corn maze, freaking people out with creepy Halloween masks, scenic winery after a day of hiking, Colorado National Monument at sunrise
Lowlights: Breed restrictive rules that banned pit bull mixes, treacherous jeep trail that led to a failed attempt at seeing arches
Vernal, Utah: Home on the Road #22
Highlights: BLM land hikes to arches, finding a Mormon name tag on the trail, petroglyphs on private ranch, Utah Field House of Natural History State Park Museum, real bones at Dinosaur National Monument, crazy rock formations at Fantasy Canyon
Lowlights: Almost losing Monkey when we let her off-leash and couldn't find her
Salt Lake City, Utah: Home on the Road #23
Highlights: Doing city stuff for a change, awesome campground with a hot tub and good WiFi, clean & reliable public transit, bike lanes everywhere, campsite yoga, seeing bison and the creepy scenery at Antelope State Park and the Great Salt Lake, checking out neighborhoods, learning that my ancestors date back to the 1500s at the Mormon Family Search Library
Lowlights: Failed comedy show attempt, trying to figure out Utah's complicated brewery laws (some good beer though!)
Observations & Random Ramblings: Month #4
In no particular order, these are some random thoughts that came to me over the course of month #4 on the road.
I hate sharing bathroom space with others. This is my personal time, not a time for small talk. RV parks tend to be better with this than state park campgrounds because RV people have their own bathrooms.
Having crappy campground internet makes me super cranky and stressed out for work. So far, campground internet in the West has been much better than on the East Coast.
I'm okay with heights, but not so much with steep drop-offs. The Lizard Head trail near Telluride was rough.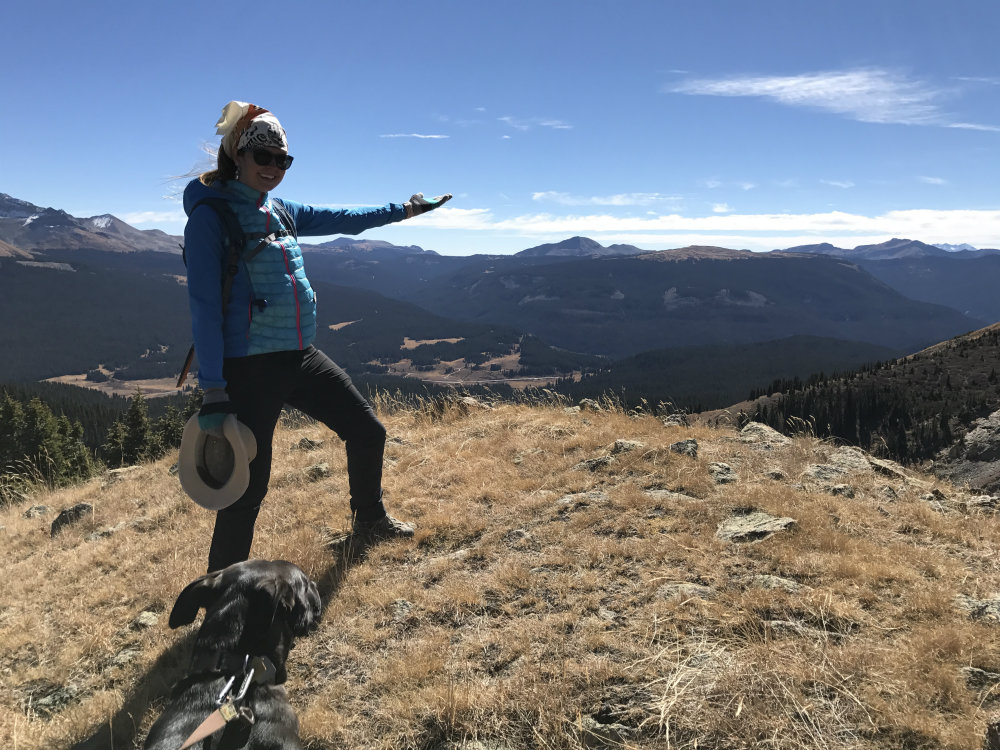 Colorado is a great place to be if you enjoy the occasional edible. However, Western CO is super dry (I'm looking at you, Grand Junction), so stock up when you can.
Cheap $2 gloves are a lifesaver for typing on a laptop with cold hands, hiking without losing grip, etc.
Command strips are amazing for camper storage, especially for winter coats and towels. I have about 9 hanging right now and could use a few more.
Interactions with strangers continue to feel burdensome and exhausting no matter where I am, and I just can't wait for them to end about 90% of the time.
It's often been too cold to do yoga outside at campsites lately, so I've checked out a few more local yoga classes. Some good, some bad. Unseasonably warm weather has made this easier.
It's hard on us, but Monkey has been doing well with her "practice boarding" experiences to get ready for five days without us over Christmas. We've gotten a good report about her on two day-boarding days and one overnight boarding trial run.
I wrote a short story last month but have been trying to write some travel-related poems this month. I've written three so far that aren't great, but they're something. Hoping to pair these with some photos and maps to create a travel book later on.
We almost lost Monkey one day while letting her off-leash in BLM land, where it's totally allowed but she scared us half to death. We called out for her and searched for her for what seemed like an eternity before she emerged on top of the tallest hill in the area, limping a little but otherwise fine. Apparently, some legit dog training may be necessary after all.
I witnessed the exciting Cubs win for the World Series and the disheartening result of the Presidential election from a camper, tracking updates over WiFi with no TV access. These experiences would have felt a bit isolating except for social media, and for that my Facebook friends, I thank you.
Getting used to brewery laws in new states is confusing and frustrating.
Unseasonably warm weather has been awesome for us but devastating for skiers out here. Yet working outside in mid-60-degree weather in November has been awesome.
Mormons are nice and helpful to a fault. While visiting Temple Square, I was never approached about God or Jesus…only whether I had questions, needed a tour, or wanted to talk about architecture. Yet these persistent and overly nice interactions were incredibly draining and completely unavoidable. Seriously, what are these people on?
Salt Lake City has made it onto our list of possible "move to someday" destinations. We scoped out neighborhoods and have positive thoughts about Sugar House, The Avenues, and Cottonwood Heights.
Looking Ahead to Month #5
Month #5 will continue in Utah as we make our way to Moab and spend a week or two there. Thanksgiving will be spent in that area probably gorging ourselves on something delicious. But we're on a deadline, and that's because of Christmas. So we've got to make it down to Phoenix a few days before Jesus/Santa day to catch a flight back to Central Illinois. But not without spending some time at the Grand Canyon on the way down.
Overall, I'm loving the west and the unseasonably warm weather is a much-needed relief here. However, our first chance of snow is Thursday, and I'm not looking forward to that inside these canvas walls.
We've still got these masks in the back of the Jeep, so if you see some freak shows lurking around in the off-season, it's probably us. After all, Halloween is my favorite holiday and I was happy to celebrate it in a fun place with good people. Cheers!
Related: