To stick with my recent theme of Southwest hiking trips, today I'd like to share a guest post from Mitch Stevens of Southwest Discoveries. Most of my trip to the Southwest was centered on New Mexico, but I can't wait to get back out to the Southwest to explore more of Arizona too. This post is all about Hiking in Tuscon, with five awesome hikes to check out for yourself.
---
Hiking in Tucson is arguably some of the best hiking in the world. From lush Sonoran Desert vegetation to picturesque mountain ranges it's easy to see what attracts hikers to this corner of the world. As you gaze upon towering saguaros and beautiful sky island mountain ranges in the distance, you will understand why hiking in Tucson should be on every adventurer's travel bucket list.
I'm Mitch Stevens, founder and lead guide for Southwest Discoveries, a hiking and adventure company based in Tucson. Born and raised in New York City, I came to discover the great outdoors and fall in love with Arizona's special places. My favorite hikes in Tucson include the following wondrous adventures, some of the most awesome treks in the southwest.
1. Mt. Wrightson – Hiking Tucson's Loftiest Summit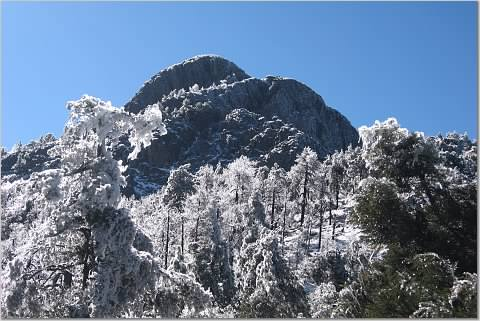 The spirit of the Boy Scouts lives on at Mt. Wrightson. A wooden memorial stands alongside the trail about halfway up to the summit. On November 15, 1958, three boys ages 12 to 16, were caught in a ferocious blizzard and died there. The normally mild weather of southern Arizona was interrupted by an arctic cold front, plunging temperatures below zero. The Boy Scout episode of 1958 caused the largest search and rescue operation in Arizona history, leading to the formation of search and rescue teams in southern Arizona and other locations.
But two summers ago when I led a group of hikers to the summit, the weather was benign. There was a slight chance of monsoon storms in the afternoon which never materialized. We started our hike on the moderate and well graded Old Baldy Trail, allowing us to achieve the summit in less than four hours. The trail originated at Madera Canyon, a world renowned birding spot. Hiking in the Santa Ritas enabled us to not only escape the summer heat but to take in exceptional mountain vistas.
Accompanying us was hiker extraordinaire Bill Bens; who had climbed the mountain over 130 times. He has walked these trails during full moon occurrences and after winter storms with the aid of crampons. The photos Bill shot on these excursions were stunning, resembling scenes more reminiscent of the Canadian Rockies than southern Arizona. He is just one of the many who has fallen under the spell of Mt. Wrightson.
About a mile from the top we reached Baldy Saddle, a great place to rest. Among meadows, spruce and ponderosa pine trees, we observed deep canyons, lofty ridges and sloping grasslands. The final ascent was steep and rocky but taking it slow and easy allowed us to reach the mountain's glorious pinnacle, no worse for the wear.
The views from the peak were outstanding. They extended more than 60 miles into Mexico and encompassed much of southern Arizona. At Wrightson's distinct rocky peak, elevation 9450, we peered off into the distance at other sky islands such as Baboquivari, Mt. Lemmon, the Rincons and dozens more.
There are two main trails leading to the summit, and they cross each other twice, making a figure 8. On our descent back to the trailhead, we veered off on the longer and equally scenic Super Trail. It was there that we spotted a mother bear and cub bounding off into the woods, a bonus to an already exceptional and wonderful hike.
2. Redfield Canyon – The Place Time Has Forgotten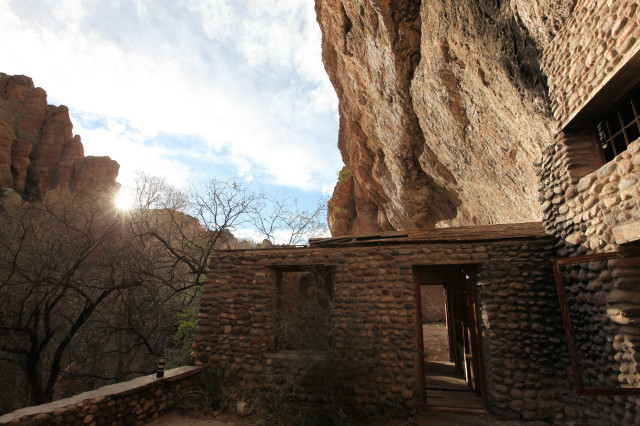 Imagine a secret place, a narrow red-walled chasm featuring tall cliffs pocked with eroded caves and strewn with boulders. A place where deep within its heart exists a stone cliff house built into a cliff; lying in splendid isolation. Rumor has it that when they excavated it in the 1930's, a mummified skull of a Native American infant was unearthed. The daughter of the family who lived in the cliff house brought the skull to school for show and tell!
In this spectacular canyon, hidden cascades and deep pools may be discovered in the side canyons while occasionally bighorn sheep and mountain lions are spotted on the canyon walls. Pictographs, petroglyphs, ruins of the ancient ones and pioneer relics are scattered throughout the canyon and the Galiuro Mountains, where Redfield is located. The Galiuros are made up of a network of peaks and canyons and are a great example of the fault-block development of the Basin and Range Province, stretching from southern Arizona to Oregon.
On a fine autumn day, our group drove the rough but picturesque Jackson Cabin Road eleven miles to the head of Swamp Springs Canyon. We parked our vehicles, unloaded our gear and began our two-day backpack. The trip proved most enjoyable when done as a backpacking trip because of the rugged nature of the terrain. The roundtrip mileage clocked in at approximately fifteen miles.
We scrambled seven miles down Swamp Springs to the confluence of Redfield Canyon. The canyon included beautiful riparian vegetation such as sycamore, cottonwood, walnut and oak trees as well as flowing water. In the distance, saguaros cactus and other Sonoran Desert plants held sway, clinging to steep cliffs flanking the canyon. The contrast between lush woodland, water and stark desert was fascinating.
After camping at the cliff house, the next morning our group climbed a steep route leading out of Redfield Canyon and hiked the Sheep Wash Trail. Riveting views of tree-lined Redfield Canyon from above and far reaching vistas of the Galiuro Mountains were the highlights. The meandering Sheep Wash Trail eventually rejoined Redfield Canyon after seven miles and a side route guided us to Jackson Cabin. After spending time exploring the cabin and pioneer relics, we followed Jackson Cabin Road three miles back to Swamp Springs Canyon where our adventure began.
3. Monsoon Magic on the Red Ridge Loop

Simply put, the Red Ridge loop is one of the most beautiful summer hikes in Arizona. In the middle of a desert summer, a group of us embarked on this 14-mile jaunt in the cool pines atop Mt. Lemmon, just north of Tucson. We dropped over 3,000 feet to the floor of the Canada Del Oro drainage. In the near distance stood Rappel Rock, Samaniego Peak and Cathedral Rock. These landmarks appeared even more mysterious and intriguing than usual because of a fine layer of fog which enveloped the mountain.
The route wandered through a landscape of lush forest, as well as burned trees, a reminder of the fires that raged through this area ten years ago. The forest has made an impressive recovery and in many of the burned areas there was beautiful new growth, including wildflowers. Many people hike Mt. Lemmon each year and explore the front side of it on trails such as Wilderness of Rocks and Marshall Gulch but few actually explore the northern backside. Here, where few hikers tread, the Canada del Oro canyon was lush and full of life with water running roaring through it. The splendor was mesmerizing.
Massive old Ponderosa Pines, Douglas Firs, Cypress and grapevines cloaked the creek bottom. The scenery was reminiscent of a blend between the Colorado Rockies and the Smoky Mountains of Tennessee. A few storms rolled in but for the most part the rain was light and we stayed dry. However, nearby thunder was ominous. As we approached the Red Ridge trail junction the vegetation changed. We started to see more oak, juniper, huge sycamore trees and blooming yucca, an impressive succulent plant.
To the west rose tilted cliffs of granite known as Reef of Rocks. Tucked into a ravine in the rock face stood an impressive waterfall; an effect of over twelve inches of rain which had pounded Mt. Lemmon during the previous thirty days. Red Ridge is named for an iron bearing formation which gives off a rusty tint from the oxidation of iron during natural weathering. The final three miles to the Red Ridge trailhead is strenuous. In fact, the grade is steep and unrelenting at times. But if you pace yourself, before long you'll be back in the cool pines and aspens on your way to the top of Mt. Lemmon.
A word of caution, this is not a hike for couch potatoes; it is long and strenuous. Drink plenty of water before and during this hike. Don't forget the electrolytes and include lots of snacks. You'll need it!
4. Rincon Peak – Of Dad, the Mountain and Life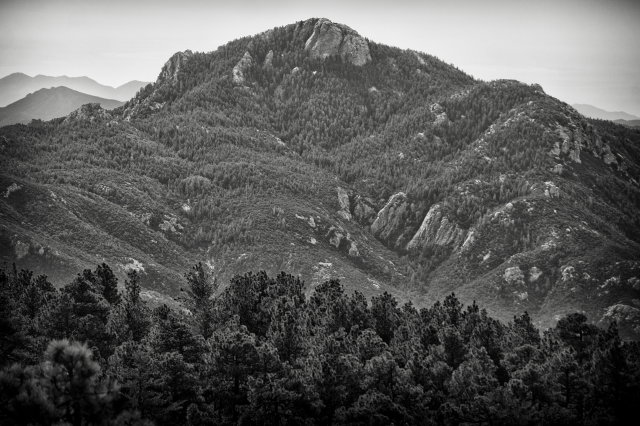 With dad's ashes, two days' worth of water, food and gear, my pack weighing well over forty pounds, I trudged up the mountain, saving my energy for the big push near the end. My father asked me several years ago to scatter his remains on a beautiful mountaintop. He passed away three weeks prior to this trip and to honor him; I chose one of the best hiking trails near Tucson and most spectacular sky islands in Arizona, Rincon Peak.
The steepness of the trail and terrain was unrelenting but the views were outstanding. We started out in desert scrub and hiked through a riparian forest featuring huge oaks, cypress and sycamore trees. But there was no water to be found. It had been a very dry year and all of the springs and creeks had dried up. Despite the arid conditions, we observed colorful wildflowers such as blooming cacti and radiant coral bean plants in full blossom.
We ascended through junipers and pinyon pine trees, typical of mid elevation altitudes in southern Arizona. As we climbed higher, massive Manzanita shrubs flourished, some of the most beautiful I've ever seen.
As we climbed, my mind drifted once again to my dad. Towards the end of his life when he was fading in and out, he gathered his family around him and with tears in his eyes; he admitted that although my dad was difficult to deal with at times, he never meant it. To a man who hardly expressed emotion, this was profound. It was his way of completing and saying he loved us.
We reached the summit of Rincon Peak. Atop this isolated peak in southeastern Arizona, I gazed upon a landscape which struck awe, resonated beauty, and took in one of the most biologically diverse corners of the world. The landscape encompassed subtropical oaks, soaring pine-clad cliffs, and undulating hills of grassland and forest.
One hundred miles north of here, the massive Colorado Plateau and Rocky Mountains jut into central Arizona with their snow-clad peaks, thick forests and deep canyons. The Mogollon Rim lies at the southern edge of the Colorado Plateau. In the opposite direction, 150 miles to the south, the Sierra Madre Occidental of Mexico, another great mountain system in North America, gives way just before reaching the Arizona New Mexico border. The ecosystem there is different from the sky islands, different from the Rockies, and adapted to warmer temperatures with strong connections to the tropical latitudes of the Western Hemisphere. The mountain ranges of the Sky Island Region exhibit the north south overlap of these two major mountain systems which span the temperate and subtropical latitudes.
From atop Rincon Peak, I released my dad's ashes into the wind. His remains have melded with the elements of the ages, the rain, the earth, the wind, the water. Perhaps after good monsoon storms his ashes flowed through rushing waters down the mountain and eventually merged with the San Pedro or Santa Cruz, the Gila, the Colorado and into the sea. Storms will again rain on the land and the cycle will repeat once more.
5. Palisades Canyon – One of the Most Exciting Tucson Hikes
If you are looking for one of the best Tucson Hikes you can experience, you cannot go wrong with Palisades Canyon. Trekking it comprises one of the most exciting adventures in the southwest. This epic canyoneering trek originates on Mt. Lemmon and plummets 12 miles to Sabino Canyon. The trail starts out in a pine forest and culminates in the Sonoran Desert.
Palisades Creek and its tributaries tumble over polished stone into numerous pools and slots. It courses through hard Precambrian granites and gneiss which compose the heart of the range. The Santa Catalina Mountains, like a few other sky islands, were created by tectonic uplift deep within western North America's crust. It is considered a metamorphic core complex, formed over fifty million years ago
by granite that has risen to the surface from great depths.
As if soaring cliffs, craggy peaks and stunning scenery isn't enough, there are waterfalls, one of nature's grandest spectacles. At Palisades in late summer, cascades are found in absurd abundance in all sizes and varieties. Sometimes, depending upon the angle and reflection of the sun, vibrant rainbows are created. Imagine rappelling into a rainbow!
The price of admission is high in terms of physical exertion, but the rappels are some of the best around. Palisades features seven spectacular waterfall rappels and some of the slickest rock in the state. Keeping one's footing is of paramount importance; it is often easier to slide down the falls on your side with your feet dangling in midair. The hike itself is over 13 miles long with a total elevation loss of over 4,000 feet and a 1,500-foot ascent at the end. Therefore, this trek is recommended only for experienced technical canyoneers in good physical condition.
Those less than experienced in the rigors of technical trekking should tackle less challenging canyons and Tucson hikes before attempting Palisades. Canyoneering is the fastest growing alpine sport in the United States and for good reason. An intrepid backcountry enthusiast can access and experience amazing and remote places only seen by a few. Palisades Canyon is one of those beautiful and rarified places.
To safely descend this canyon, you'll need a 200-foot rope and a 200 foot pull cord as well as harness, helmet, carabiners, quick links and about 140 feet of webbing. Wear boots with good traction and wetsuits come in handy in all but the hottest weather. Groups of five or less is recommended because of the time commitment involved, fourteen hours and a hike out in the dark. But if you are up to the challenge, the full descent of Palisades Canyon is a sublime journey indeed and, as we said, one of the best Tucson Hikes you can experience.
---
This is Alyssa again, and I must admit that these hikes sound pretty freaking sweet. A big thanks to Mitch for sharing his local hiking expertise and inspiration!
Next up on my to-do list is a post about hiking around Las Cruces, New Mexico. Two of my most memorable hikes at White Sands National Monument and the Organ Mountains were in this area, and slowly but surely, I'm excited to tell the stories of these trails and other random adventures along the way.