While spending a month in New Mexico, my husband, new pup, and I set up camp in three different "home bases" to explore the surrounding areas: Albuquerque, Santa Fe, and Las Cruces. I didn't know much about Las Cruces before I spent a week here, but it ended up being one of the memorable parts of the entire trip. This was largely because of the unique hiking spots we got to explore that were nothing short of fascinating.
One thing that I'll always associate with Las Cruces is the crazy high wind. Pretty much every day we were here, there were sustained 30 mph winds with 50 mph gusts that were relentless. Other things I'll always remember about this place include finding my birthstone in the wild, hiking through a sandstorm, and learning how resilient my pup, Monkey, really is.
So for the next contribution to this Southwest Road Trip Series, these were my three most unforgettable hiking trips in the Las Cruces area.
1. Kilbourne Hole – Mining for Peridot Gemstones
The first hike that we went on in the Las Cruces area didn't end up involving much actual hiking at all. Instead, it was a treasure hunt!
Kilbourne Hole is a place that you won't find in average New Mexico guidebooks, and we only learned about it while reading about gemstones native to this region. I was skeptical about finding gemstones out in the wild, untouched by human existence in this day and age. But treasure hunts like this don't happen every day, so we had to give it a try.
It took about an hour and a half to reach Kilbourne Hole from our campground in Las Cruces via intense off-road-style dirt paths that brought the Jeep's speed down to about 20 mph. Pretty close to the Mexico border, this place really is in the middle of nowhere, and the 45-minutes of rocky dirt trail to get here was an adventure in itself.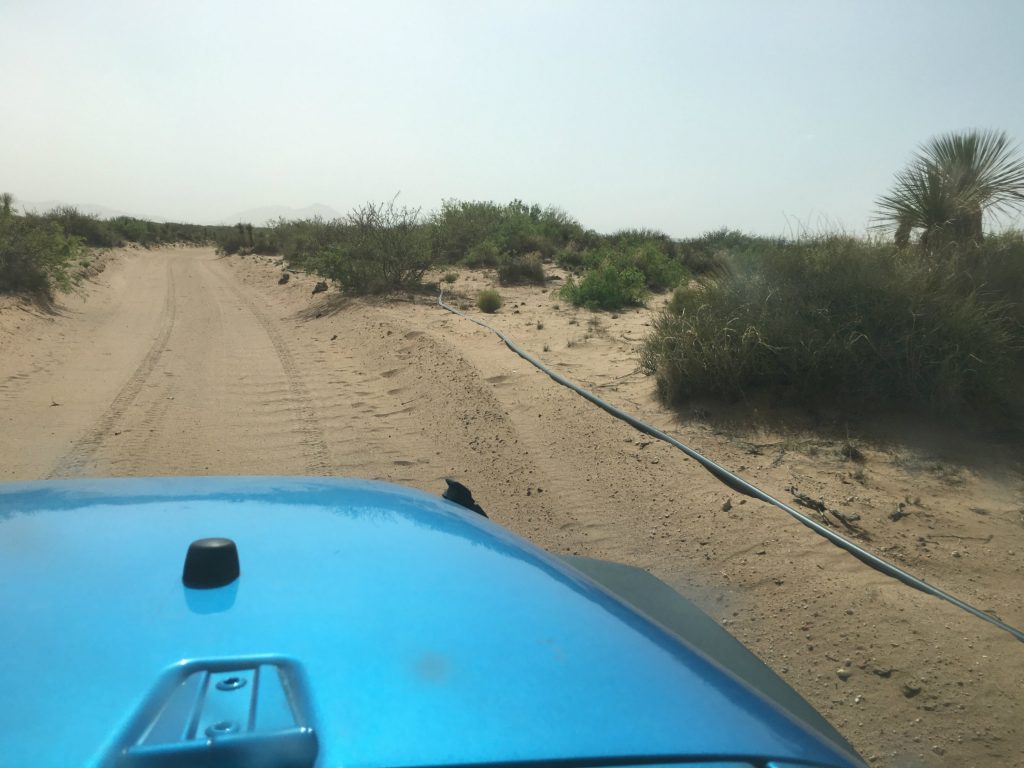 Kilbourne Hole is a maar (i.e. a pit/depression caused by a volcanic explosion) in Doña Ana County and a remnant of a volcanic explosion that dates back an estimated 100,000 years. Today it's a National Natural Landmark on BLM land and known for the unique minerals that surfaced after the eruption. The crater measures just 1.7 miles long by over a mile across, but it's hundreds of feet deep.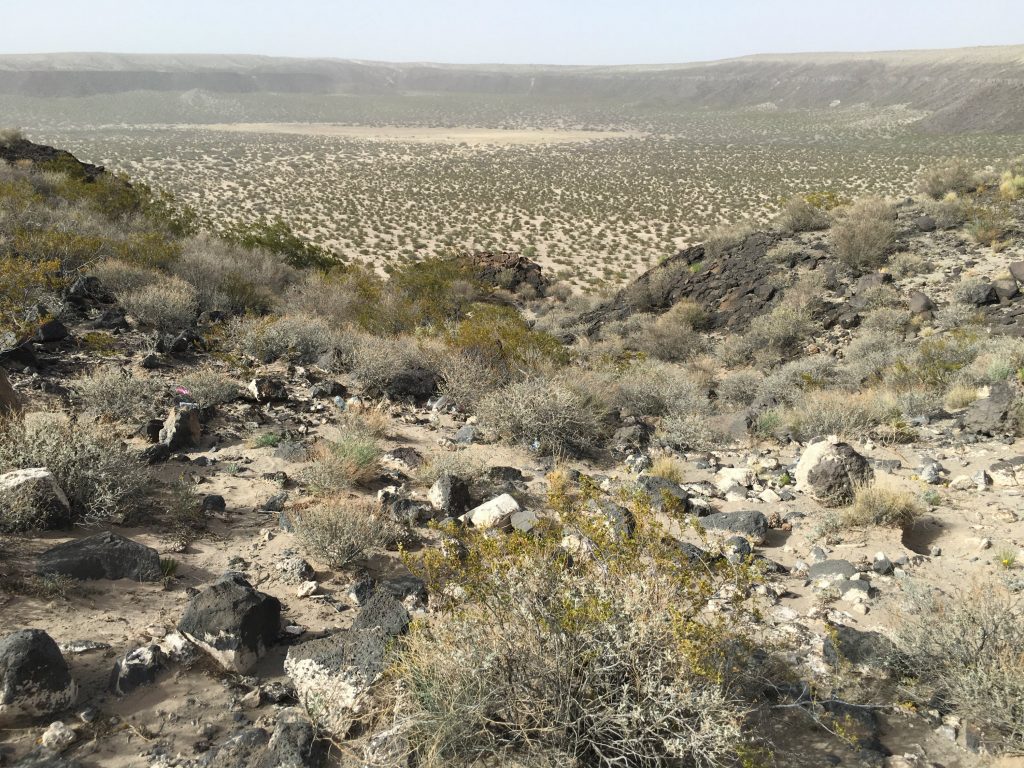 Although I was skeptical about actually finding rocks worth anything, only a few minutes passed before we started seeing green and yellow gems glimmering in the sunlight. This area is open to the public and there are no regulations about removing any rocks from the site as long as you can maneuver the crazy roads to take them back to wherever you came from.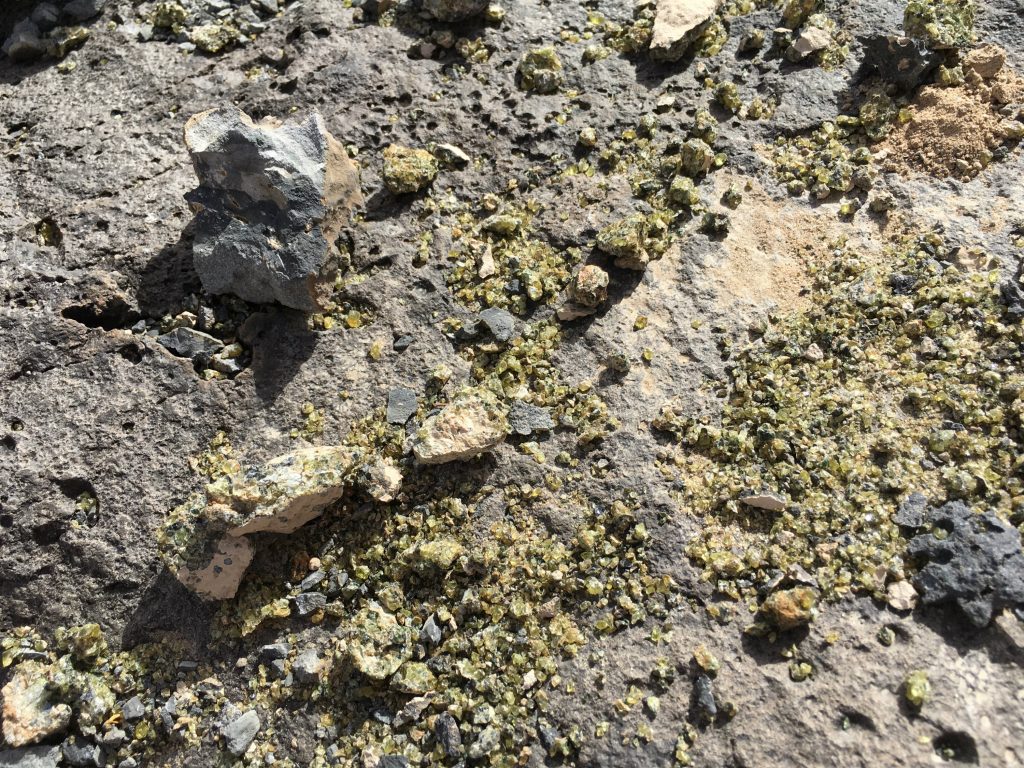 Along the road to get here and at the crater site, I never saw a single other person or car. The only signs of life out here were a few stray cows and a desert flower or two.
After parking the car, we descended into the deep gorge pit and braced ourselves for the crazy wind blowing in all directions. This area can only be described as desolate. In fact, the landscape makes you feel like you're in a cartoon: the same scene over and over again to mock you and make you question reality.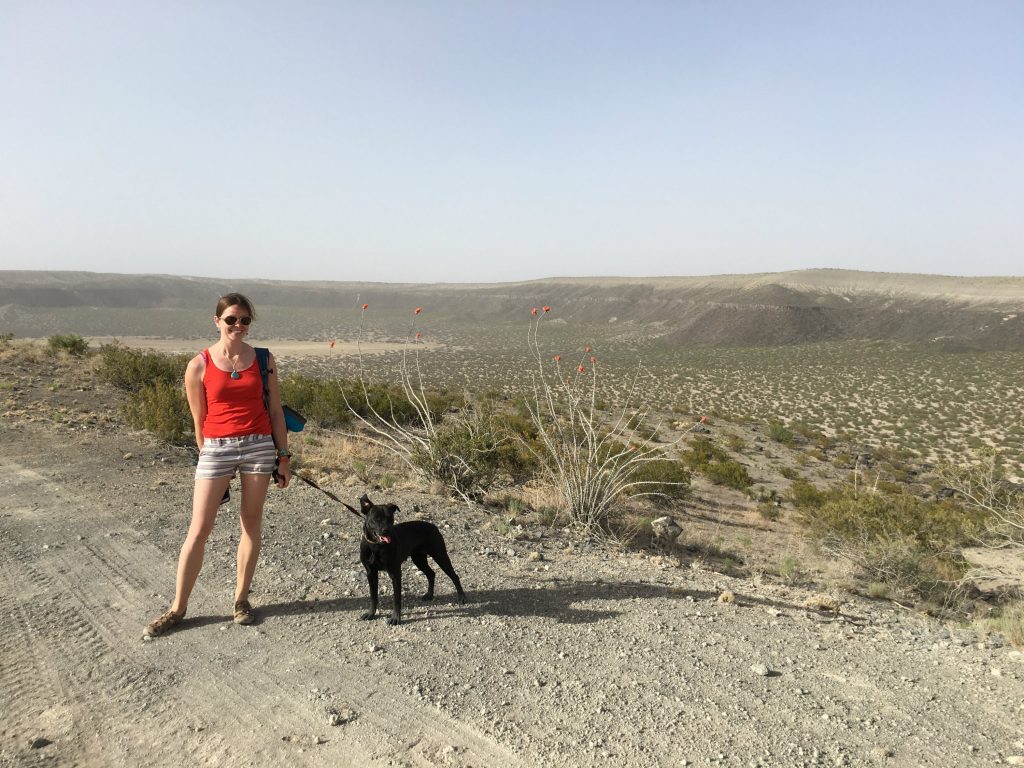 But what was really fun about this adventure for me is that we actually found my August birthstone here, peridot! Some of the stones were scattered loosely, likely someone else's scraps from a previous collection. But others were hidden deep inside unassuming dark rocks strewn about and required a good smash to reveal the shiny stuff inside.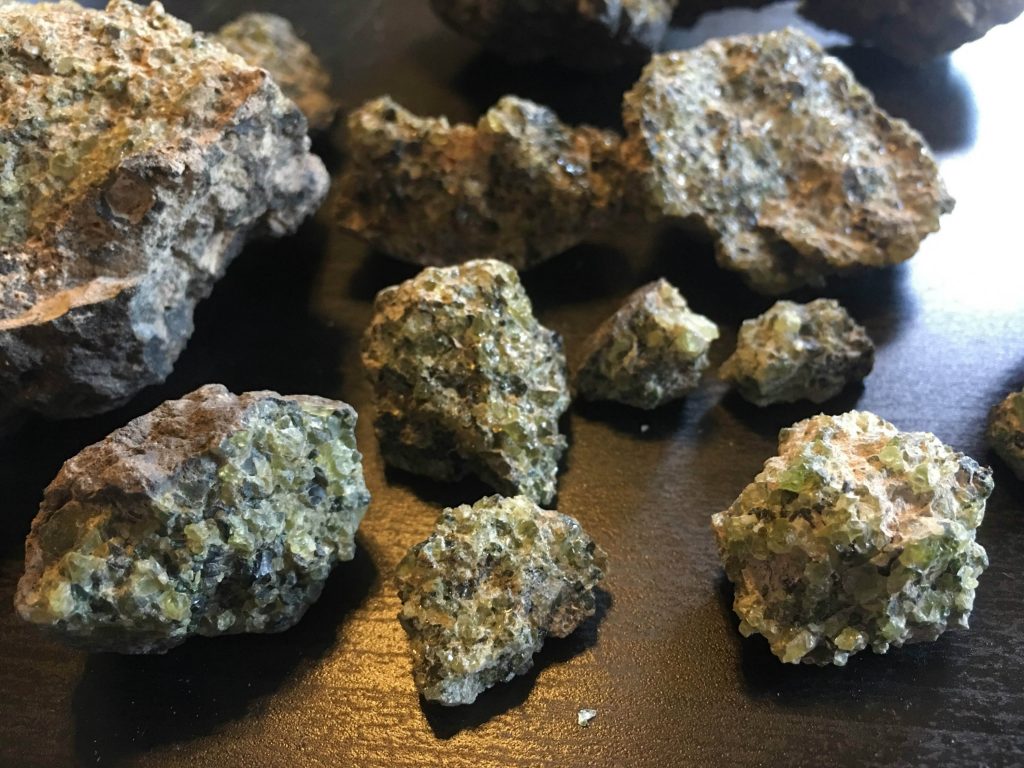 We brought a couple handfuls of peridot-encrusted rocks back home with us and have begun to separate the gems from the rock parts. It's tedious, but how fun would it be to create a piece of jewelry someday with my birthstone gem that I "mined" for along the U.S.-Mexico border!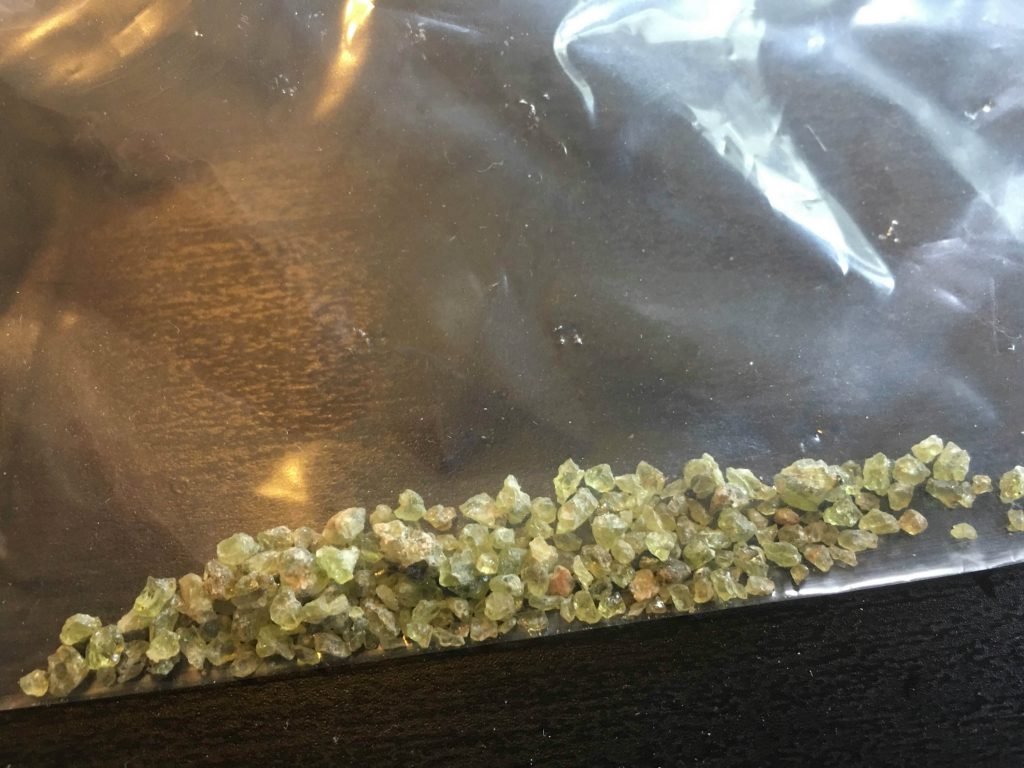 Science nerds out there can read more about the crustal and mantle (peridotite/olivine-bearing) xenoliths on the New Mexico Bureau of Geology and Mineral Resources landmark page. There's also a 7.57-mile hike that you can do around the volcanic maar sink hole that takes about 3.5 hours and takes you to different parts of the crater that has other types of rock to check out.
2. White Sands National Monument – A Surreal Sandstorm
When I was 15 years old and had my learner's permit from driver's ed, my parents and I went on a trip to the Grand Canyon. To my delight, they let me get some of my driving hours in on straight and boring roads in the Arizona desert. Little did I know that my parents set me up to drive in my very first sandstorm with plenty of those little white crosses lined along the highway to serve as reminders of the sandstorms that have come before.
The day we hiked White Sands National Monument maybe didn't constitute a full-blown sandstorm like that one, but the powerful winds sure did make for an interesting day in the desert.
Oddly, we had to pass through border patrol just to reach the national park, which the park staff blamed on anti-drug trafficking efforts. However, the roads were paved, which was a nice change after the insanely bumpy ride to Kilbourne Hole. The visitor center and gift shop had lots of fun souvenirs if you need to stock up on friends & family gifts, so they're worth a quick stop on your way in.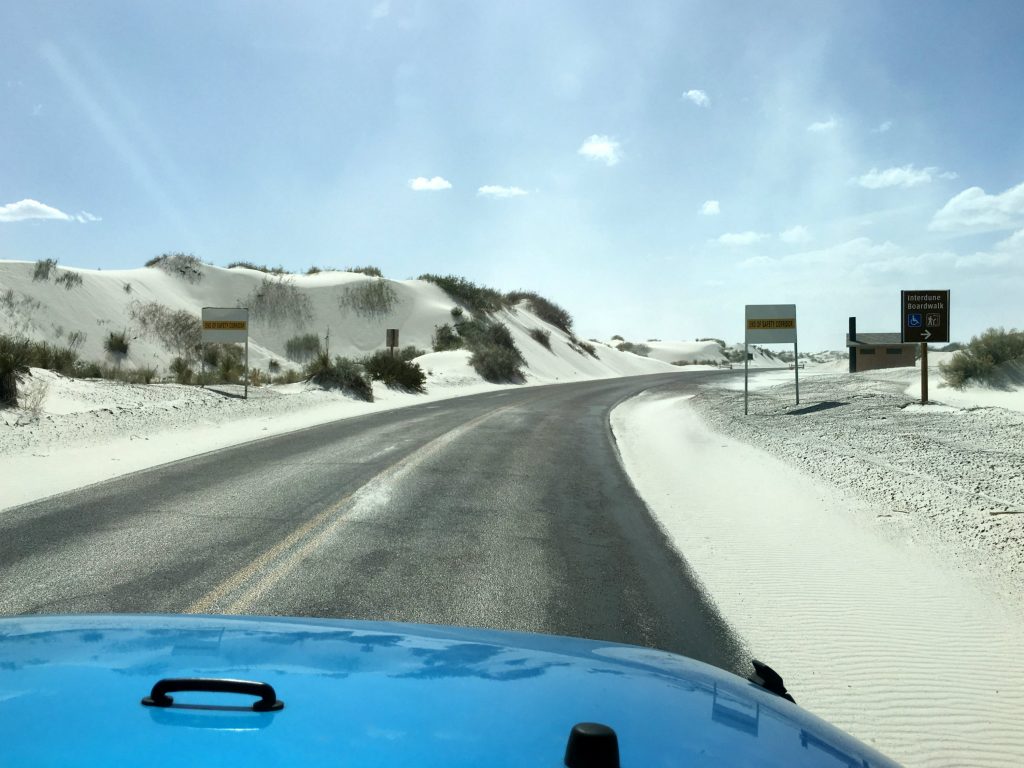 Hiking the white sands of New Mexico really is unlike hiking anywhere else. It's vast, desolate, windswept, and mysterious. And since the dunes are formed by gypsum, the sand is surprisingly cool-to-the-touch, even on scorching hot days.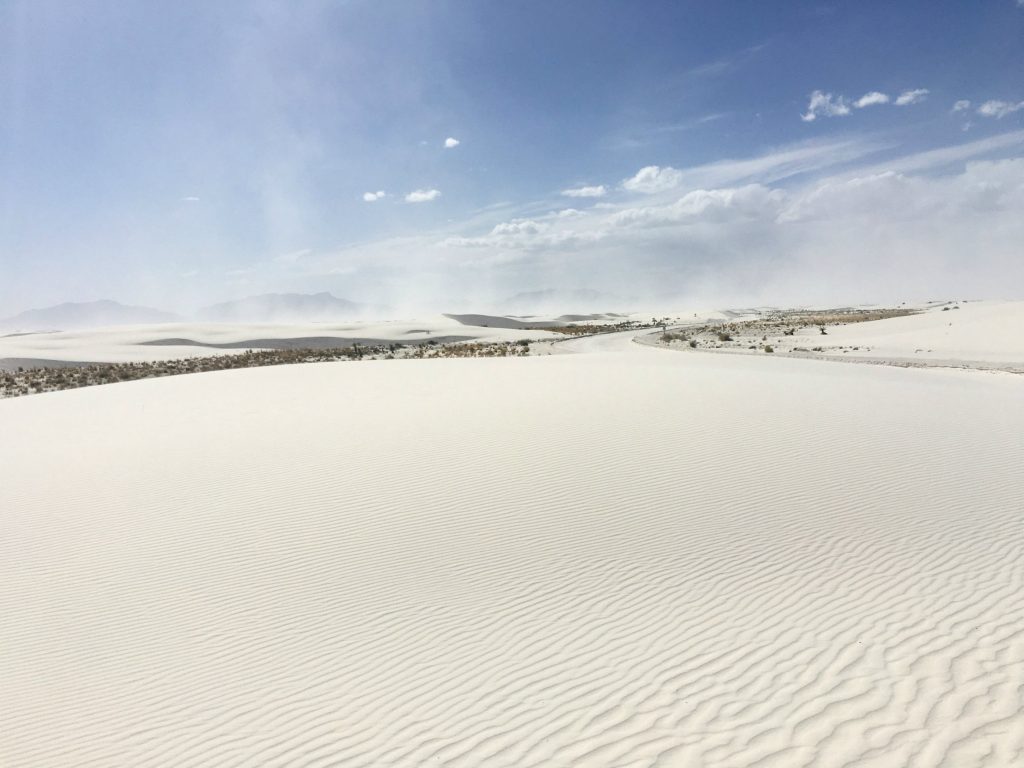 These dunes in the Tularosa Basin were explored by Native Americans, exploited by Spanish explorers in pursuit of resources, and used by the U.S. military for missile testing. They've really been through a lot but are in amazingly preserved condition.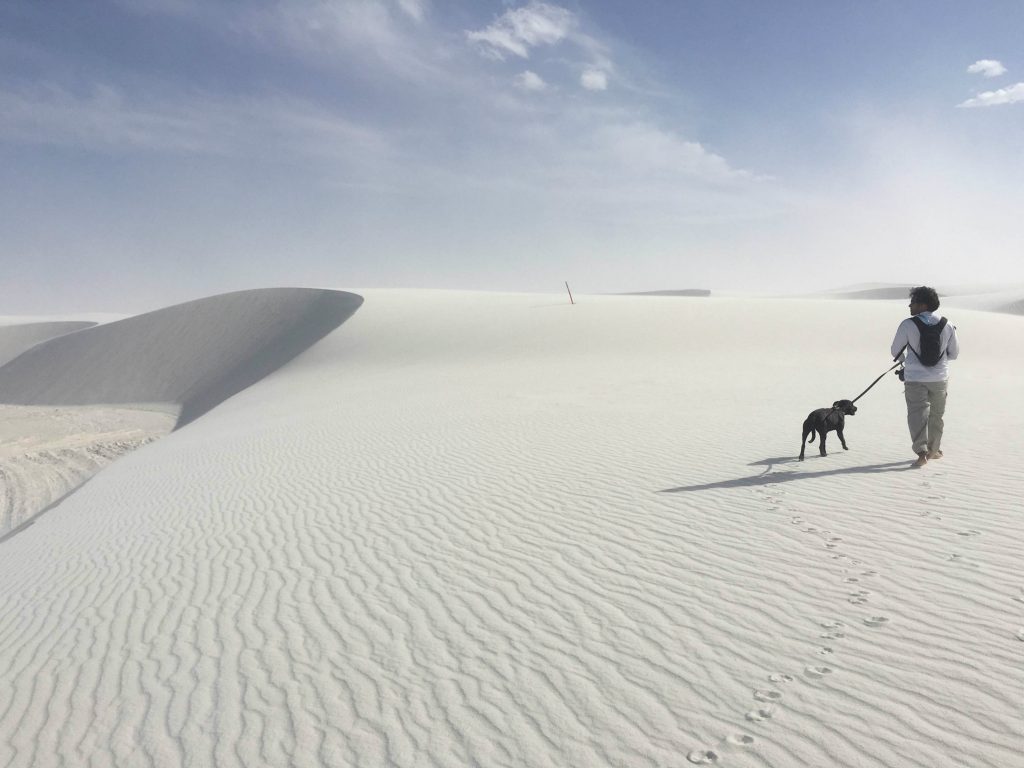 As we set on out the Alkali Flat Trail, we only encountered one other couple that was moving markedly slower than we were across the dunes. This trail is just under five miles, but surprisingly strenuous with the steep dune climbs and high winds.
It's best climbed barefoot, and lots of water is an obvious must. I heard that you can actually rent out sandboards and sleds to glide down the dunes, which would have been a blast but we didn't have time to try it after the hike and before the sun set.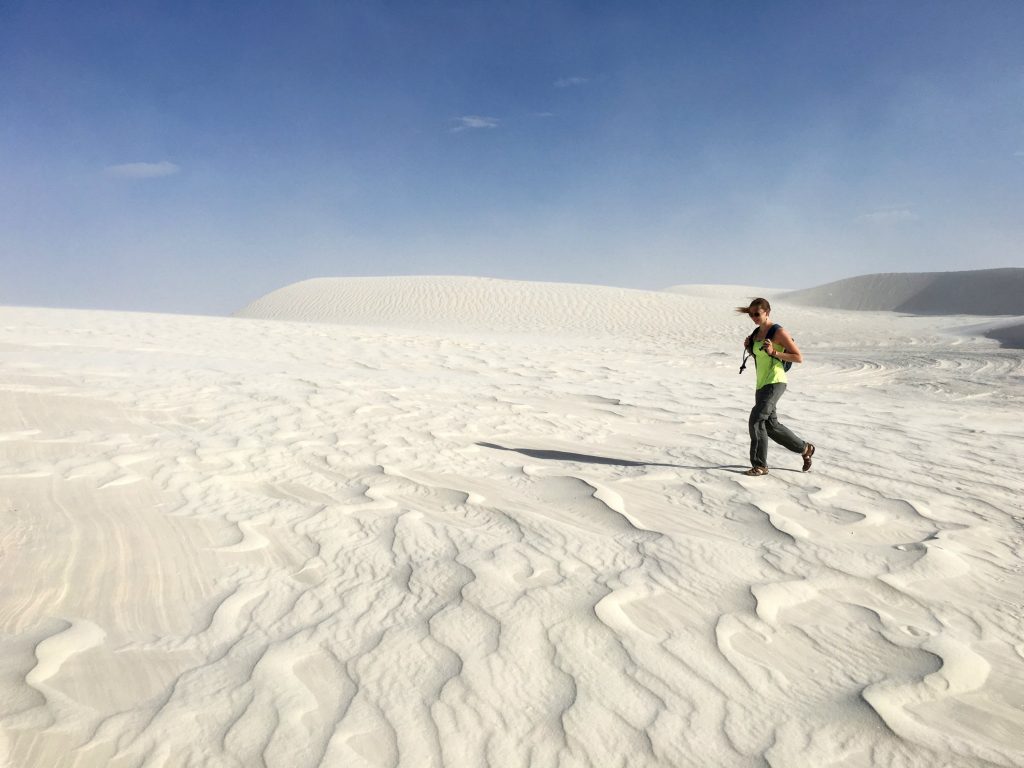 There's no shade or water along this trail, or anywhere out in the dunes, but thankfully there are helpful little orange and white posts to let you know you're on the right path. Reduced visibility and getting lost are total possibilities out here, especially in the high-winds of the spring season.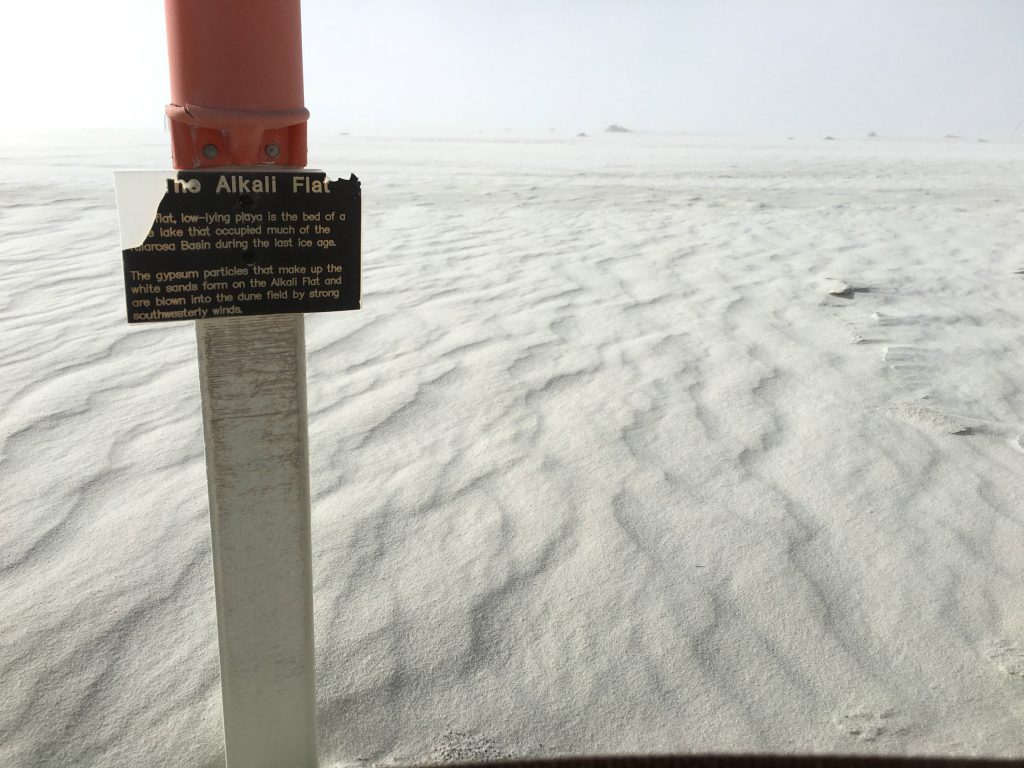 About halfway through the hike, you'll reach the flat section that has a really creepy vibe to it. The Alkali Flat is the dry lake-bed of Lake Otero, which filled the bottom of the Tularosa Basin during the last ice age and covered a massive1,600 square miles.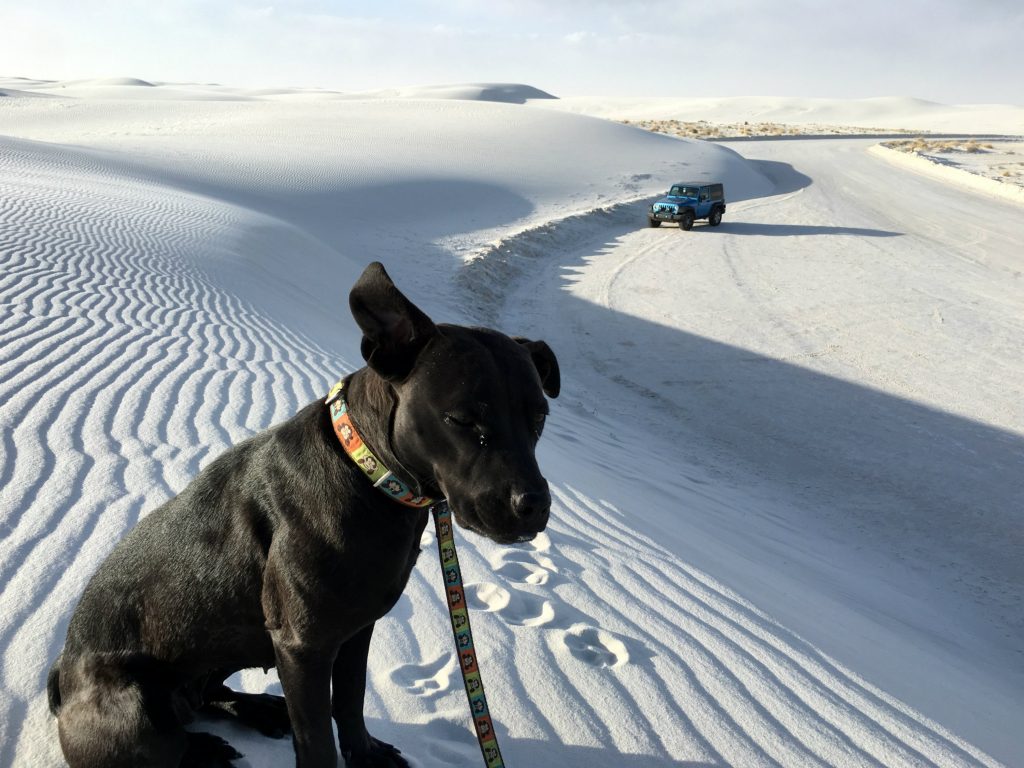 Although she was just as covered in sand from head to toe as we were, Monkey was a really trooper and truly seemed to really enjoy the soft, cool texture for the most part. When overly excited, she "twirls" and "dances," which escalates to the highest degree on sandy beaches and even dunes like these.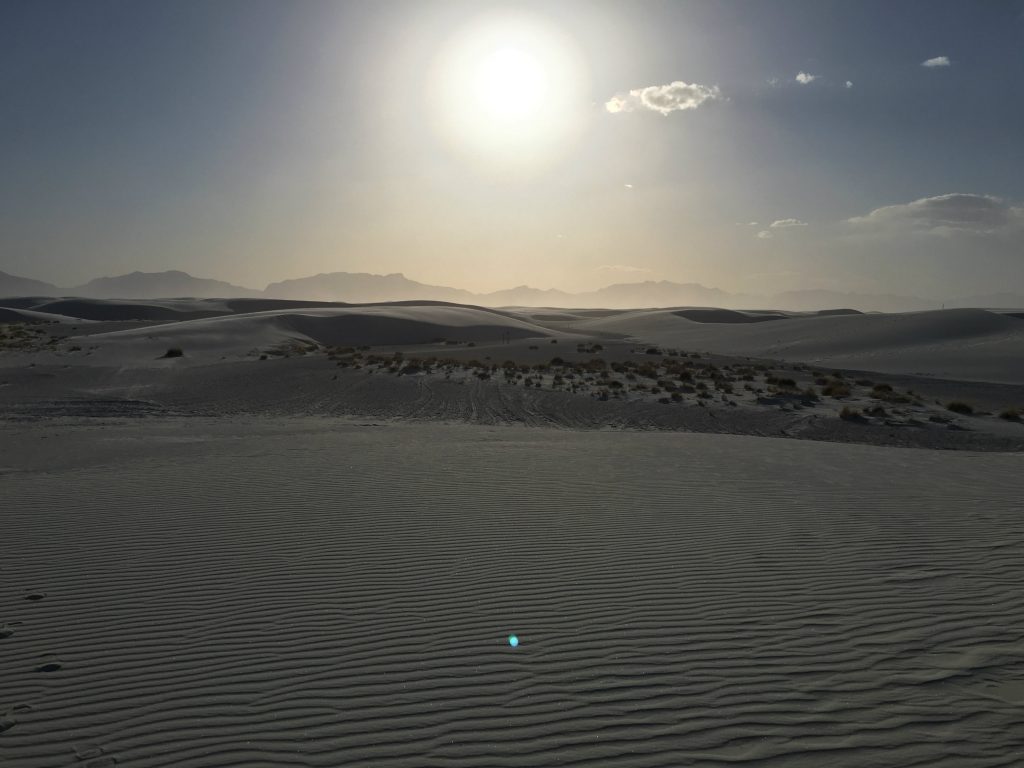 3. Organ Mountains – Baylor Pass Trail
Several years ago when I first started freelance writing full-time, I wrote some advocacy articles for the petition site, Force Change. I learned about the Organ Mountains in southern New Mexico while doing some trip research and wrote a petition to Preserve Beautiful Desert Mountain Range as a National Monument back in 2013. A little over a year later, President Obama signed a presidential proclamation that the five mountain ranges above the Chihuahuan Desert would finally have National Monument status, and therefore federal protection and managed preservation.
Well, I finally got to visit these mountains for myself and venture out on a hike that started with this ominous warning sign. One afternoon after working a half-day back at the campground in Las Cruces, we set out on the Baylor Pass Trail, which is about six miles long.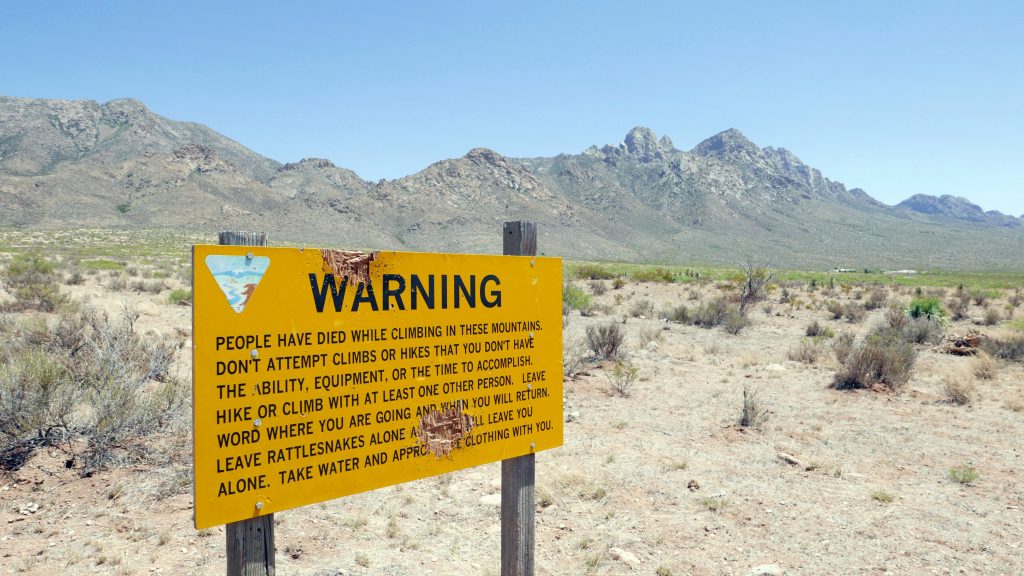 The Organ Mountains are full of Native American, New Mexican, and American history that includes Billy the Kid's Outlaw Rock, Geronimo's Cave, pictographs & petroglyphs, Apollo Space Mission training sites, and WWII aerial targets. Their towering peaks are even more ominous that that warning sign and create an eerie presence in the sunset.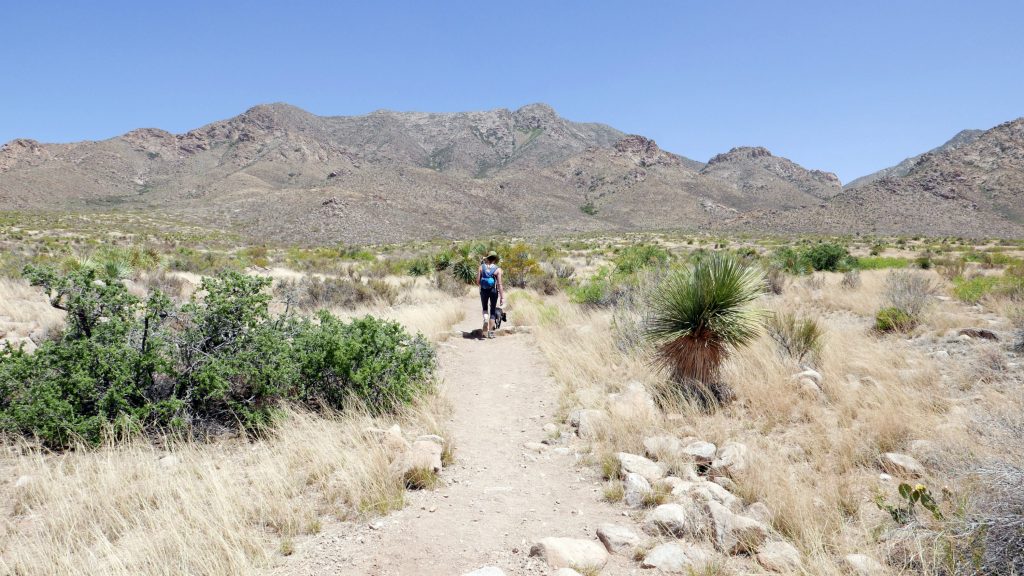 From the trailhead, it felt like a long hike just to get to the base of the mountains, and it was a steady, moderate climb from there. I saw quite a few wildflowers and mysterious yellow berries in the shrubs along this trail, which took my mind off the rising temperatures and bright sun beating down.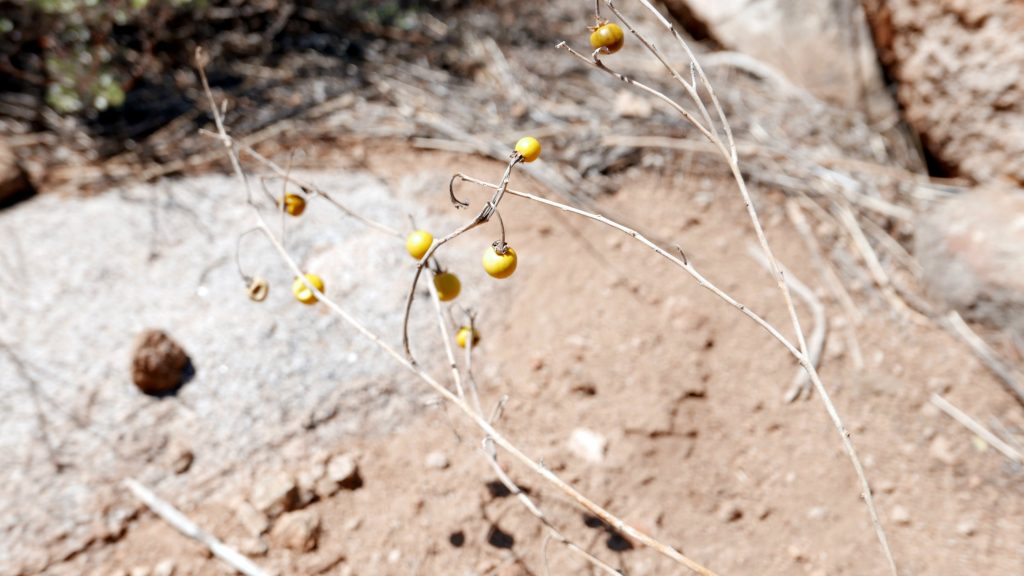 This is when Monkey really proved her resilience here because I'm pretty sure she got a spider bite and was a real champ about it. She's a very quiet dog that rarely makes a sound at anything, but I heard a tiny yelp and saw her frantically pawing at herself and starting to roll around on the ground. Then I noticed a spider on her paw and brushed it off. I can't be sure that the spider caused the ruckus, but there was no other explanation in sight.
Monkey's hiking pace slowed dramatically, and she would periodically sit down mid-stride, which I've never seen her do before. She also seemed to be limping, which was especially concerning because we still had about 1.5 miles to get back to the car. I was starting to prepare myself to carry this 44-pound pup the rest of the way and start searching for nearby animal hospitals as soon as I had internet reception again.
But somehow, she just slowly got over whatever was bothering her and got back to her old self again by the end of the hike. I was really proud of my little Monkey for being so tough and keeping up with us on all these hikes. Her life has changed so dramatically since she was picked up as a stray and lived in county animal control cage, and I can only hope that she's enjoying all of these new adventures as much as we are.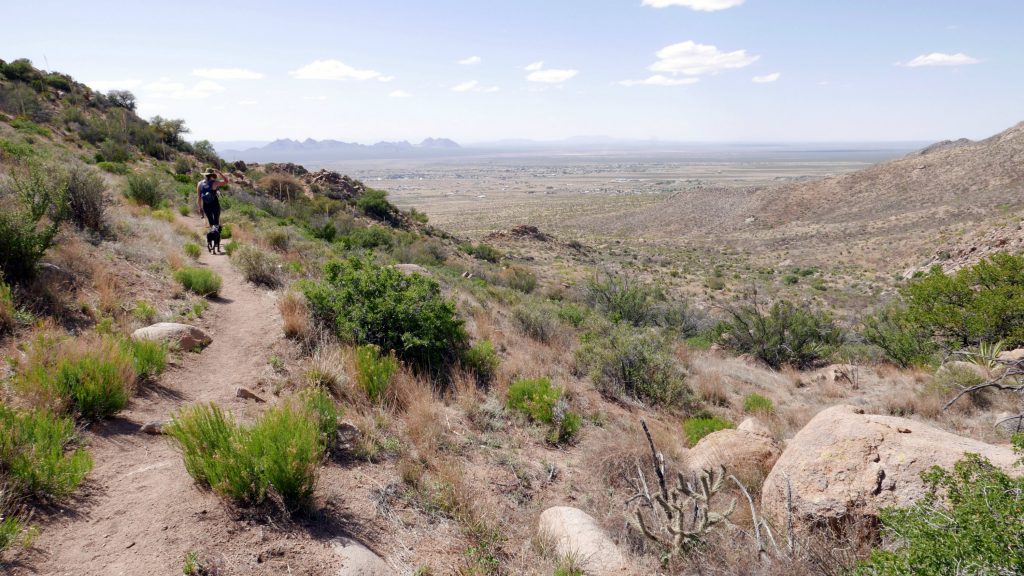 Well, since this wraps up my posts about my three home bases in New Mexico, my next ones will be about getting off the beaten path, doing some biking, sampling brews at local breweries, and random musings on traveling with a dog. There's plenty more New Mexico adventures to come, which I'd better wrap up soon because the next big trip is right around the corner!
***This article was also featured as a guest post on Southwest Discoveries. Check out Hiking in New Mexico – 3 unforgettable trips to take!