Happy 2017 and cheers to a brand new year of adventures!
Traveling in the southwest has been an amazing adventure so far. And clearly, my growing obsession for the region must shine through in my writing.
Alyssavnature just made the list for Top Southwest Adventure Blogs of 2016!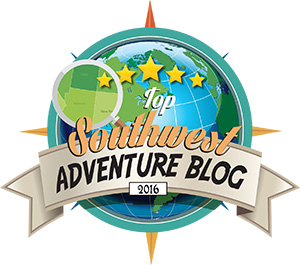 So while it's not yet the 14th of the month for my usual update, I wanted to thank Southwest Discoveries for the mention and share some of the other great writing happening over here. The folks behind these other 49 blogs are also sharing their experiences and posting photos about enjoying the outdoors in the Southwest. And they're great resources for anyone looking to get outside for an adventure of your own.
On a quick personal note, we've hunkered down in Vegas for a little while to catch up on all the practical things in life that catch up with you while traveling and celebrating the holidays. This means balancing out the fun and debauchery of Vegas with a series of mundane visits to the dentist, optometrist, veterinarian, and multiple auto repair shops. But we're camped out in the middle of the city, so that's all pretty accessible and convenient. And we're still managing to escape here and there to explore the outdoorsy side of Vegas too. It's out there, if only you can maneuver the street trash, skip the cocktails, and see past the glitz and glamour.
Until next time…