This is the major announcement that I alluded to in my last blog post!
Ten days ago, we went from living in this 2002 Starcraft pop-up camper for the past 7 months…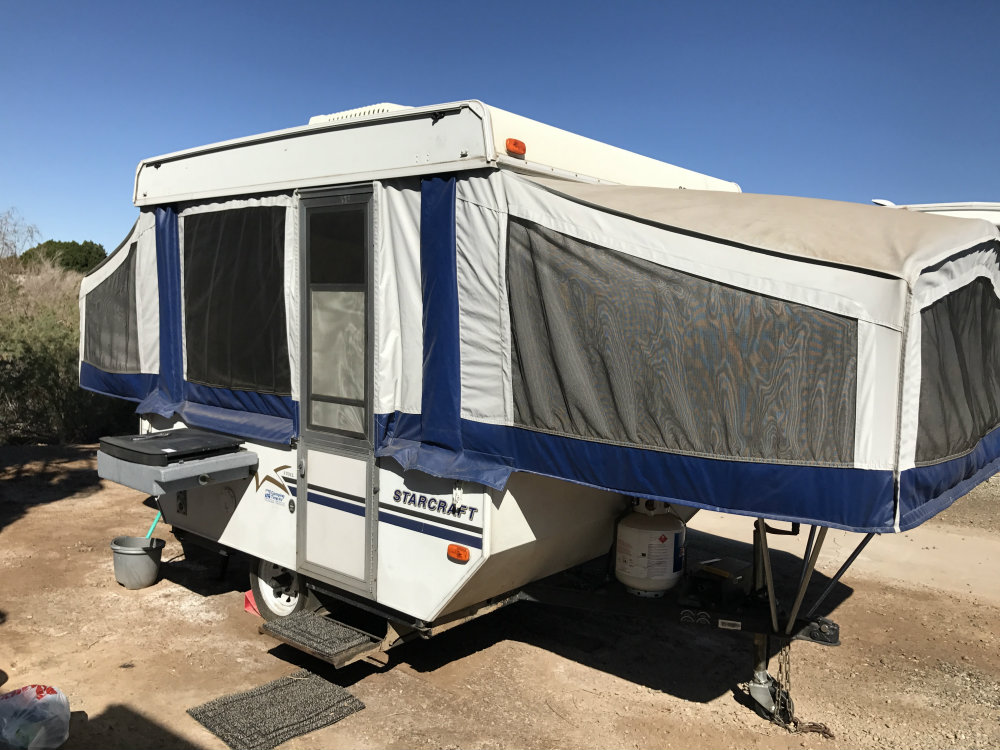 To this 2017 Fleetwood Flair Class A motorhome! Talk about an upgrade, right?!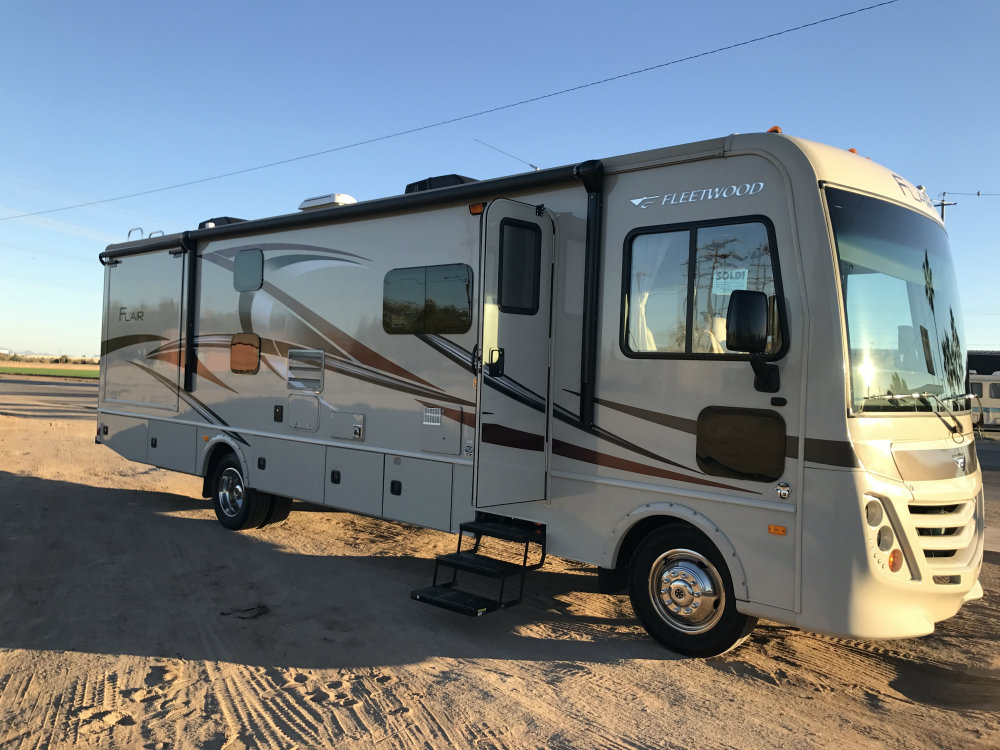 At noon on a Thursday, we packed everything into our little pop-up and headed over to RV World in Yuma, where we finally decided to "go big or go home."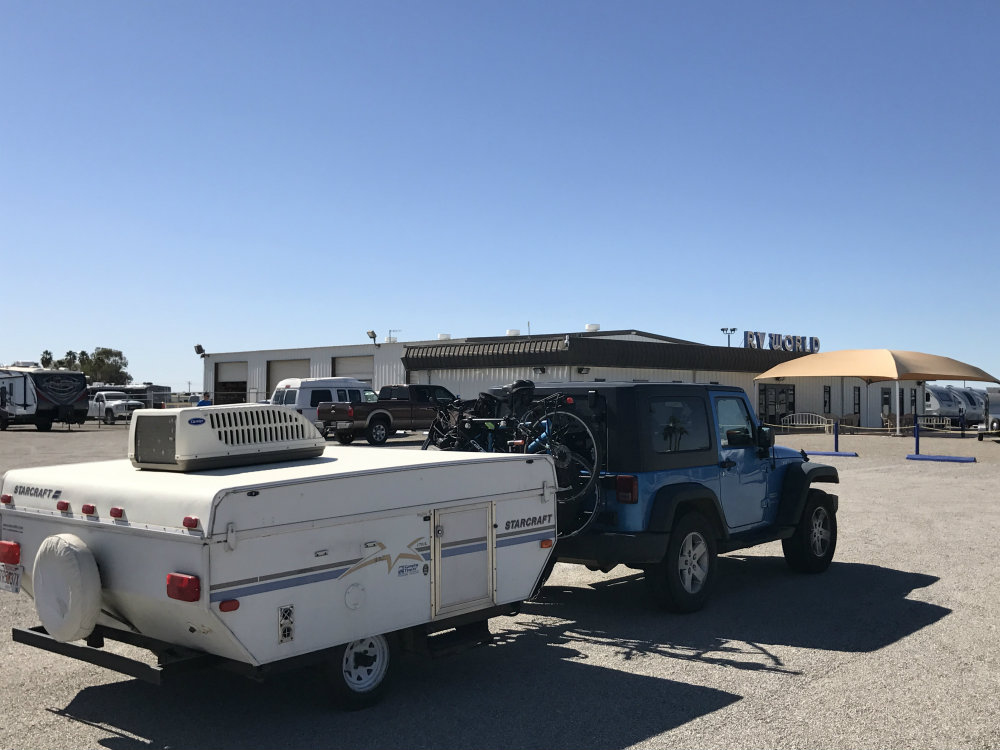 It wasn't an easy decision to make, and I lost a ton of sleep getting to this point. But now, I couldn't be more excited for my new home. Although camper life just got a whole lot more awesome, it's also gotten way more complicated.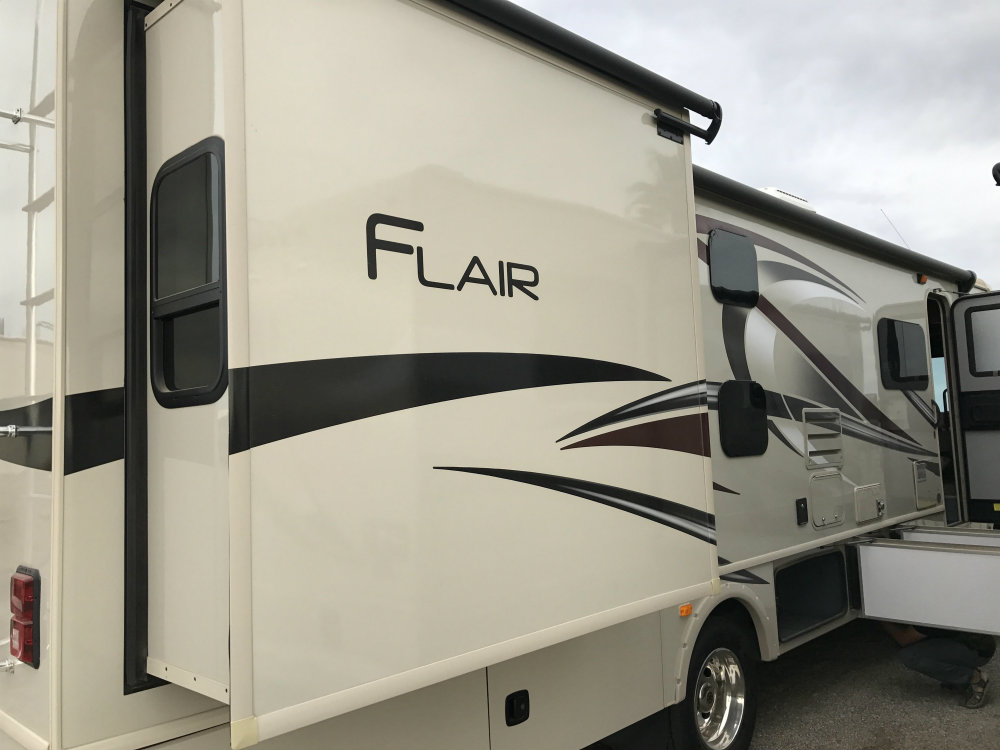 I'll touch on some of the reasons why in between a series of photos to share some views of my new home!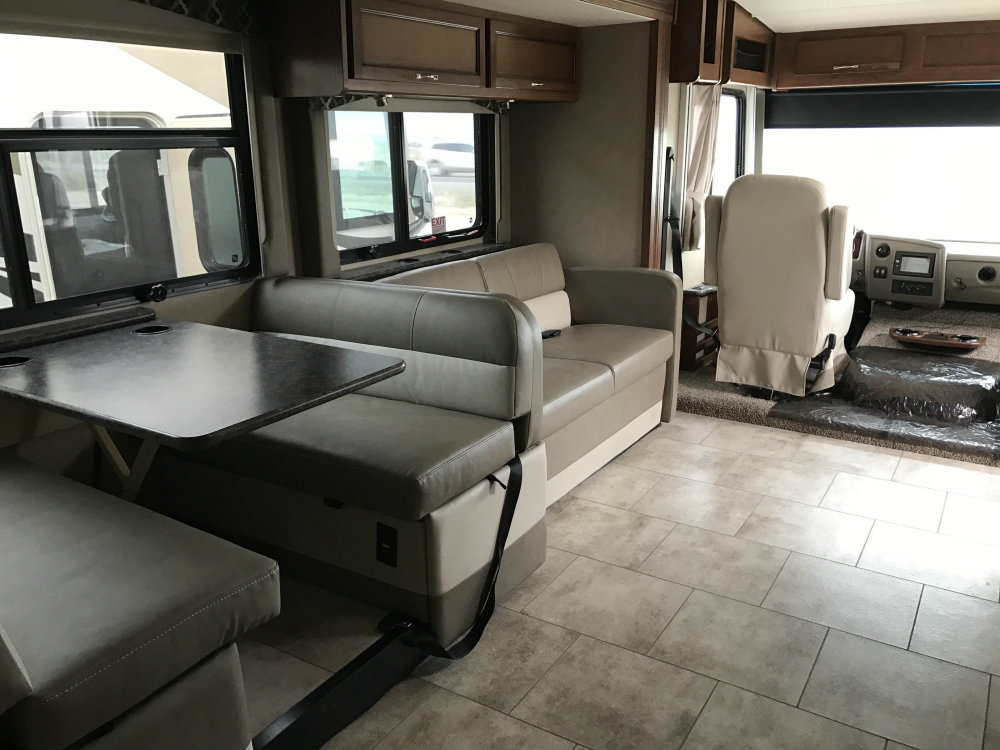 Why it was time for an upgrade:
Canvas walls and a recently busted heater/AC made it hard to travel places with less-than-pleasant weather
Tired of walking across a campground in the middle of night to go to the bathroom after having one too many beers
Doing dishes was a huge hassle
Doing well financially
Enjoying the lifestyle, but getting fed-up with little logistics
Next to nothing for storage
Craving a little more personal space between the 3 of us
Yuma is a snowbird mecca with a good selection of RVs to choose from
If we didn't do it now, we probably wouldn't for a very long time, if ever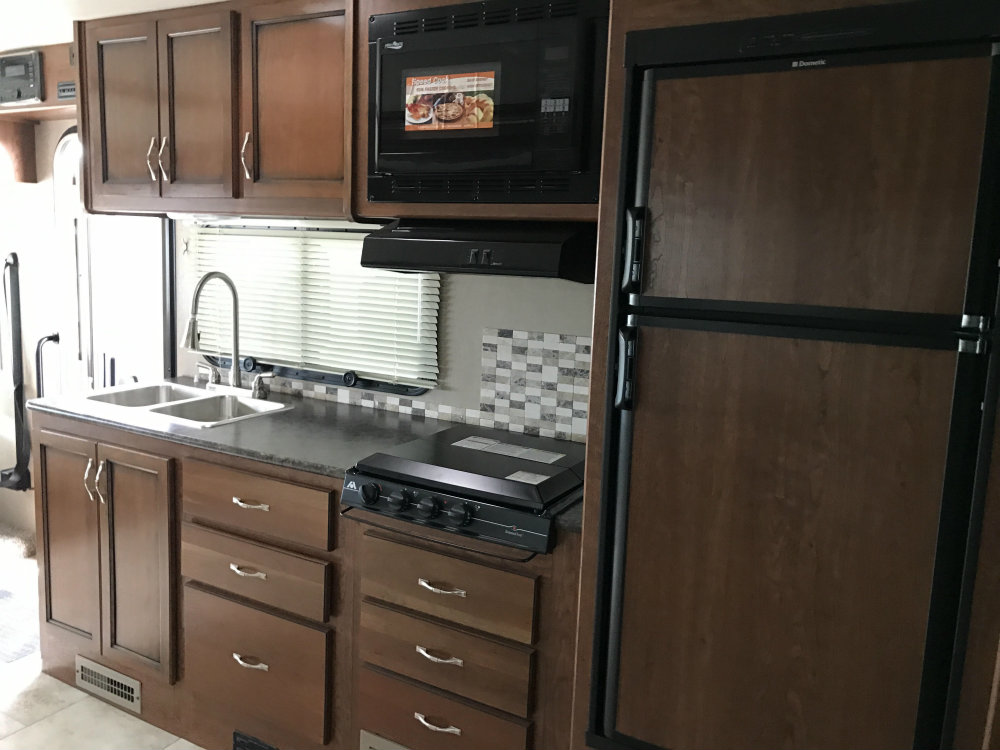 Favorite features of the new camper:
Toilet and shower
Cupboard and drawer space
TV and chairs to swivel back to watch it
Lots of windows to let natural light inside
Comfy bed
Enough room for 2-person yoga inside
Separation between work space and chill-out space
Leather sofa
Bunk beds so Monkey can have her own space and one for storage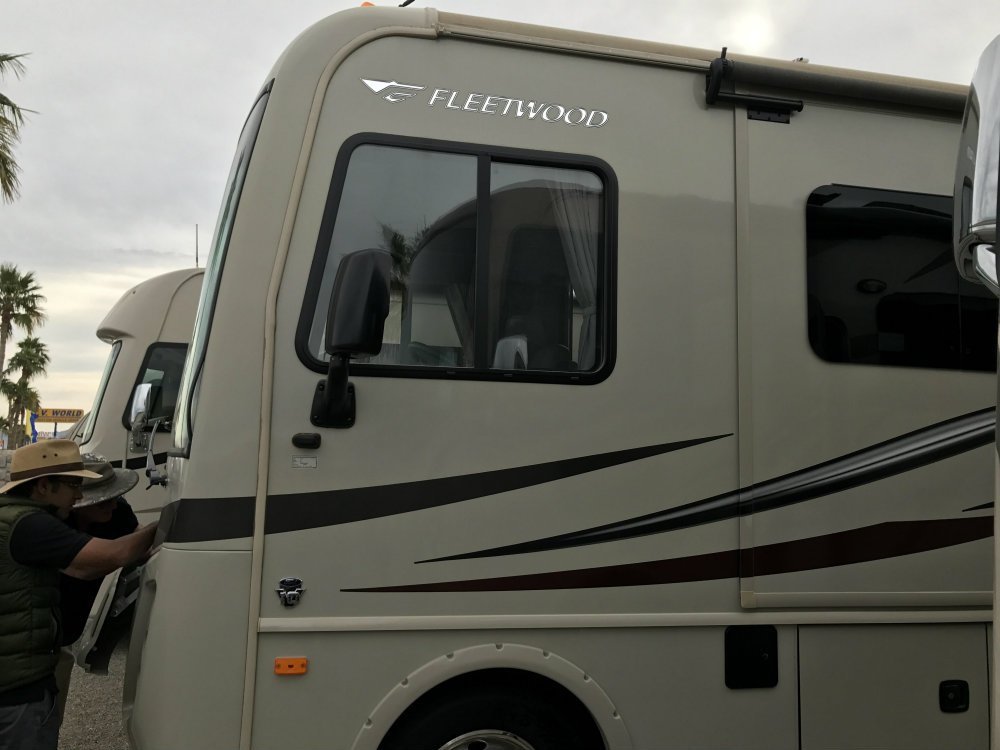 What I'll miss about the old camper:
All the memories made in it during the last 7 months on the road and shorter trips before that
How the whole thing shook when it was windy
A bed that was surprisingly comfy
How easy it was get around with
How cheap it was to buy and maintain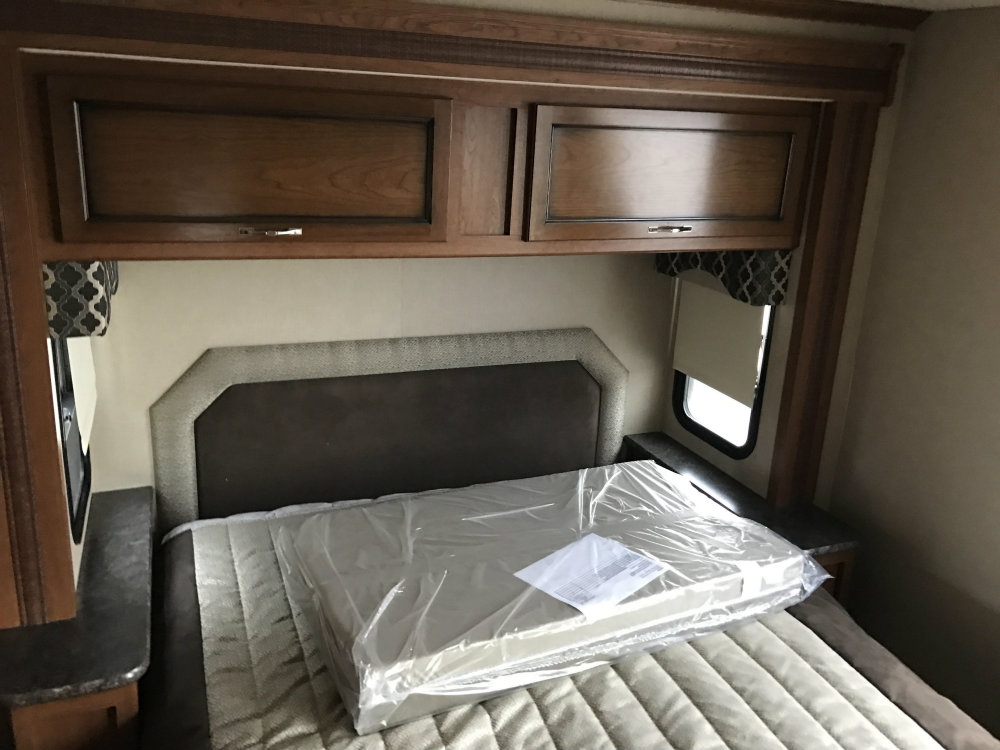 Why life just got more complicated:
Had to drive to Georgia (still our "official" state of residence) – the exact opposite of where we are trying to go – to take care of licensing/registration and a slew of other issues
The new RV is a gas-guzzler and didn't make financial sense to quickly drive across the country and back when you do the math. So we had to leave it behind out west in storage, all alone and confused, until we took care of multiple logistical nightmares.
Decided to clean out and eliminate the Georgia storage unit once and for all – trying to sell and donate most things and keep a few to take back
Selling stuff via Craigslist/Facebook groups/Nextdoor is a nightmare. I've had 3 sale days so far…2 good and one terrible. It's exhausting, and people are flaky idiots. I'm currently sitting on a storage unit hallway floor, taking a packing break and waiting on buyers as I finish this post – which was originally supposed to have a way more positive tone than it's turning out. But we have an RV – yay!
An insane number of trip to Goodwill to drop off donations
Those "few" things to take back won't fit solely in the Jeep to get back so we have to rent a small Uhaul to tow behind it back to Arizona.
My Jeep's registration expires and August and I'm sure as hell not coming back to Georgia to take care of it. You can do it by mail, but you have to have a Georgia emissions test done first. I can do that now and still have it valid for August by-mail renewal; however, the Jeep has a check-engine light on due to an ongoing sensor problem so it won't pass emissions. See the web I'm tangled in? That's in the process of getting fixed now.
Oh and the Jeep needs and oil change before it goes back across the country too.
We also need to get a tow bar installed on the Jeep to hook it up to the RV
Other things I'm too scatterbrained to think of at the moment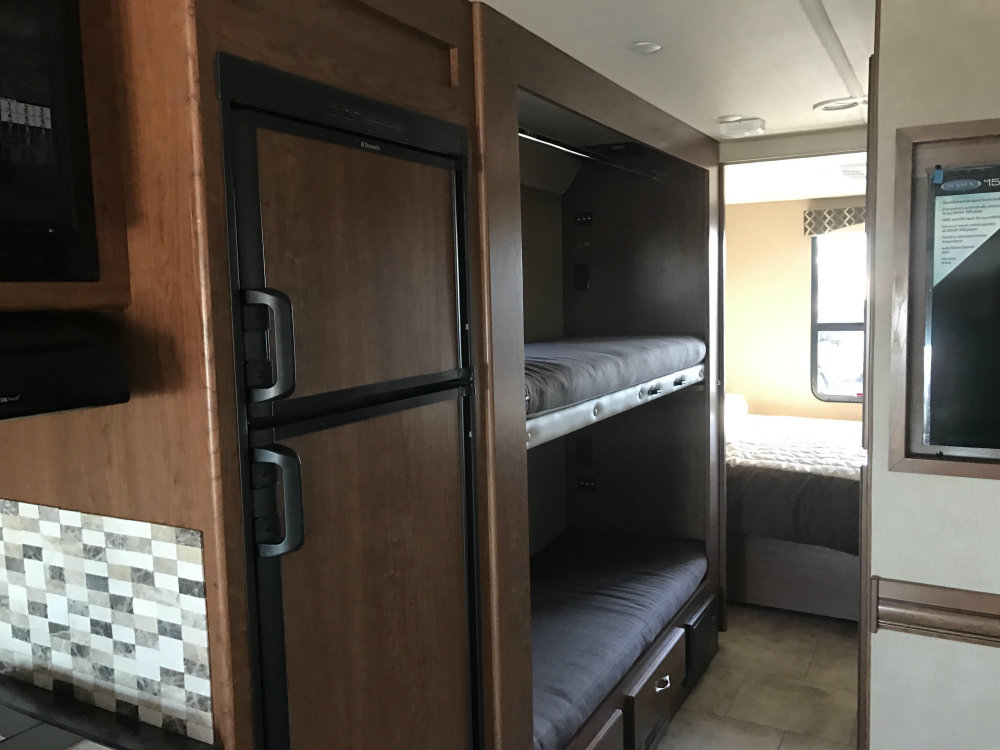 Monkey's take on all of this:
Little Monkey isn't sure what to make of all this change yet and she hasn't taken to our camper quite like we have yet. She seems to be very thrown off by all the space that she now has and by the fact that her new home "moves" from time to time. And now we're moving from place to place all across the country, so it may take her extra time to adjust. But she's a resilient pup and a true adventurer, so I'm not too worried 🙂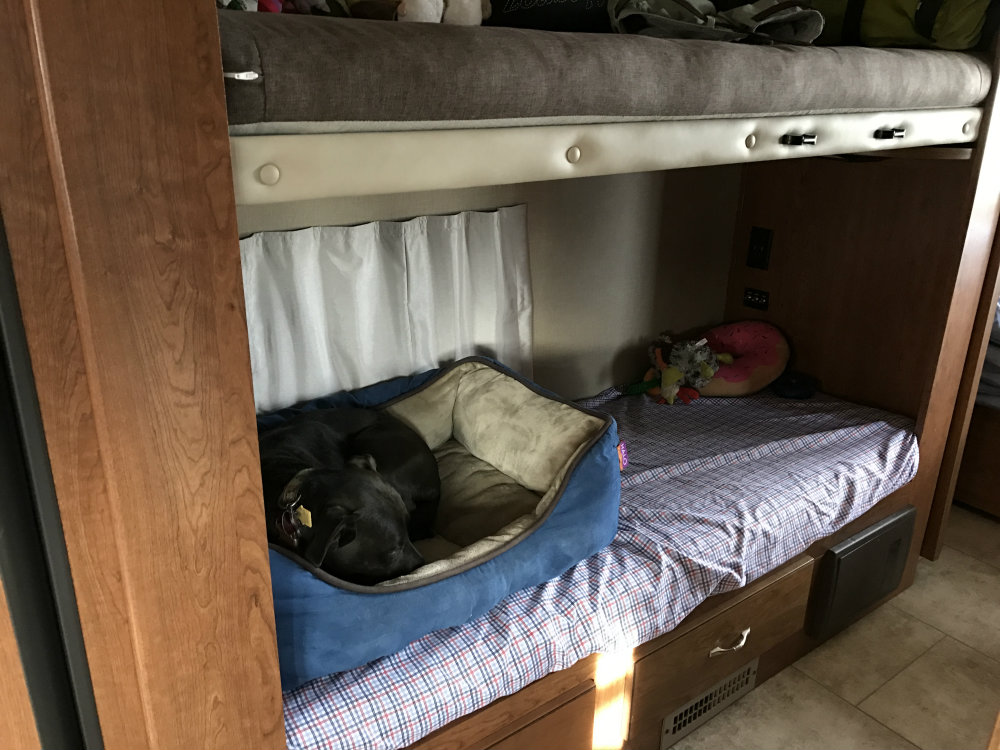 Since we've only gotten to spend three whole days in our new home, we've still got a lot of things to figure out about it. First and foremost, how to handle the sewage system. Yuck.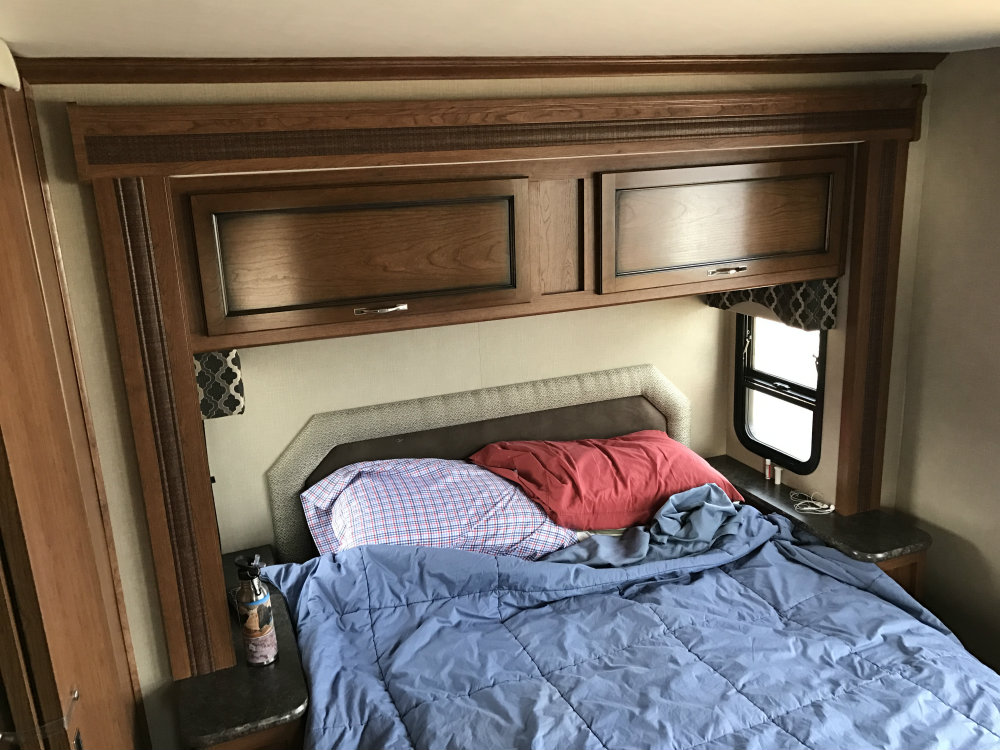 Where we plan to take the new camper next:
Eventually we WILL get out of Yuma…EVENTUALLY. It's become our accidental second home that we are looking forward to leaving. I actually have some ideas for a short story about being stuck in Yuma, based on true events but much more dramatic.
From Yuma, the plan is still to head to Southern California and slowly, but surely, work our way up the west coast. I am so physically and mentally exhausted with the logistical nightmares and can't wait for this next chapter to begin.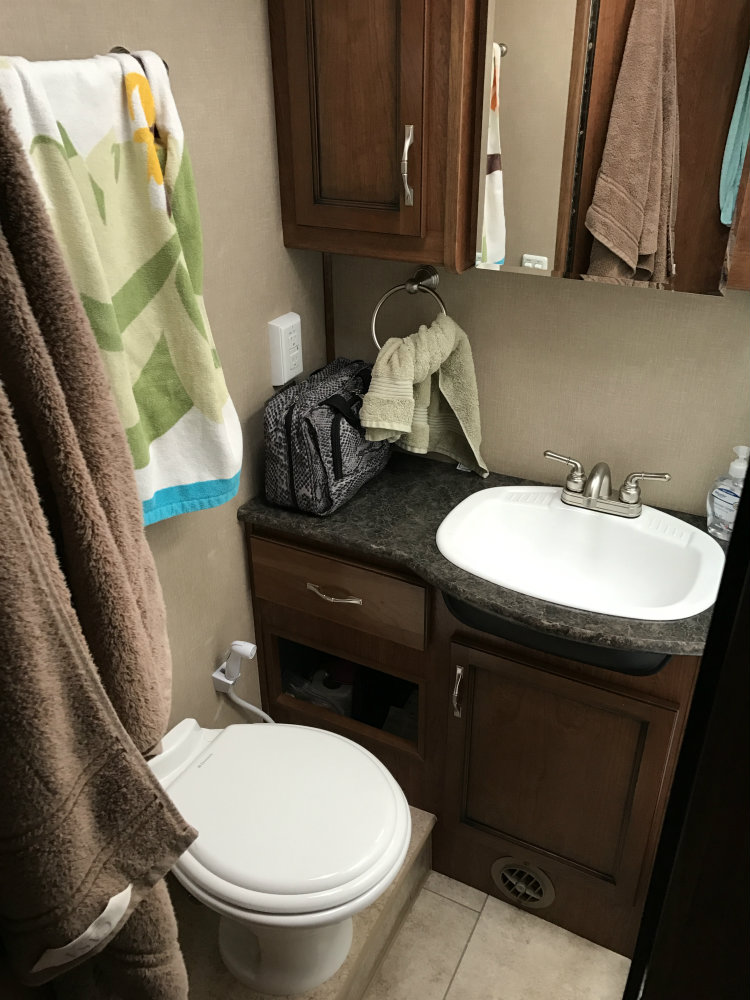 Here are a few more photos, just because I uploaded them and ran out of topics. Below is the only moment when our two campers met each other. We had to move everything out of one and into the other one in the RV dealership's parking lot before the sun went down.

Fuel costs are a serious concern. But alas, this is a camper for short drives and long stays, not long drives and short stays.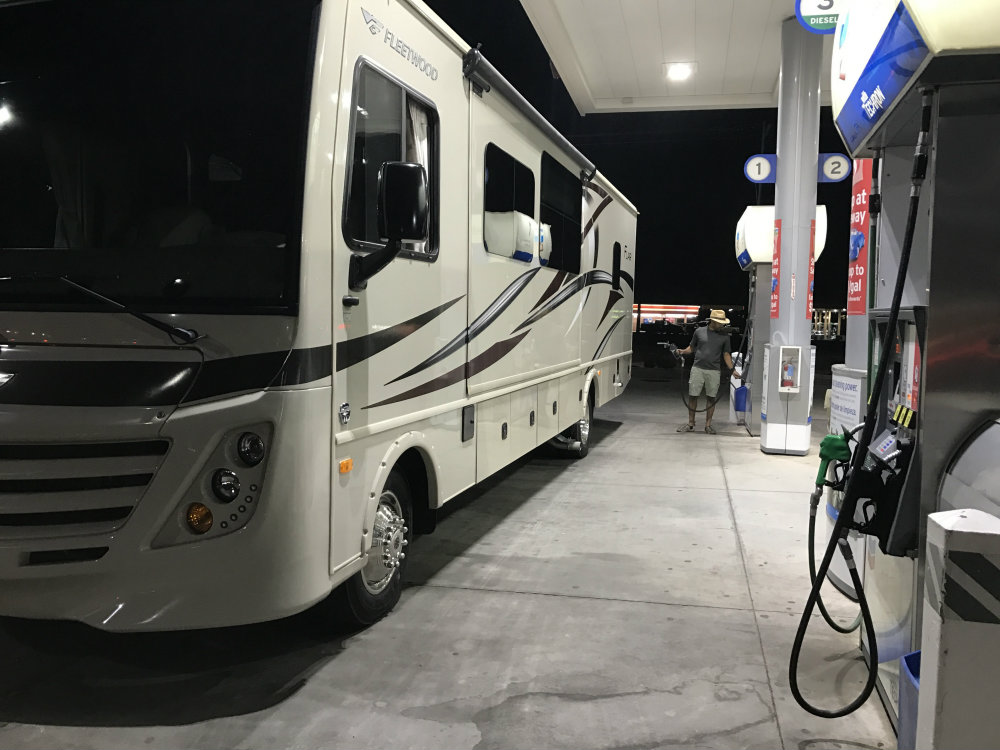 Stashing stuff away in cupboards and drawers felt stupidly exciting to me. Life just feels more manageable when things are organized and not creating clutter that echoes the clutter in your mind.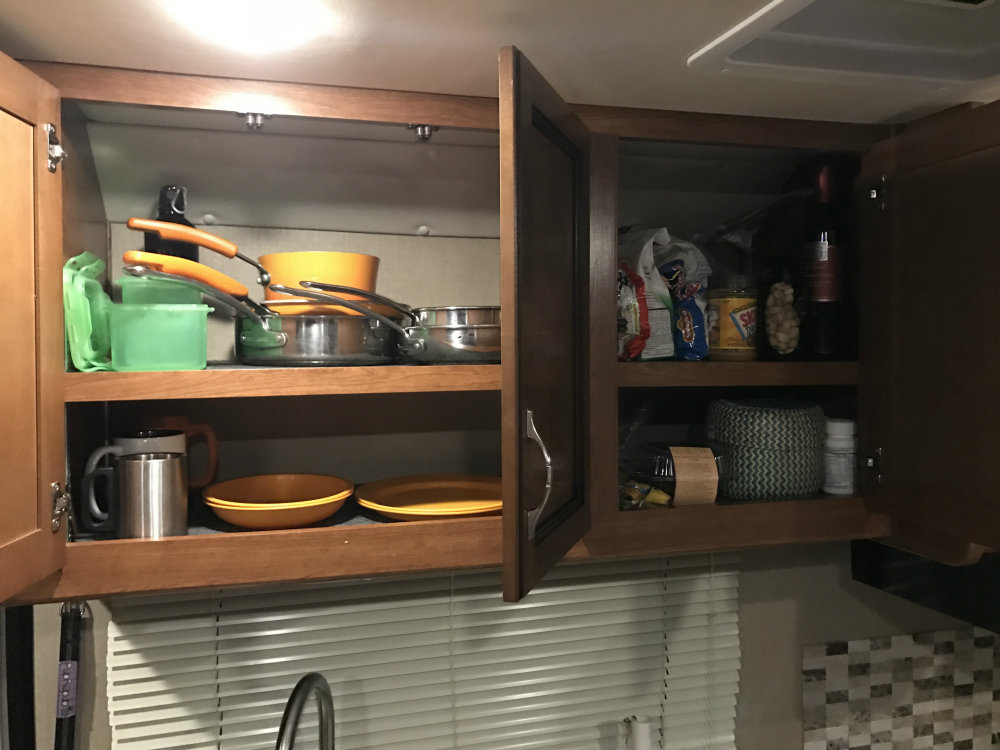 Although I'm hard-core missing our new home right now while we're all the way across the country without it, it's ours and will be forever…until plans may take another sharp turn WAY down the road.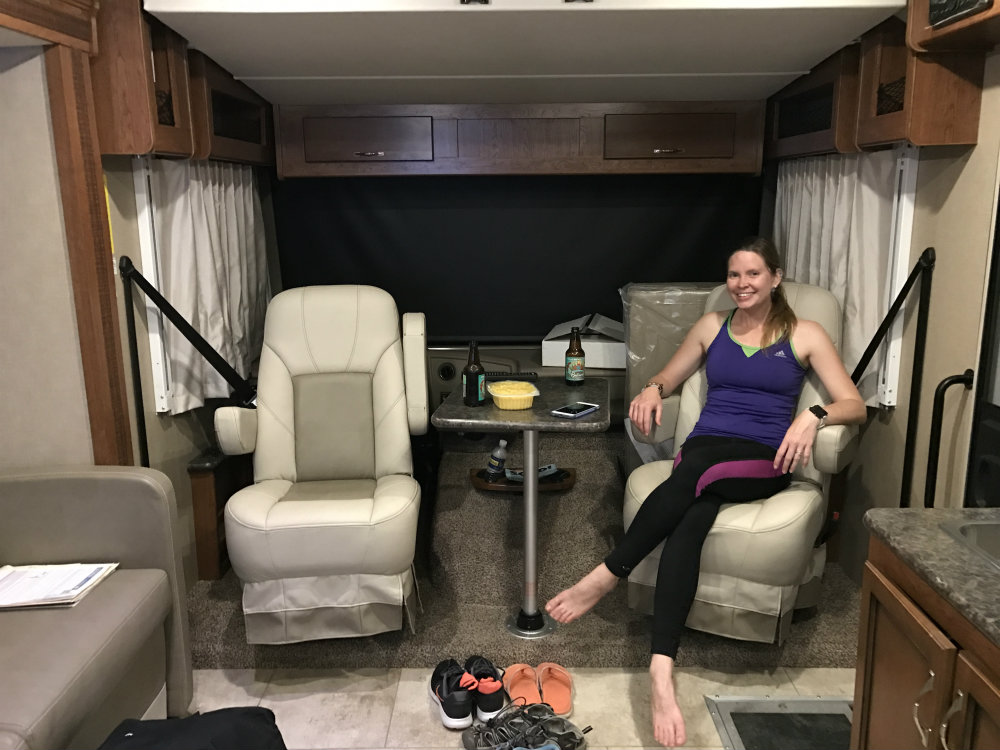 With the good and the bad, I welcome the next phase of life on the road. Despite all the hassles it has sparked, I'm totally ready for whatever happens next. I just keep trying to remind myself about how awesome it'll be when we're reunited with our camper again and back to our new-normal lifestyle. West Coast, here we come (well, soon anyway)!